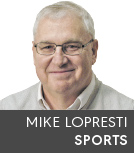 Let's all be the first to wish early happy Father's Day greetings to Fermor Spencer Cannon. What a wonderful offspring the Indianapolis architect produced: successful, classy, proud, spoken well of by everyone.

You know it as Hinkle Fieldhouse.

The theme of Innovations has the floor. Can a landmark that is nine decades old raise its hand? You bet your Butler Bulldog T-shirt it can. Not once, but twice. First, for being spectacularly new. Later, for being wonderfully old.

To explain, we go back to the birth and rebirth of Cannon's progeny—escorted by its current guardian, Butler University Athletic Director Barry Collier.

■ It is March 7, 1928. Notre Dame vs. Butler. Cannon, who earned his architectural spurs designing homes, has concocted a giant creation built in Fairview Park. It's so unknown to some locals that the Indianapolis Star prints directions to the game.

Look around the place. We know what you're thinking.

Why is it so big? And how'd they build it without any beams getting in the way, like every other arena has? And who paid for all this?

Collier: "When you think about it, when you're standing on the main court and you look up, it's a giant railroad trestle. On top, in the rest of the country, were sitting railroad tracks that went across a big expanse, and that's how they figured out how to do that."

Indeed, the arched steel trusses enabled the roof to cover a couple of acres without the need for beams, providing the vast and wide open spaces inside that would give the gazillion visitors to come in future years the sensation they had wandered into something that was part-gymnasium, part-national park. No campus in America in 1928 had anything like it.

"You basically put a house over a field," Collier said. Hence, the term fieldhouse.

The windows in the roof and the 820,000 bricks as a skin all added to the character. The steel beams that went deep into the ground ensured longevity. Cannon had drawn up a masterpiece.

Someone, however, had to pay for it. So 41 businessmen in Indianapolis pooled their money, and the IHSAA chipped in a guarantee of an annual rental for its state finals, as long as there would be 15,000 seats. If Cannon built the place large enough, people would come. He did, and they have.

Collier again: "It was tremendously innovative in the 1920s, and the foresight shown for something that could last almost 90 years. ... It is amazing that there hasn't been a bulldozer even thought of to start over."
The 2014 renovation preserved distinctive features like three-story windows, a raised floor and suspended lighting, but modernized the scoreboard and other amenities. (Photo courtesy of Butler University)
■ We flash forward to 2014. The name now is Hinkle Fieldhouse, and $36 million has just been spent on renovations. That's 36 times more than what it took to build the place.

The big question is obvious. They're not going to fool with a hallowed cathedral and turn Hinkle into a modernized soulless monstrosity, for the sake of club seats, are they?

Once more, Collier: "We didn't call it renovation; we called it preservation.

"We didn't want to change the defining features of the facility; we just had to agree what those were. But it's obvious. They're the three-story clear windows and the light beaming through. There's this open expanse of an arena that at its time was the biggest on any campus in the country. The raised floor, the lights that hang down that give it its feel when it's dark. The brick outside, the barrel roof, the footprint of the building. So it was a little tricky of where can you go because we didn't want to change any of those things.

"When we went to pick an architect, I thought, 'We really don't want to change anything, so how exciting could this be?' But what we found is, everybody in the business lined up because it was Hinkle Fieldhouse. The thing they said was, 'People design facilities now and try to make what you already have. You have what they want. There's not something missing here.'

"We didn't step one inch outside the footprint."

But as Collier said, if you're going to upgrade a facility for the future you have to do ... something.

"In point of fact, it's the technology that is now in the building," he said. "You can start on the low end and say we now have an elevator for the first time in almost 90 years, to the high end where we have an underwater treadmill with a camera, and all of the Wi-Fi that can serve 9,100 people. And everything in between."

So there's a 21st century scoreboard, and padded seats, and bigger bathrooms. But Hinkle is still Hinkle. Just old enough, and just new enough. You still feel as if you might see Bobby Plump hit a jumper at one end and Oscar Robertson grab a rebound at the other.

Hinkle was retro before retro was cool, and now it is a treasure to be kept, in a city where Market Square Arena stood only 27 years and the Hoosier Dome but 24. An idea off Fermor Spencer Cannon's drawing board before the Great Depression still thrives in the age of lnstagram. Innovation seldom looks so stately.•

Lopresti is a lifelong resident of Richmond and a graduate of Ball State University. He was a columnist for USA Today and Gannett newspapers for 31 years; he covered 34 Final Fours, 30 Super Bowls, 32 World Series and 16 Olympics. His column appears weekly. He can be reached at mlopresti@ibj.com.