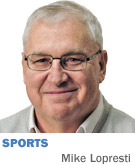 Begin with this rather startling number.
Gene Keady turned 80 late last month. Can that be true? Yes, it took him well into his eighth decade to finally lose the comb-over. Meanwhile, his old Purdue/Indiana foil, Bob Knight, is 75. Think of that the next time you call him Bobby.
Which begs the question of what other ages in sports are guaranteed to remind you how time goes by faster than Alexander Rossi would ever dream of at the Speedway.
Speaking of the Indy 500, did they really just have someone 79 years old, Roger Penske, drive the pace car? And Mario Andretti can't be 76, can he? Yes, he can.
Consider basketball. In our memories, the famed Hoosiers of 1976 have always been young and always unbeaten. Well, they're still unbeaten. Many of them have also reached Social Security eligibility.   
Look at the faces on Indiana's basketball Mount Rushmore. Bobby Plump turns 80 this year. Oscar Robertson is 77, George McGinnis 65, Larry Bird pushing 60. Just yesterday, it seems, Damon Bailey was a Bedford North Lawrence High phenom, filling up the Hoosier Dome. Now he's 44.
Can Steve Alford, the perpetual-motion kid in 1987 for Indiana, really be 51? And Reggie Miller 50? Spike Lee is 59. They're getting a little old to exchange choke signals.
The Kobe Bryant Farewell Tour having closed with a made-in-LA crescendo, please keep in mind that Michael Jordan is only 20 months from being able to order off the 55-and-over menu at IHOP. And Bill Russell, who won as many NBA championships as Bryant and Jordan put together—an astonishing number in its own way—is 82. 
Maybe we've gotten used to the idea of Peyton Manning's reaching 40. But how about Joe Montana's hitting 60 this week—11 days after Joe Namath turned 73?
Notre Dame's Rudy never gets old in the movies. But Rudy Ruettiger is 67. 
The images of youthful champions last much longer than their youth does. Pete Rose might forever be flopping head first into third base, with his helmet flying off. But he just turned 75. No more flopping.
The Miracle on Ice team will always be the kids leaping into one another's arms, having overcome the odds of their tender ages to charm the nation. But team captain Mike Eruzione, whose goal beat the Soviets, is 61. He's outlasted the Soviet Union.   
Mark Spitz, that slender, Indiana University half-man/half-dolphin who was the sensation of the Munich Olympics? The poster stud with all those gold medals hanging on his bare chest? He's 66.
And what of America's little sweetheart, Mary Lou Retton? Gymnastic pixies have birthdays, too. She's 48, with a daughter in college gymnastics.
John McEnroe was the petulant young tennis warrior in a headband. Not so much at 57. Remember the star-crossed romance between Jimmy Connors and Chris Evert that swirled around the world? Two kids in puppy love. He's 63, and she's 61.
Wayne Gretzky was a Broad Ripple High student for a few minutes while he played for the Indianapolis Racers at 17. He stayed long enough to discover, as he was later quoted, that high school basketball was a lot more popular in Indiana than hockey. Now the former Rocket is 55.
Goofballs and controversial figures get older, too.   
Dennis Rodman is 55, though his picture, complete with jewelry through the nose and lip, doesn't exactly scream "AARP member." John Daly, the big-hitting kid from nowhere who dropped from the sky to win the 1991 PGA in Indy, just turned 50. 
Barry Bonds, Roger Clemens and Mark McGwire have at least a couple of things in common: They were the most prominent names mentioned during the steroid scandalsin baseball and they're all in their 50s.  
The years roll for coaching greats, even if that doesn't slow them down. Nick Saban reaches Medicare age this season. Larry Brown is going strong at 75. The average age of the Final Four coaches last April was 63-1/2, including 71-year-old Jim Boeheim. And come next fall, Duke will likely be No. 1, going into the season when Mike Krzyzewski turns 70.
And there's always golf, where for the longest time, the legends seemed to arrive in intervals of a decade. So we pass the "can-they-really-be-that-old?" baton from Arnold Palmer at 86, to Jack Nicklaus at 76, to Tom Watson at 66. And maybe even more surprising: Phil Mickelson soon to be 46. Just four years from the senior tour.    
Tiger Woods has limped to 40. He's 10 months older than Brad Stevens, who seems to have been coaching forever.   
Meanwhile, LeBron James is in yet another NBA Finals at 31, only four years younger than Jordan when he retired the second time from the Bulls.
That's how it is. Everyone gets older.
Except for maybe Adam Vinatieri.•
__________
Lopresti is a lifelong resident of Richmond and a graduate of Ball State University. He was a columnist for USA Today and Gannett newspapers for 31 years; he covered 34 Final Fours, 30 Super Bowls, 32 World Series and 16 Olympics. His column appears weekly. He can be reached at mlopresti@ibj.com.
 
Please enable JavaScript to view this content.