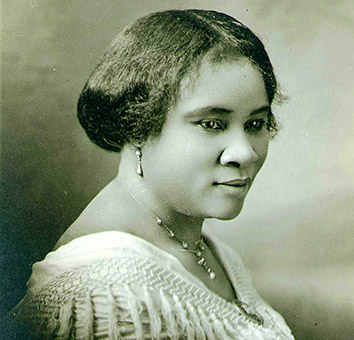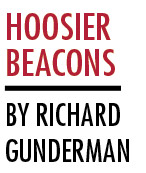 Born to sharecroppers in rural Louisiana in 1867, Sarah Breedlove eventually became Madam C.J. Walker, often called the first female self-made millionaire in American history, and a major figure in the development of Indianapolis.
Her life was hard. One of six children of former slaves, she was orphaned at age 7 and working at 10 as a domestic. Her first marriage, at age 14, produced a daughter, Lelia, and ended with her husband's death. She left her second husband before marrying Charles Joseph Walker in 1906. It was at this point that she became Madam C.J. Walker.
As a young woman, Walker suffered scalp ailments that caused her to lose much of her hair. By the early 1900s, she went to work for Annie Malone, whose company produced hair care products for blacks. Before long, she was developing her own line of hair care products, including Madam C.J. Walker's Wonderful Hair Grower.
Walker began selling her hair and skin care products door to door, then later developed a mail-order business. In 1908, she moved to Pittsburgh, where she opened Lelia College to provide hair care training. In 1910, she moved to Indianapolis, establishing her house and production facility at 640 N. West St. Her operation soon expanded to include a hair salon and beauty school.
It was during the 1910s that Walker enjoyed her greatest success. Her husband helped her secure advertising in black newspapers and magazines, and thousands of people around the country were employed in her sales force. She provided an income to women whose only other employment opportunity was domestic service, helping them to develop essential business skills.
Describing her mission in 1913, Walker said, "Girls and women of our race must not be afraid to take hold of business endeavor and, by patient industry, close economy, determined effort, and close application to business, wring success out of a number of business opportunities that lie at their door."
Walker's national sales conventions were among the first such meetings devoted to women in business. At these meetings, she awarded prizes to top sellers. In addition, she publically recognized participants who were doing the most to build their communities through charitable activities.
Walker's business acumen was matched by her philanthropic commitment. She helped build a branch of the YMCA to serve Indianapolis' black community. She made large donations to black colleges and churches. She generously supported arts and cultural organizations, making the largest individual contribution to preserve abolitionist Frederick Douglass' Washington, D.C., home.
In 1916, she moved to join her daughter in New York. Before long, her health began to fail, and she died in 1919 at the age of 51 from complications related to high blood pressure. At the time of her death, the value of her estate was less than $1 million, but she was widely considered the wealthiest black woman in America.
Walker's Indianapolis legacy remains strong. The Madam Walker Theatre Center in the 600 block of Indiana Avenue, once the headquarters of her business empire, is now a cultural center listed on the National Register of Historic Places. Today, it hosts a variety of cultural and artistic activities and serves as an education center for youth.
In summing up her philosophy, Walker said, "There is no royal flower-strewn road to success, and if there is, I have not found it, for what success I have obtained is the result of many sleepless nights and real hard work."•
__________
Hoosier Beacons pays tribute to Indiana's bicentennial by telling the stories of famous Hoosiers. It appears every other week. Gunderman is chancellor's professor at Indiana University.
Please enable JavaScript to view this content.