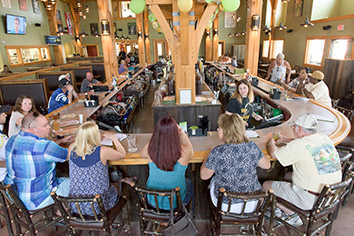 Now that the race is out of the way, one can assume the lines will be shorter at the new Big Woods (1001 Main St., Speedway), which opened just in time for the May festivities and quickly became a culinary anchor on the up-and-coming main drag.
Then again, perhaps the crowds will be here awhile.
An offshoot of the popular eat-and-drinkeries in Bloomington and Nashville—when it was ahead of the curve in the brew pub craze—Big Woods is a high-ceilinged, big-patioed lodge with an oval bar in the center that mimics the big track just down the street. It serves familiar fare without pretense by an attentive staff, although here's hoping the lack of smiles from the service folks on my visit gets turned around after the initial business onslaught eases up.
A small order of Big Woods Pulled Pork Nachos ($9.25, $12.25 for a full) could have used a bit more commitment to pig shredding, although catching one of the big chunks of pork on a chip felt like an achievement. A serving dish with less of a lip would have made scooping easier. I make that minor quibble only because much of the fresh jalapenos, sweet corn, red onion and tomato were found at the bottom once the chips were exhausted.
Smoked Half Chicken ($14.95) proved meaty and well sauced in a choice of Bomber, classic barbecue, or mustard barbecue. The chicken was parked on a bed of Asiago-chive mashed potatoes, which soaked up flavor from the bird. I could have used a bit more of those. A few stalks of allegedly spicy broccolini didn't add much besides color to the party. Chipotle Fish Tacos ($13.95) didn't live up to their price tag, especially with a $2.95 upcharge for refried white beans and slaw. That being said, those add-ons proved the highlight of the dish, particularly the chunky slaw.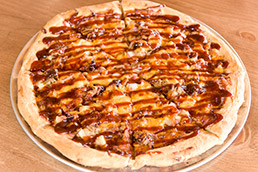 Pulled Pork Pizza is one of several pie options. (IBJ photo/Eric Learned)
Although Big Woods' pizza menu is a bit confusing, I'll bet the restaurant becomes as popular for its pizza as for anything else (one of the company's Nashville locations has pizza as its focus).
A build-your-own starts at $7.95 or $11.95 with a choice of hand tossed or thin crust, eight sauce options ($1), and a host of toppings ($1.50 each on the small and $2.25 on the large). It would be understandable if, to make ordering simpler, you go with one of the five variations in two sizes, beginning at $12.95 for a 10-inch Margherita on up to the $19.95, 16-inch Don Napier topped with Italian sausage, smoked chicken, caramelized onions, roasted Brussels sprouts, Asiago and chevre crumbles with a Dijon cream sauce.
We went with the Margherita, trusting that a pie purveyor that can handle the basics has a better shot at more complex combinations. Proof of that will require another visit, but we were very pleased with the pie that arrived, with Roma tomatoes and fresh basil adding texture to the well-parceled fresh mozzarella and an olive-oiled crust that offered just enough resistance. It inspired us to take home a calzone, which would have been just as satisfying had the kitchen thought to include the promised marinara for dipping.
No such problems with the Bag O Donuts ($5.95), whose chocolate turtle sauce arrived safely but soon was absorbed in the warm doughnut holes tossed in maple cinnamon sugar. Those barely survived the car ride home—and almost led us to do a U-turn on Main Street for another sackful.•
Please enable JavaScript to view this content.