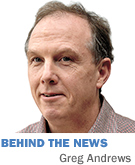 Sardar Biglari, the entrepreneur who turned around Indianapolis-based Steak n Shake, is failing to achieve the same Midas touch at the racy men's magazine Maxim.

Biglari
The 38-year-old has adopted a hands-on approach at the magazine that has roiled staffers and raised eyebrows in the publishing world—but so far to little avail. Biglari Holdings, parent of Steak n Shake, Maxim and other investments, reported last month that the magazine's revenue fell 55 percent in the latest quarter.
Revenue was $2.4 million, down from $5.4 million a year ago. Since Biglari bought the flailing magazine in February 2015 for $12 million, pretax losses have topped $42 million. The only bright spot in the latest quarter: Thanks to cost-cutting, the loss actually shrank, narrowing to $3.5 million from $5.9 million a year earlier.
Biglari, an audacious hedge fund manager based in San Antonio, Texas, knew from the outset that he was taking on a massive turnaround project. As he told shareholders in a November 2014 letter, "The transformation of Maxim will either make history or be history. Because such a commitment to an entrepreneurial investment does not involve, let alone imply, the surety of success, we risk being quite wrong."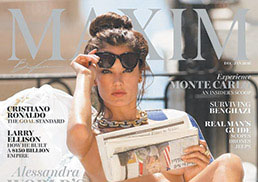 Biglari's role in this issue riled some staff.
Even so, in the same letter, he said he expected the magazine to become profitable in 2016. In his latest shareholder letter, published in February, he was more cautious, opining, "Although current trends are not to be envied, we believe Maxim will become profitable in late 2016."
Biglari's plunge into magazine publishing grabbed headlines from the start, in part because he has no experience in the challenging field. His vision, as spelled out in his 2014 shareholder letter, was to take Maxim further upscale, with better paper, stronger photography and a new focus on uplifting success stories. "An ethos must shine through the pages of the periodical depicting sophistication and style," he wrote.
All of that is interesting enough, but it doesn't hold a candle to the behind-the-scenes drama that has helped fill the gossip pages of newspapers in Maxim's hometown of New York. Much of the tongue-wagging involves the December/January issue, which featured Brazilian model Alessandra Ambrosio on the cover, posing nude in Biglari's hotel suite in Monaco.
Biglari insisted Maxim devote 50 pages to Monaco, where he spends significant time, and include features on his favorite cigar shop and on David Letterman, part-owner of the race team Steak n Shake sponsors, according to a court filing by former Maxim Deputy Editor Jason Feifer.
"Biglari insisted that the issue focus primarily on subjects that were relevant to Biglari's own personal and professional interests," the filng said. "In a wholly unorthodox and unexplained move, Biglari even added his signature to the cover of the December issue."
It continued: "There was much conversation and debate among the staff not only about the inappropriateness of what the staff came to understand was a decision by Biglari to include a photo of himself with a model in the issue, but also about the widely shared understanding that the model had requested and been assured that the photo of her would not run in the magazine."
The photo shoot was a topic of a Dec. 2 New York Post column that said Ambrosio reluctantly agreed to pose in a photo with Biglari on a balcony of the Hotel de Paris and that she was "creeped out by Biglari."
It was that column that spawned the legal tangle with Feifer. Biglari sued him and another Maxim employee, alleging they committed defamation by providing what he called false statements to the Post.
A New York court initially sealed Feifer's account of what transpired, filed in March, but reversed course last month after The New York Post and San Antonio Express-News challenged the decision.
Biglari, did not respond to a request for comment on Feifer's filing.
In the filing, Feifer also criticized Biglari for "insisting on increasingly distasteful content" in the magazine"—including "a piece of erotica that so embarrassed the young female staffer assigned to the project" that she used a pseudonym.
Of "greatest alarm," Feifer added, was Biglari's decision to "dispense with the fundamental tenet of journalism: the truth."
When Feifer insisted to Biglari that a journalist needs to report the truth, Biglari responded that "we need to take some creative license," the filing alleges.•
Please enable JavaScript to view this content.