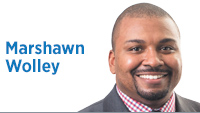 What if, in addition to summer jobs, Indianapolis was intentional about creating pathways to entrepreneurship?
The Exchange, an auxiliary group of the Indianapolis Urban League for individuals ages 21-40, visits youth at the Marion County Juvenile Detention Center every month. We talk about breaking cycles of delinquent behavior and realizing dreams.
When I listen to the youth share their dreams, they rarely say they want to work for someone. Usually a good percentage of the young people want to be entrepreneurs. There is a sense of pride, autonomy and community in the idea of being a business owner.
After each session, I've left with this sense that we as a city continue to fail to unlock the potential of the young people in the facility. These young people at the juvenile detention center, despite their current situation, are amazing problem solvers—often figuring out where to stay, how to stay safe, and how to eat or feed others. These young people are dealing with adult situations and solving all sorts of problems, albeit at times, in ways that conflict with the law.
In the school-to-prison pipeline there is a tendency to see troubled youth as potential budgetary outlays for the criminal justice system as opposed to potential taxpayers. Third-grade reading tests are used to determine how many prison beds will be needed in the future.
Indianapolis youth advocates are engaged on the issue of youth employment. In 2013, the Your Life Matters Taskforce, an initiative meant to look at barriers impacting black males between the ages of 12-24, developed a report that in part examined disparities in youth worker readiness and youth unemployment in the black community.
The report noted that the "community lacks a large-scale 'pathway to employment' initiative" and that at the time the business community was not aware of the magnitude of the youth employment problem. The report also noted that black youth unemployment between the ages of 16 and 19 is nearly triple the average for Indiana.
Mayor Joe Hogsett recently launched a summer jobs program. But a 2013 U.S. Conference of Mayors report—Summer Youth Jobs: A Survey of Business Executives—signals that despite the need, sustaining and growing a city summer jobs programs can be a heavy lift for any city. The report surveyed over 300 business leaders across the country. More than two-thirds of business leaders in the survey did not hire any youth/young adults and many did not make a contribution to a summer jobs program. The good news, according to the report, is that of the nearly one-third of business leaders that did hire youth in summer of 2012, 61.6 percent were likely to hire youth again.
We have the advantage of seeing the impact of summer jobs programs in other cities. Studies have shown a link to summer job programs dramatically reducing youth violence. But don't we want more for our youth?
Indianapolis should tackle a bigger problem and be intentional about training some of our youth to be entrepreneurs as part of the summer jobs program. Leveraging not-for-profits working in this space and teaching entrepreneurship might be a better way to engage more business leaders. In 1932, U.S. Supreme Court Justice Louis Brandeis intimated that states in the development of social and economic policy could serve as laboratories for the rest of the country. Cities and even summer jobs programs are opportunities for innovation, too.•
__________
Wolley is a lecturer at the School of Public and Environmental Affairs at IUPUI.Send comments to [email protected]
Please enable JavaScript to view this content.