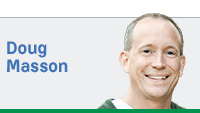 Rep. Todd Rokita is pushing legislation that would toughen eligibility requirements for free school lunches. Under current law, when 40 percent of students qualify for the program because of their participation in other programs—such as food stamps—as opposed to individual verification of incomes, a school gets federal assistance to offer free lunches to the entire school. Advocates of this program say that if income was verified directly, 2/3 of the students would qualify. This way, schools avoid the administrative burden of verifying income.
Rep. Rokita wants to raise the threshold for waiving income verification to 60 percent. In Indiana, that would mean approximately 120 schools serving nearly 58,000 students would no longer qualify for a schoolwide free meal program. An additional 231 schools would lose the chance to use the program in the future.
Personally, I am a bit complacent about the error rate of using community eligibility criteria instead of directly testing individual incomes. If an ineligible student is not screened, the worst that happens is that we feed some middle income or rich kids. I'm OK with that because, at the end of the day, our tax dollars are feeding kids. That's almost the best form of "waste" I can think of. But that is personal preference. I understand that reasonable minds can differ.
However, Rep. Rokita's effort suggests a larger problem. We live in a country of tremendous wealth where a great deal of that wealth has been captured by a small fraction of the population. The bulk of the population is set against one another to fight over the scraps that remain. The financially stressed middle class worries that the somewhat poor might get a free lunch that was intended for the very poor. The middle class worries because the extra stress of those free lunches may well be the push that drags them down to the lower class. We also see this dynamic in the success of the Trump campaign.
Trump's support comes primarily from people whose anger is born of fear generated by financial insecurity. "Where did the money go?" Trump's campaign rhetoric seems to ask. Rather than staring too long at Trump's own gilded lifestyle, Trump urges his supporters to, in effect, conclude that Hispanic people must have taken it. This divide-and-conquer strategy is reminiscent of the quote by 19th century robber baron Jay Gould, who said, "I can hire one half of the working class to kill the other half."
Policy ideas with superficial appeal are pernicious when their real effect is useless or counterproductive. Trump wants to build a wall regardless of its prohibitive expense, logistical nightmares, and ultimate ineffectiveness. No matter. We have to do something about "them" because they might take our share of the scraps. Rokita is much more nuanced than Trump, and his idea of raising the eligibility threshold from 40 percent to 60 percent is not so obviously wrong. But its appeal comes from a similar place: soothing the financial anxiety of the taxpayers by targeting a problem that is marginal at best. Neither appear to be inclined to address any of the fundamental economic problems that are causing our middle class to erode and so many citizens to be financially insecure.
We have structural problems in the U.S. But feeding kids who may not be poor enough is not one of them.•
__________
Masson is a Lafayette attorney, author of Masson's Blog and former counsel for the Legislative Services Agency. Send comments on this column to ibjedit@ibj.com.
script src="http://www.ibj.com/ext/resources/html/social-buttons.js">
 
Please enable JavaScript to view this content.