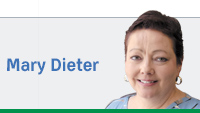 Gov. Mike Pence's statement about Donald Trump was unequivocal: "I'm fully supportive of our presumptive nominee."
What, one wonders, does "fully supportive" mean? With Pence running for reelection, surely Hoosiers want to know. It's a question the news media and John Gregg, Pence's opponent, should ask. Soon and often.
An Internet search turns up three substantive statements made by Pence about Trump. He praised Trump for criticizing Carrier Corp.'s decision to move jobs from Indiana to Mexico. Pence said he disagreed with Trump on the other two issues.
Not really.
The governor, claiming "a deep compassion for expected (sic) mothers and the unborn," said he disagreed with Trump's since-disavowed declaration that woman who have abortions should be punished. But what, if not punishment, are the Pence-supported, ever-growing restrictions on legal abortion, including those intended to heap pain on women making an already-difficult decision?
Pence also said he disagreed with Trump's call to ban Muslims from entering the country. But what, if not racial prejudice, drives Pence to try to stop Syrian refugees from settling in Indiana?
So Pence's disagreements with Trump aren't really disagreements. What does that mean for the issues that Pence hasn't brought up?
Does Pence agree with Trump that women's only value is their physical appearance; they inconvenience their employers with pregnancy; and they must be hormonal if they ask tough questions?
Does he think it's OK for Trump to urge his supporters to beat protesters? To mock a disabled reporter? To label those who disagree with him "losers"?
Does he condone Trump's inclination to lie so offhandedly and outrageously that reporters cannot keep count?
Is it acceptable to Pence for Trump to accept an endorsement from convicted rapist Mike Tyson and to fail to repudiate one from white supremacist David Dukes?
Does Pence think Trump demonstrates the judgment and temperament imperative for a president when the latter publicly criticizes and makes racist comments about the judge presiding over a trial in which Trump is the defendant?
Indiana's small but growing Hispanic/Latino population surely wants to know if the governor agrees that Mexican immigrants are "bringing drugs. They're bringing crime. They're rapists."
Does Pence, like Trump, disrespect the heroic service of men such as Sen. John McCain and former Indiana Gov. Joe Kernan because they were held captive in Vietnam?
Is Pence willing to sell the public a pig in a poke, assuring us that everything will be "fantastic" but providing no substance?
And in a state where per capita income is 13 percent lower than that of the country, Hoosiers will want to know if Pence shares Trump's glee about making millions from the misery of people who lost their homes when the housing bubble burst. We want to know if Pence thinks it's OK that Trump won't release his tax returns?
If Pence would answer "no" to these questions, then what does "fully supportive" mean? Is a victory by a Republican so crucial that Pence can cynically ignore Trump's most odious positions? For all his ballyhooed moral rectitude, does Pence want to win at all costs?
Pence's actions as governor – including his support of the misnamed Religious Freedom Restoration Act – give us some ideas about who and what he values. Rarely do we get such a window into a candidate's soul as we have now, knowing that our governor is "fully supportive" of Donald Trump.•
__________
Dieter, a writer and an editor, is the former Statehouse bureau chief for The Courier-Journal and press secretary for Gov. Frank O'Bannon. Send comments on this column to [email protected]

Please enable JavaScript to view this content.