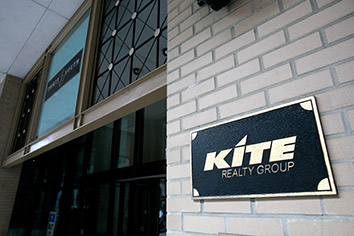 Shares in WP Glimcher Inc. fell nearly 7 percent Monday after the retail landlord refuted reports it was involved in merger negotiations with "any third party."
Shares had rallied last week after Reuters reported that Columbus, Ohio-based Glimcher was in merger talks with Indianapolis-based shopping center developer Kite Realty Group Trust.
A merger isn't in the offing, Glimcher said in a short written statement. And the market's reaction was telling.
"While it is the company's long-standing internal policy not to comment on speculation or market rumors, the company is currently not engaged in negotiations involving a merger or other strategic alternatives transaction with any third party," Glimcher said in an announcement.
Glimcher's stock fell 6.8 percent, closing at $10.84 per share after the announcement. Meanwhile, Kite's stock rose 2.6 percent, to close at $26.40 per share.
Analysts said Glimcher's stock drop shows investors have little faith it can turn around its portfolio of nearly 120 properties on its own. And the rise in Kite shares of as much as 5 percent on the news suggested investors don't think Glimcher would have been a good investment for the Indianapolis real estate investment trust.
Glimcher stock is trading at 6.4 times the company's expected funds from operations over the next 12 months, compared to an average multiple of 16.6 times at retail REITs followed by Bloomberg. But the company is cheap for a reason—its performance has underwhelmed investors as it struggles to find its place in the retail real-estate landscape.
Despite the popular conception that all malls are dying, a more accurate picture is one of a bifurcated market. A handful of companies that operate malls and shopping centers exposed to high-end neighborhoods and luxury retailers are doing well. Those that own middling malls in poorer neighborhoods, exposed to struggling department stores and regional retailers, are doing most of the dying.
The problem for Glimcher is that it's closer to the latter group. The company was formed in May 2014, when Simon Property Group swept out many of its worst assets into an entity called Washington Prime Group. That company then loaded up with debt to buy Glimcher Realty Trust in January 2015 for nearly $4 billion, a 30 percent premium to the share price at the time.
Since then, Glimcher's stock has dropped by nearly 40 percent—making it the third-worst performer in Bloomberg's retail REIT index, after CBL & Associates, which is currently being investigated by the SEC for alleged accounting fraud, and Wheeler, a small strip-center operator.
Glimcher's commitment to being all things to all people—owning enclosed malls, open-air centers, strip malls, as well as a variety of top-tier and bottom-tier assets—makes it hard for investors to wrap their heads around what exactly Glimcher is trying to accomplish. And as profit and revenue growth have declined, total debt now stands at around nine times earnings.
The thought behind a Glimcher-Kite merger was that it would give the companies scale to thrive at a time of declining mall traffic, when only the best shopping centers have a fighting chance of attracting ever-fickle consumers. A deal could have helped Glimcher accelerate efforts to clean up its portfolio, to focus more on higher-end properties.
With the Kite deal not happening, it seems other suitors aren't exactly lining up.
High-performing mall operators such as Indianapolis-based Simon Property Group, Taubman Centers or General Growth Properties aren't interested in the kind of lower-quality assets that make up a big portion of Glimcher's properties, according to Bloomberg Intelligence analyst Jeffrey Langbaum.
He said Brookfield's pending acquisition of Rouse Properties shows there is some interest in lower-tier real estate. But Brookfield already owned a third of Rouse, whose portfolio was small anyway, at only three dozen properties.
CEO Michael Glimcher said at an industry conference last week he's confident his company has built a "solid foundation" for growth. He said the company is working to pay down its debt and, in the meantime, has plenty of access to cash. Judging by the company's share price and recent financial performance, though, Glimcher will have to work harder to deliver on his promises—because it doesn't look like a deal is coming to his rescue anytime soon.
 
Please enable JavaScript to view this content.