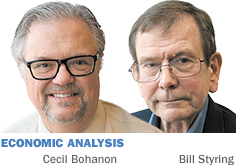 Some 200,000 people, a majority under 35 years old, showed up for an energy protest march last month. Didn't hear anything about it? Not surprising. It wasn't in London, Paris or Washington D.C., and the protestors weren't demonstrating against nuclear power, climate change or hydraulic fracturing.
No, the march was in Kabul, Afghanistan, and the protesters were pro-electricity. You see, over half of Afghanistan has no electricity. The Afghan government recently contracted with neighboring Turkmenistan to run power to Kabul and points in between. The original route included the Bamyan province, the traditional homeland of the Hazara minority, which constitutes about 15 percent of the Afghan population. The newest proposed route excluded the Bamyan province and the Hazaras were angry. That the power would come from natural gas plants spewing CO2 didn't seem much of a concern.
For the half of Afghans who have electricity, it is commonly intermittent. Off-and-on power is better than none at all, but not knowing when (or whether) the stuff is coming back is a major worry. A prized possession of the economics faculty at Kabul University is a donated backup electric generator.
Aside from the Amish, few living Hoosiers can remember life without electric power. Think about it. No washer, dryer, electric lights or kitchen appliances. No air conditioning. Not even an electric fan.
Health researcher-demographer Hans Rosling tells the story of his family's acquisition of a washing machine during his childhood in rural Sweden in the early 1950s. Not only did the washing machine relieve his grandmother and mother from the back-breaking task of hauling and heating water, it freed up his mother's time so she could read to him—an activity he credits as the foundation of his future academic success.
Rosling is no global-warming skeptic and calls for increased use of green energy. Nevertheless, he indicates a deep appreciation for the power plant that allowed his family to escape the grinding poverty of rural Sweden. More to the point, he argues that the rich of the world should refrain from giving advice to poor nations as to how they get their electricity. We couldn't agree more!
Several billion souls on planet Earth are in the same boat as the Kabul protesters. Climate warriors have a high mountain climb to convince them that wind and solar someday is more important than a washing machine now.•
__________
Bohanon is a professor of economics at Ball State University. Styring is an economist and independent researcher. Both also blog at INforefront.com. Send comments to ibjedit@ibj.com.
Please enable JavaScript to view this content.