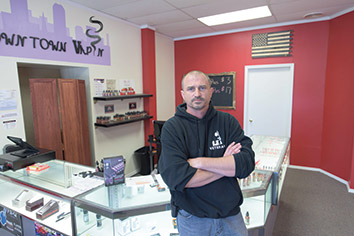 The state has effectively put a single private firm in charge of deciding which companies can seek a permit to manufacture e-cigarette liquids sold in Indiana—and which will be shut out of the state's vaping market for good.
That security firm—Lafayette-based Mulhaupt's—is under no obligation to even talk to a manufacturer it doesn't want to do business with. Nor does it have to release any information about the companies it turns down.
And Mulhaupt's hasn't been shy about exercising its clout. The firm has rejected plenty of manufacturers—including mom-and-pop shops that say they will be forced to close or move out of state and national players that say they now will be shut out of the Indiana market.
The result is that just six manufacturers in the country have been authorized to sell their products in Indiana—and two of those appear to be brand-new firms. One more company's request is pending, but the deadline for approval is June 30, and any company without a permit by then will have its products banned from store shelves in Indiana.

Alting
That's left vape shops and convenience stores that currently rely on non-approved manufacturers' products in a bind. Some say they will shut down or move out of state rather than pay significantly higher prices from the approved firms. Other owners say they're hamstrung by leases that will force them to keep doing business in what they describe as a monopoly environment.
Michael Vargo, who owns Downtown Vapin' in Indianapolis, said he welcomed regulation of his products, including rules to keep them out of the hands of children. But he called the state permitting process "blatantly corrupt" and will close his store.
The process—which has fueled allegations within the vaping industry that key decisions were politically motivated and rigged—is the result of state laws passed in 2015 and 2016 that established new rules for manufacturing and selling e-liquids, which are the "juice" in vaping pens, a type of electronic cigarette that has shot up in popularity in recent years.
The 2015 law, tweaked in 2016, includes a ban on sales of e-cigarettes to minors, requires that e-liquid ingredients be listed on packages, and mandates random testing of the liquids to ensure they are safe.
The controversial part of the law requires that manufacturers hire a security firm to certify they meet state rules for clean rooms used for mixing and bottling liquids, secured areas where products will be stored, and remote monitoring for areas where e-liquids are mixed, bottled, packaged and stored.
Manufacturers say they don't oppose oversight.
But the law—crafted in part by a state senator whose district includes Mulhaupt's and a politically connected attorney who now represents the company—sets out such detailed requirements for the required security firm that Mulhaupt's appears to be the only company in the country qualified to work with the manufacturers.
"If you want to sell e-liquid in Indiana, it doesn't even matter if you are from another state, you have to go through Mulhaupt's," said state Sen. Vaneta Becker, R-Evansville, who wants to change the law.
"To me, that is an antitrust issue."
Industry fallout
Publicly, Malhaupt's downplays its role in the industry, arguing that the Indiana Alcohol and Tobacco Commission makes the final decision on whether a company can manufacture the liquids.
But no manufacturer can move forward in the licensing process unless it reaches a deal with Mulhaupt's to provide security for five years—and Mulhaupt's has been choosy about whom it accepts.
Robert Lebeau initially was confident that his Tampa, Florida-based company, Peak Nutritional Products, would be able to meet the Indiana rules. The vitamin and sports nutrition supplements manufacturer has been making e-liquids for three years, and its products are in thousands of Circle K gas stations and other stores across the country.

Mahan
But come July 1, the company's distributors will have to pull its products from Indiana shelves—for good.
It wasn't for lack of trying.
Lebeau said his company reached out to hundreds of security firms across the United States to find one to work with. But he could find no one else that met the state rules—which include having at least one employee certified by the Door and Hardware Institute and one certified by the International Door Association.
What's more: Security firms had to be in compliance with the rules by July 1, 2015, meaning firms that aren't never can catch up and get the certifications to make themselves eligible.
Lebeau said he offered Mulhaupt's $100,000 for a five-year contract, but Mulhaupt's said he was too late in contacting the security firm, which couldn't work with anyone else.
"If I've got customers knocking on my door asking to do business with me, I'm going to do anything possible to do it," Lebeau said. "I don't get it."
But Mulhaupt's president, Doug Mulhaupt, defends the decision to limit his clientele.
"We knew that we could not take care of everybody and they should go pursue other security companies," Mulhaupt said.
"It's not my problem" that no other companies nationwide seem able to comply, he said.
Legislative wrangling
Some members of the vaping industry—and two sympathetic lawmakers, one of them Becker—pushed the General Assembly this year to widen the security-firm requirements.
Instead, lawmakers simply modified the 2015 law. Under the earlier iteration, no security firms appeared to meet the state qualifications at all. So lawmakers hastily amended the measure this year—allowing the same employee to meet both door certifications—to ensure at least one security firm would qualify. That was Mulhaupt's.
Lawmakers who championed the legislation said the overall goal was to get bad actors out of the industry and improve public health. Before the 2015 law, the industry was essentially unregulated.
Some lawmakers say they weren't aware that just one security company would be able to meet the security requirements, although opponents raised that concern during the 2016 session.
Republican Sen. Ron Alting, the Lafayette lawmaker whose district includes Mulhaupt's and who sponsored this year's law, declined an interview request.
Sen. Carlin Yoder, R-Middlebury, who sponsored the 2015 law, said "our intent was not to have one company have a monopoly by any stretch." But he also said he didn't "owe anybody anything on this."
And Rep. Kevin Mahan, the Hartford City Republican who authored the 2015 law, said he "wouldn't know [Mulhaupt's] if they walked into my office right now."
He said last year that the overall goal of the law was to protect children from obtaining e-liquids and adults from buying unsafe products. "Up to this point, the liquids used for vaping have been unregulated, allowing dangerous ingredients to be included in some of the liquids," he wrote in 2015.
Trail of meetings
So how did one Lafayette company gain control over Indiana's entire vaping industry?
The answer is murky, though the company had a number of advocates along the way, including one attorney who previously worked for the Indiana Alcohol and Tobacco Commission, the agency charged with implementing the law.
Before the 2015 law passed, the ATC started meeting with lobbyist Jim Purucker and attorney Jack Thar. ATC General Counsel Jessica Allen said in a deposition the meetings began when it was "clear we were getting some form of e-liquid regulation." At the time, the men were representing Indiana Vapor Co., a company that hoped to manufacture and sell e-liquids.
The deposition is part of a federal lawsuit by manufacturers that are trying to block the law. The state also is being sued in state court, although a judge recently ruled against the plaintiffs' request for an injunction to stop the law from taking effect.
Thar and Purucker "wanted to meet with us to offer their assistance on rule-drafting," Allen said in the transcript of the deposition.
On May 7, 2015, the date the first vaping legislation was signed into law by Gov. Mike Pence, the ATC had another meeting with Thar, where he suggested the agency "designate a certain security company to help manufacturers comply with the statute."
Then in July 2015, Allen said, the ATC learned that Mulhaupt's thought it could meet the law's requirements.Allen said the ATC was approached by one of the agency's former prosecutors, Jennifer Drewry,who had begun representing Mulhaupt's as its lawyer. Drewry left the ATC in January 2014, according to the agency.

Laikin
The ATC toured Mulhaupt's Indianapolis location in August 2015 and shared in late September with vaping industry members that Mulhaupt's met the law's security firm requirements.
The ATC was contacted by "two or three" security companies besides Mulhaupt's, Allen said in the deposition, but when she "would start listing the requirements for the security company … that was basically the end of the conversation."
Later in 2015, the ATC grew concerned Mulhaupt's might not actually meet every requirement in the law.
So Mulhaupt's then hired Thar, the former executive director of the Indiana Gaming Commission who had already been working with the ATC on the rules. Thar said he was charged with helping the company meet the requirements by "clearing up" the bill in the Legislature.
With Thar's help, Mulhaupt's won the changes it wanted from the Legislature.
Thar told IBJ he has no sympathy for security firms and manufacturers that feel shut out of the process. He said they should have gotten involved earlier. 
"Not one security company came in and said, 'Wait a second. How about doing it this way or that way?' There were no suggestions from anybody else. Mulhaupt's asked for a clarification in 2016 that would make them eligible," he said.
Other companies waited "until the last minute and now they're crying about it. They can sell in 49 other states if they don't qualify or they can have their product bottled in Indiana," he said.
The ATC said it ceased working with Thar on industry rules once the agency became aware he was representing Mulhaupt's. After that, "he did not participate in any rule-making meetings that were not open to the entire industry," ATC Chairman David Cook said in written responses to IBJ's questions, which the agency requested in lieu of an interview.
Cook said that, even earlier, Thar had been consulted only in an advisory role on the procedure for rule-making but not the substance of any rules.
Tight timetable
Even before the Legislature finished tweaking the law this year, Mulhaupt's had set a schedule it said manufacturers needed to meet to hire the company as its security firm.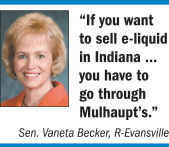 In fact, March 18—one week before Pence signed the bill into law—was the last day Mulhaupt's said it would accept an application from a manufacturer, along with a non-disclosure agreement that prevents customers from revealing the firm's prices or terms.
Doug Mulhaupt said about 30 companies contacted his business interested in the security contracts, but he said the firm only had capacity to work with so many.
"The law does not say that I have to do business with everyone," Mulhaupt said. "We are not going to stretch ourselves too thin and do a bad job."
All six of the manufacturers approved by the ATC are Mulhaupt's customers. No applications have been denied, ATC officials said, although some incomplete applications were returned.
Some of the approved manufacturers have a track record in Indiana, including Sugar Creek Bottling in Indianapolis, which formed in 2013. Its owner, Randy Burchett, referred questions about the licensing process to an association representing approved manufacturers.
Another approved manufacturer is Licensed E-liquid Manufacturing, which was incorporated in February. It's owned by Shawn Anderson, who also owns CravinVapes LLC in Fort Wayne.
Anderson said in a Facebook post that he spent three months preparing his 650-page application for the state, and has been "trying to survive a bad situation."
When reached by IBJ, he said he was unavailable for an interview because he was out of town.
"The sad thing is, I am sitting here at 3 a.m. still wondering if it was even worth it to get a license," Anderson wrote on Facebook. "I am and will continue to fight for this industry, but cannot help if we are out of business."
Spawning startups
Some of the approved manufacturers appear to be new players in the industry.
VapeINg LLC, a Lafayette manufacturer, was created in early March, according to the Indiana Secretary of State's Office. The registered agent for the facility is Andrew Gutwein, a Lafayette lawyer who also represents Mulhaupt's.
Another approved manufacturer, Cloudtown LLC of Cleves, Ohio, does not have a working telephone number. That business was created in mid-March, according to the Ohio Secretary of State's Office.
And the newly formed business association that represents the six approved manufacturers is led by Zak Laikin, owner of Indiana Vapor Co. LLC, which advocated for the new regulations at the General Assembly.
Laikin decided not to apply for apermit to manufacture the products—as he had planned—because "frankly, the financial investment required to comply with the law … was simply more than what I was able to justify investing at this time," he told IBJ.
Laikin would not say whether all the approved manufacturers are currently manufacturing e-liquids. He said he could not share the companies' "confidential launch plans."
The ATC's Cook said the law "does not require the regulating agency to ensure that the permitted applicant is actually producing product."
"As a part of the application process, the applicant is required to submit detailed floor plans showing that the facility meets the requirement of the statute relating to clean rooms and secure areas," Cook told IBJ.

Boots
"The security firm, then, certifies to the agency that the requirements of the statute are satisfied."
Shut out
Large, national players say they don't understand the outsized role of the security firm in the process. They say they have the track record, money and willingness to meet the state regulations as well as federal ones that are in the works.
Jacksonville, Florida-based Swisher International Inc.'s sister company, E-Alternative Solutions, currently sells Liquid Soul Vapor brand products in several outlets in Indiana, including Low Bob's and Smoker's Host.
It tried to work with Mulhaupt's, but the company said it was no longer accepting applications.
"We have spent considerable time, effort and resources ensuring our facilities and products comply with every aspect of the legislation," the company told IBJ in a statement. "To be shut out solely because not one security firm outside of Mulhaupt's is able to comply is simply not acceptable."
Lebeau, the owner of Peak Nutritional Products, said his company is "already packaging e-liquid with the strictest quality standards in a secure facility, in a video-monitored clean-room environment."
"It is a travesty that a security monopoly has been created in the state of Indiana that shuts quality manufacturers like [us] out of continuing to conduct national business," Lebeau said.
Louisville-based Intrepid Brands, which markets Zig-Zag e-liquids along with other tobacco products and formerly was known as National Tobacco Co., said the law is too unmanageable to comply with.
The company "finds no logic in having a Lafayette security company oversee operations of its manufacturing facility several states away," said lobbyist Mike Leppert. The manufacturing facility is in Maryland.
"We're not going to change how we deal in 49 states," Leppert said. "It wouldn't make a lot of sense to come in and sign a contract that takes the form of extortion to be in a state that doesn't want us here."
Smaller, local manufacturers say they were also willing and able to comply with the law—if only they could get a security contract.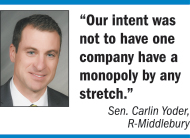 Brent McCollough, owner of Hoosier E-Cig in Greensburg, said he invested $70,000 to move to a bigger location and build a "clean room" to meet the specifications in Indiana's 2015 law.
McCollough later applied to Mulhaupt's for a contract, but he received "a rejection letter with no explanation as to why" Hoosier E-Cig was denied.
"If we're compliant with the law, there's no reason we shouldn't be allowed to have the permit," McCollough said. "We're compliant except for the security company."
Becker, the state senator from Evansville, said she hopes the courts "throw this out so we can start over."
State Sen. Phil Boots, R-Crawfordsville, said he thinks the state's vaping rules look "a little fishy. … It's an attempt to exclude people. It's a back-door way of regulating this industry."
But he added: "If legislators don't hear from their constituents on this issue, it's going to be a non-issue. When people don't scream loud enough, legislators don't respond."
Some critics in the industry may not be able to stay afloat for another legislative session, however.
Vargo opened his Downtown Vapin' shop last December. He said he had decided not to make his own e-juice "just to be on the safe side" of the law. He'd been eagerly following news of the lawsuits—hoping a court would issue an injunction blocking the law from taking effect July 1.
Now, he's preparing to close his store on June 30, convinced that the higher prices charged by the six authorized manufacturers will prevent him from making a profit.
Beloit, Wisconsin-based C.B. Distributors Inc., whose brands include 21st Century Smoke and Vaping Plus, plans to recall its Indiana products and stop selling here.
Sales representative Jeff Piper said the company reached out to the approved manufacturers to ask them if they could make a private-label product for him.
"One quoted pricing that was roughly three to four times what we're paying now," Piper said. "The whole thing is absurd. It's ridiculously obvious that the game's been rigged."•
Please enable JavaScript to view this content.