The ideal candidate is fascinated with electrical grids and has the patience to sit through long hearings on pipeline safety, underground transformers and solar power.

And for someone who likes utility rules and regulations, an appointment to the powerful Indiana Utility Regulatory Commission is a dream job, and the pay isn't shabby: about $115,000 a year.

Yet for more than two months, one of the five seats on the agency has remained empty as the workload piles up. The state has not even put out a call for interested candidates.

That's despite a law that requires a bipartisan committee to review applications and submit names of three candidates to the governor within 40 days of the vacancy. That deadline passed nearly three weeks ago.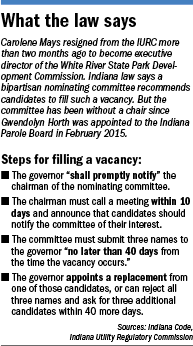 Some longtime utility observers are wondering what's taking so long to bring the commission up to full strength, and whether that will delay important decisions.

The influential IURC hears hundreds of utility cases a year and regulates $14 billion worth of electric, natural gas, telecommunications, steam, water and sewer utilities. It determines rates and charges, environmental compliance plans, financing and bonding—issues that affect millions of ratepayers and scores of utilities.

The agency has a full agenda, with petitions worth hundreds of millions of dollars hanging in the balance for grid upgrades, efficiency programs, environmental improvements for power plants and other issues. Indianapolis Power & Light Co., for example, just filed a case asking permission to pass along $100 million in costs for pollution controls on its Petersburg coal-fired power plant.

"I can't imagine how four commissioners can manage the caseload," said Jodi Perras, Indiana representative for the Sierra Club's Beyond Coal Campaign.

The commissioners often split up the workload, with one commissioner and an administrative law judge overseeing small cases. Bigger, more complicated cases can get several commissioners assigned to them. Last year, the commission issued 335 orders, or nearly one a day.

The longer a vacancy remains open, the longer it could take for utilities to get a hearing, or for interested parties, such as consumer advocates, to get evidence considered.

"With fewer commissioners, that means each one has to attend more hearings, and that could arguably slow things down," said Tim Stewart, a utility lawyer at Lewis & Kappes, which represents large industrial buyers of electricity, such as factories and shopping centers. "It would be a good thing to get this filled quickly."

Pence
The current vacancy occurred in April when Carolene R. Mays resigned after Gov. Mike Pence appointed her executive director of the White River State Park Development Commission, an organization that operates 250 acres of state property on the east and west sides of the White River downtown.

Mays had served on the IURC since 2010. She was previously publisher of the Indianapolis Recorder newspaper and the Indiana Minority Business magazine.

The delay in filling the vacancy is caused, at least in part, by the fact that the nominating committee that screens candidates does not have a chair. The previous chairwoman, Gwen Horth, resigned last year after Pence named her chairwoman of the Indiana Parole Board.



"We are completing the background check on a new chair and anticipate having the new chair in place soon," Kara Brooks, a Pence spokeswoman, told IBJ. "Once the new chair is appointed, the nominating committee will meet to determine the timeline for filling the current vacancy on the commission."

But not just anyone can apply. Under state law, no more than three of the five commissioners can belong to one political party. Today, three of the four current commissioners are Republicans: Carol Stephan, Angela Weber and Jim Huston, all of whom were appointed by Pence in 2014.

The only Democrat is David Ziegner, a lawyer appointed in 1990 by Gov. Evan Bayh.

That means the current vacancy must be filled by a Democrat. It also means the longer the seat remains unfilled, the longer the Republicans have a 3-to-1 sway on the commission.

Some Democrats say that deprives the commission of robust discussions on such issues as alternative energy, energy efficiency and how to structure utility rates among various classes of customers.

"For example, certain commissioners will be more sympathetic to business, or to low-income customers, or municipalities, or to the utilities," said Kerwin Olson, executive director of Citizens Action Coalition of Indiana.

Several large utilities, including IPL, Citizens Energy and Duke Energy, either declined to comment or did not return phone calls.

"The Democratic viewpoint is under-represented on the commission, and I would say that hurts consumers and environmentalists," said Laura Arnold, president of the Indiana Distributed Energy Alliance, which advocates for renewable energy. She applied for a spot on the commission more than a decade ago, and finished among the top three candidates, but did not win the appointment.

And some environmentalists say the commission needs someone who will stand up to large utilities, some of which are operating decades-old coal plants.

Indiana Michigan Power Co., for example, is asking the IURC for permission to add $230 million in controls on its Rockport coal-fired plant, one of the biggest carbon polluters in the nation, as part of a plan to have the plant continue burning coal until at least 2035.

"There needs to be a balance of perspective and viewpoints on the commission," said Perras of the Sierra Club. "This vacancy needs to be filled by a good candidate as soon as possible."•