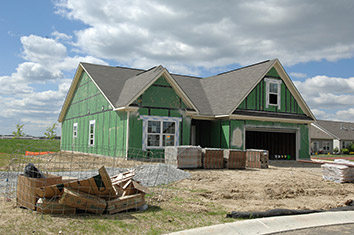 The strong surge in demand for new homes in the Indianapolis-area so far this year continued in May.
Home builders filed 571 single-family construction permits in the nine-county area during the month, a 15 percent increase over the 497 they filed in May 2015, the Builders Association of Greater Indianapolis announced Friday.
The last time area builders filed more permits in May was in 2007, when they turned in 779.
 
So far, filings are 14 percent ahead of last year's pace, with 2,403 in the first five months of the year, compared with 2,109 during the same five months of 2015.
Hamilton County led the area in filings with 193 last month, a 3 percent increase over the previous May.
Marion County saw a 33 percent increase in filings last month, from 75 to 100.
Hendricks was the next busiest county, with 94 permits, up 40 percent.
In Boone County, permits jumped 13 percent, to 43. Filings also were up a smidge in Johnson County, rising 4 percent to 70.
Filings were down 46 percent in Morgan County, to 7, and increased 35 percent in Hancock County, to 42.
Madison County recorded 13 filings and Shelby County had nine.
 
Please enable JavaScript to view this content.