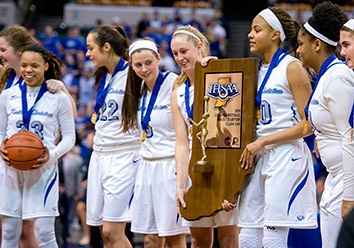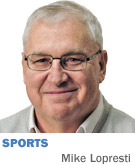 Now that the IHSAA has no more trophies to hand out for the year, we can recount the glory. Thirty-three high schools won state team titles the past 10 months, from the Avon girls scoring twice in the bottom of the seventh inning in 4A softball, to the Westfield boys clinching their third golfing championship in four seasons.
So here's the final exam, covering the cum laude moments from 2015-2016.
 
1. Long traffic delays have been reported on Interstate 65 in southern Indiana. The most reasonable explanation is:
A. Road construction on the Ohio River bridge at Louisville.
B. College coaches on their way to New Albany basketball games to get a look at Romeo Langford.
If he was already a nuclear-hot prospect as a sophomore, what's he going to be as a junior? Langford, the 2018 Mr. Basketball-in-Waiting, scored 12 of his 28 points in the fourth quarter to push the Bulldogs to a 62-59 4A title win over McCutcheon. So while colleges yearn for his signed letter of intent, New Albany dreams of a repeat. Or is that a three-peat?
2. The fastest-moving female in Indiana this spring was:     
A. Pippa Mann driving around the Speedway.
B. Lynna Irby running around the track.          
At the state track meet, the Pike junior speeding bullet outscored every team by herself—with the notable exception of champion Warren Central—while collecting individual titles like some teenagers collect Instagram followers. She swept the 100-200-400, just as she did as a sophomore. And a freshman.
3. What is surer in Indiana?      
A. Death.
B. Taxes.
C. Carmel winning the girls' swimming championship.
The Greyhounds made it 30 years in a row to set the national record, no matter the sport, no matter the gender. The last female Carmel swimmers who weren't state champions are now pushing 50. The Greyhounds did not exactly eke their way into the record book, winning by a staggering 244.5 points. It was dolphins against girls. You wonder when it ends. Or if.
4. The most overworked person in the state last Thanksgiving weekend was:
A. Any store clerk at Castleton Square Mall.
B. The Lucas Oil Stadium scoreboard operator for the 5A football title game.
That one ended Fort Wayne Snider, 64; New Palestine, 61. Which was four points more than the 4A basketball state championship game produced. After 1,302 combined yards and 18 touchdowns, after 17 plays from scrimmage of at least 20 yards, after Snider had blown a 28-point lead and New Pal's 28-game winning streak had gone poof in the final minute, there was one decision left to make: Should it be called an absolute epic, or game for the ages?
5. The hardest person to pin down over the winter was:
A. Any politician before the primaries.         
B. New Palestine wrestler Chad Red. Can't be pinned. Can't be decisioned. Can't be beaten. Not yet, anyway. Red completed a 183-0 high school career with his fourth state championship in his fourth different weight class, getting past Evansville Mater Dei's Nick Lee 6-5, in a showdown at 132 pounds of two nationally ranked wrestlers.
6. The surest way to see a lot of great tennis would be:      
A. Turn the TV to Wimbledon.
B. Drop by the Koscielski home.
Father Paul was a three-time state champion for South Bend Adams in the 1980s. Mother Amy played for the 1986 Cathedral state champions. Daughters sophomore Maeve, senior Grace and freshman Claire all played singles this spring for Cathedral's state champions. Maeve added the state individual title, winning her championship match 6-0, 6-0. We can only guess what their family tennis get-togethers must be like.
7. The best place to find a close call in downtown Indianapolis in June was:
A. The I-65/I-70 interchange, where cars and trucks coexist by inches.         
B. Victory Field, for the baseball state championship games. Roncalli beat Zionsville 3-2 in nine innings in 4A, matching the longest state-title game in 37 years. Providence edged Lafayette Central Catholic 7-6 in 2A, with a suicide squeeze. Northview scored on its last at-bat to beat Western 2-1 in 3A, for the school's first state title in any sport.
8. Who's No. 1 in its field?    
A. McDonald's.     
B. Coca-Cola.        
C. The Cathedral girls' volleyball team. As in No. 1 in the nation, finishing a 36-0 season as 4A state champions.
9. The matchup we wish we would have seen:
A. The Colts against anybody in the playoffs.
B. No. 1 Princeton vs. No. 2 Heritage Christian in 3A girls' basketball. Princeton and state all-time scorer Jackie Young went down in the sectional to Southridge—arguably the biggest upset of the year in any sport—while perennial power Heritage Christian moved on to its seventh state championship, unprecedented for girls.  
P.S. While we're talking record basketball state-title hauls, the Marion boys won their eighth to tie Muncie Central for most. But since this recent Giants championship came in 3A, the Muncie Central camp could be excused for requesting an asterisk.
10. What's the textbook definition of overcrowding?
A. The Indianapolis Zoo parking lot on a nice Saturday.   
B. The Carmel trophy case.   
Five more state team titles ran the Greyhounds' total to 130, by IHSAA count. Ben Veatch had his hands—or more accurately his legs—in a lot of it, winning individual state titles in cross-country and the 1,600 and 3,200 in track.
We'll know the apocalypse is coming the year Carmel doesn't win a state championship.•
__________
Lopresti is a lifelong resident of Richmond and a graduate of Ball State University. He was a columnist for USA Today and Gannett newspapers for 31 years; he covered 34 Final Fours, 30 Super Bowls, 32 World Series and 16 Olympics. His column appears weekly. He can be reached at mlopresti@ibj.com.
Please enable JavaScript to view this content.