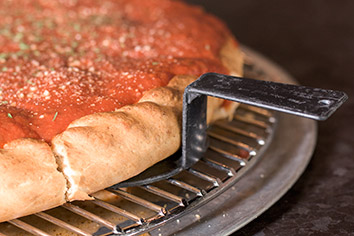 While it hasn't gotten the groundswell of attention that fellow Windy City pizza staple Giordano's did when it ventured south to these parts, Chicago's Aurelio's has a strong, deserved fan base.
Aurelio's actually predates Giordano's by a couple of decades. While Giordano's claims its recipe goes back to Torino, Italy, its first restaurant didn't open until 1974. Aurelio's, on the other hand, set up shop in 1959 in the suburb of Homewood. By the time Giordano's came around, Aurelio's had become the first Chicago pizzeria to franchise, spreading into northern Indiana in the 1980s.
While its slogan says "Aurelio's is Pizza," there's actually much more on the menu, including Italian beef and sausage sandwiches. Pasta dishes come in standard-size servings up to mega-servings for up to seven hungry eaters.
But the pies are the core. Don't feel locked in to a specific kind when you visit Aurelio's (13147 Parkside Drive, Fishers, 436-7410). Yes, you could go with a Stuffed Pizza ($15/$20/$25 with $2-$2.50 for additional toppings) and get a crispy pie packed with plum-tomato flavor over thick cheese. But Aurelio's is better known for its party-cut Thin Crust Pizza ($6-$25 with $1-$3 for toppings), which purists say is more south side than the center-city deep dish.
While it seems slender compared to its deep-dish cousin, the crust here is significantly thicker than the cracker crust you might expect. It has some dimension without being airy and, in conjunction with a sweet-ish sauce and even layer of cheese, has an overall taste that doesn't feel like a copy of anyone else's—not easy in such a crowded pizza world.
(For the record, neither Giordano's nor Aurelio's made Chicago magazine's most recent list of best pizza purveyors.)
To dodge guilt and add a bit of veggies into the mix, we also preceded the full-on pie attack with a Citrus Salad ($12.95), which mixed field greens, mandarin oranges, dried cranberries and candied pecans with a not-overwhelming raspberry vinaigrette. Nothing bold, but a good complement to the carbs that were to come.
But any good done by the salad was negated by Toasted Ravioli, ($7.50), which, like its cheese-stick brethren, is really just another dough-plus-cheese redundancy—although the crispy, breaded outer crust gave us an excuse to try the house-made sauce without ordering a full pasta entrée. Not that we had any room for that.•
—Lou Harry
 
Please enable JavaScript to view this content.