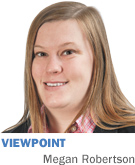 Recently, I was at the Republican State Convention advocating for a change to our party platform. I'm a Republican. I have worked for the Republican Party and our candidates for 14 years. I also happen to be a lesbian—and I'm getting married this fall.
As I look forward to starting my own family, I was hoping that our party platform would reflect its support for strong families without defining the family solely based on marriage between one man and one woman. I argued that the language was divisive because there are many beliefs on the issue and many types of families that do not fit this definition but are no less loving because of it. 
I was joined by a number of other Republicans who believe our party must represent our core values without shutting the door on those who do not fit into the narrow definition of a "traditional family." After all, same-sex marriage is now the law of the land, and single and divorced parents, as well as kids being raised by other family members, are not a new phenomenon. 
Unfortunately, we were not successful in our efforts to amend the platform.
After the matter was settled, I was wandering the convention floor when a staunch opponent of same-sex marriage came up to me, wanting to introduce herself formally away from the media.
She mentioned how much she respected me and that she wanted me to know she never meant any of her words to hurt me. 
"Oh, of course not," I said. 
But I'll be honest: I didn't mean it.
Generally speaking, I subscribe to the "sticks and stones may break my bones, but words can never hurt me" mantra. And her comments, however callous and offensive at times, do not bother me on a personal level.
But her comments and the comments made by many who agree with her do cause a great deal of actual harm to the LGBT community.
When you say that a segment of society does not deserve to be treated like the rest of the population—should be treated as less—it dehumanizes us.
When you say things that are blatantly false designed to incite fear against the LGBT community, it inspires discrimination against us.  
And when you say, as a candidate in Texas recently did, that you would send a member of the trans community to the hospital if they were to use the same bathroom as your daughter, it inspires violence against us.
We need look no further than the response to the tragic shooting in Orlando to know that sticks and stones—and words—all hurt. Yes, Americans came together to mourn the end of 49 lives that were just beginning, but there were plenty of anti-LGBT comments interspersed. The deadliest mass shooting in our nation's history actually inspired some to say the victims had it coming because they were gay. 
If you want to condemn me for who I am, so be it.
If you want to condemn my impending marriage and so many loving families whose love is no less real because of our gender or gender identity, I can't stop you. 
But please, own your words. 
Don't pretend like what you're saying isn't harmful or discriminatory or just downright mean. 
I've got thick skin, and you might not ever hurt me. But if you have to double-check to find out, you probably know deep down that what you're saying isn't very nice.• 
__________
Robertson is the executive director of Enterprise Republicans and runs her own consulting firm, Frontrunner Strategies. Send comments to ibjedit@ibj.com.
 
Please enable JavaScript to view this content.