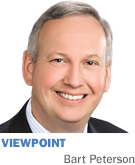 It's fitting that the U.S. Conference of Mayors picked Indianapolis for its annual meeting June 24-27. Probably no major city in America has transformed itself more over the past 50 years than Indianapolis.
A few decades ago, Indy's downtown rolled up at 5 p.m. and the theater where the Indianapolis Symphony Orchestra plays was showing adult films. Now, downtown streets are filled with locals and visitors enjoying the burgeoning local foodie scene, biking on the Cultural Trail, and attending sports events, concerts and museums.
I want the more than 200 mayors gathering here to learn the Indianapolis story—because cities are more important than ever to the nation's success.
According to research firm McKinsey & Co., roughly 80 percent of the U.S. population and gross domestic product dwells in metro areas of at least 150,000 residents. And with the federal government gridlocked, cities have become the true "laboratories of democracy."
When it comes to improving schools, embracing and integrating immigrants, renewing infrastructure, retooling the workforce, protecting residents and preserving the environment, cities are spawning the solutions.
The key ingredients of the Indianapolis renaissance have been 1) muted partisanship, 2) strong philanthropy and 3) community-minded business and civic leaders.
First, bipartisanship has given tremendous continuity to our work. The renaissance began in 1965 with creation of the Greater Indianapolis Progress Committee. Initially chaired by a Democrat but filled with numerous Republicans, the committee set an agenda both parties embraced.
Even during eight straight terms with a Republican mayor, Democrats worked to renew Indianapolis' downtown with a focus on sports and arts. After I became the first Democratic mayor in 32 years, Republicans stayed engaged as full partners.
The same occurred with school reform. I started approving charter schools in 2001 to promote reform throughout the public school system. When Republican Greg Ballard replaced me in 2008, he expanded the charter network. Now, Democrat Joe Hogsett has pledged to continue these efforts.
Second, Indianapolis has been blessed with exceptionally generous philanthropy from individuals and foundations. In particular, the renaissance is unimaginable without the Lilly Endowment, which made local economic development a key priority.
Third, Indianapolis' business leaders consistently recognized that a successful city would make their companies more successful in the long run by attracting larger pools of talent and capital. For example, 20 local companies joined together during the recession of 1991 to provide $75 million to save the Circle Centre mall project.
Likewise, civic leaders recognized a stronger overall city would help their specific institutions and neighborhoods. This community-first spirit was captured well recently by Emmis Communications Corp. CEO Jeff Smulyan's support of the Indianapolis Motor Speedway's decision to lift the TV blackout for this year's Indianapolis 500—even though that meant fewer listeners for Emmis' WIBC-FM 93.1 radio station.
"We're trying to look at the big picture and what's in the best interest of everyone," Smulyan told the Indianapolis Star.
That mind-set has paid off handsomely. The gross metropolitan product of greater Indianapolis has more than doubled since 2000, to $131 billion—far outpacing national economic growth. Even more significant is the much more positive way people talk about Indianapolis now than 30 or 40 years ago.
By politicians, neighborhood leaders, corporations and philanthropists consistently putting the good of the city ahead of their short-term interests, Indianapolis has tackled big problems and pulled off huge projects. I hope the Indianapolis story provides an inspirational example to city leaders everywhere.•
__________
Peterson was mayor of Indianapolis from 2000 to 2008 and is now senior vice president of corporate affairs at Eli Lilly and Co.
Please enable JavaScript to view this content.