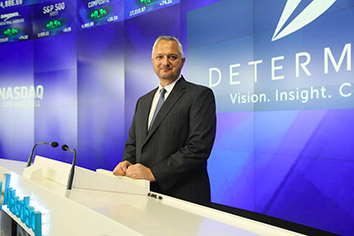 Twenty-year-old Determine Inc. generated lots of fanfare earlier this month when the software company announced it was moving its headquarters from Silicon Valley to Carmel and adding 24 jobs to the 35 it already had here.
Gov. Mike Pence, who usually makes appearances at economic development announcements involving scores of jobs, showed up at Determine's event with Lt. Gov. Eric Holcomb, saying he was "proud to mark yet another milestone" in the state's tech-sector growth. Carmel Mayor Jim Brainard said he was gratified to see a company "as prestigious as Determine" move its headquarters to his city.
While state and local officials have placed their bets on Determine, many investors in the publicly traded firm have been betting against it for years. The company's shares trade around $1.30 apiece, down 75 percent from the same period last year and a far cry from the $141 they fetched at the close of the company's first trading day in March 2000. Since it was incorporated as Selectica Inc. in June 1996, the company never has turned an annual profit.

Busch
Determine CEO Patrick Stakenas acknowledged his company's lackluster history, but said it has a new identity and a new trajectory. The former Gartner analyst joined the outfit in 2014, ushered in changes in the top brass, pulled off a pair of acquisitions, and led a rebranding. He said he expects Determine to be profitable by this time next year.
"We're not the same company that we were," the 55-year-old said in an interview. "We have a new group of people. We have very, very excited investors that are behind us. Our stock in the marketplace has not reflected that yet, but it will."
Determine sells software that helps companies manage suppliers, contracts and procurement. Its tools help automotive manufacturers, grocers, theme parks and others find suppliers, hash out contracts, order goods or services—then analyze it all.
It targets enterprises with annual revenue from $500 million to $20 billion, and its clients include Kellogg's, AOL and Nordstrom.
The company for years had been selling contract-management software, but it acquired Carmel-based Iasta in 2014 for its supplier-sourcing software and France-based B-pack this spring for its procurement software. Determine has spent at least six months fusing the offerings into one product, an effort Stakenas said is key to the turnaround.
Analysts with Chicago-based Spend Matters, which researches procurement-software firms, said Determine's new platform punches above its weight against some of the larger competitors, such as SAP SE, Oracle Corp. and Coupa Software Inc. But the company is still second-tier with respect to its sales and marketing reach.
"The product set is actually quite good. Like, what they've done with it is really solid," said Jason Busch, Spend Matters founder and head of strategy. "Indy is getting a world-class product in terms of a company that is headquartered there, but [Determine] is not yet world-class in terms of reach and how they sell it."
Stakenas has held senior roles at various companies since the mid-1980s, including the software firm ForceLogix Technologies Inc., which he founded in 2004 and guided to an initial public offering in 2009. The company later was acquired by Callidus.
During his two-year stint at Gartner from 2011 to 2013, Stakenas said, he began noticing a convergence of technologies used for enterprise procurement and heard from "customers and clients of Gartner who were interested in buying the broader set of functionality rather than just the individual pieces." He figured there were opportunities for vendors to expand their offerings.
In late 2013, he chatted with Selectica Board Chairman Michael Brodsky about such an opportunity, and joined the company as chief strategy officer in January 2014.
Not long before Stakenas arrived, the company named a new chief technology officer, a new chief operating officer and a new chief communications officer. In June 2015, Stakenas replaced President and CEO Blaine Mathieu, who had been at the helm only 18 months.
Stakenas was instrumental in the B-pack and Iasta acquisitions, which together resulted in five new executives, including Carmel-based Chief Revenue Officer Dave Bush. The executive overhaul didn't stop there. The company brought in Chief Financial Officer John Nolan last October and Controller Amy Shives in March.

Nolan
"My predecessors really had failed to address the spending inside the company, failed to address the changing markets, and failed to address moving fast enough on new business as well," Stakenas said.
Stakenas said one of his main goals was to get the newly converged software product out, which is slated for full release this fall. He said he and Nolan have also been working to reduce business costs, which "is really the impetus behind moving to Carmel" from the more-expensive San Mateo, California.
Over the past year, Stakenas said, the 160-employee company has reduced its California footprint through attrition while adding jobs in Indiana. Nolan said the company expects to save $500,000 annually from real estate shifts, including $100,000 by moving its old Carmel office to a new location in the city.
"Through moving employees around, moving the headquarters, moving to more home/work [situations], we'll save another $350,000 or $400,000," Nolan said. "So, close to a half-million."
But the firm will have to find even more savings or dramatically boost revenue if it wants to get out of the red. Determine lost $14.0 million in the 2016 fiscal year, which ended in March. That is wider than the $13.7 million loss reported in 2015 and the $8.2 loss for 2014.
Revenue has been trending upward. From fiscal years 2007 to 2014, the company struggled to top $18 million in annual revenue. In the two most recent fiscal years, revenue grew from $20 million to $26 million.
Stakenas said he anticipates turning up sales and marketing—which was the company's biggest administrative expense at $13 million last fiscal year—once the company's new product platform officially debuts this fall. He also said he intends to keep the firm public, even though the sector has seen a wave of acquisitions.
Busch, the Spend Matters analyst, said Stakenas and his team have set out to merge disparate technologies to create a high-growth company.
"It's arguably the right long-term bet, but the short-term pain that comes with it is pretty significant," Busch said.
"I don't think they're in danger of going out of business or going bankrupt or anything like that. It's not a sure bet, but if they get it right, Indy will have a pretty significant business-applications software company that competes on the world stage product-wise."•
Please enable JavaScript to view this content.