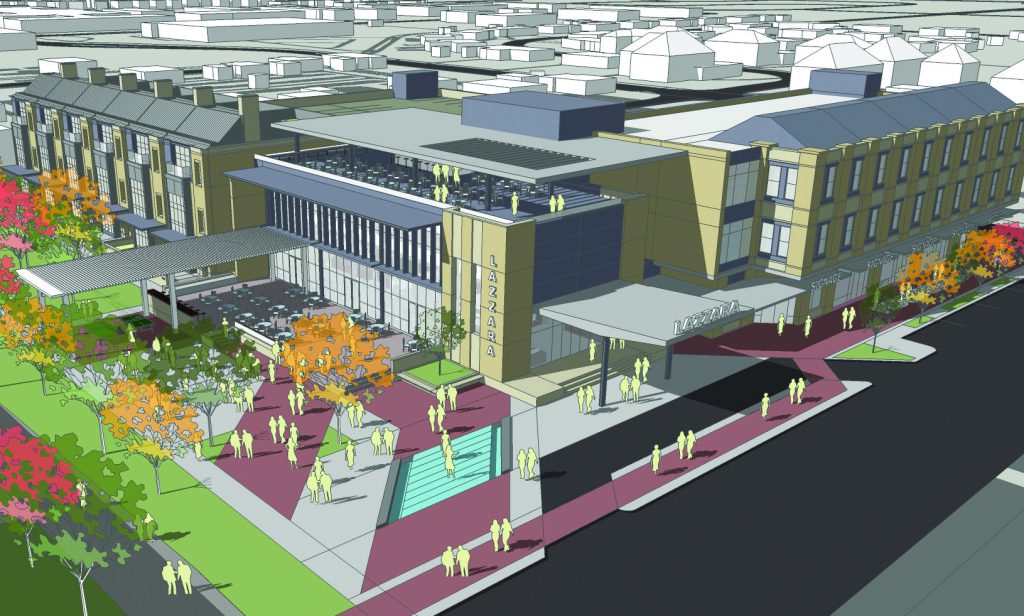 The Lazzara family could see the future of Main Street in Carmel in the early 2000s.
They believed in Mayor Jim Brainard's vision for the Arts & Design District filled with local restaurants, small shops and apartments, and they saw the potential in the Monon Greenway that ran through the heart of the district and connected the suburb to Indianapolis.
So, they started to invest.
"We've been in that downtown Carmel mode for some time," said Chuck Lazzara, owner of event services company and venue Ritz Charles. "We all saw the writing on the wall."
Four of the family's five local businesses operate out of downtown Carmel—and that number will grow as Chuck Lazzara and his son, Anthony, pursue a$20 million mixed-use development on the southwest corner of Main Street and the Monon Trail, called Monon & Main, that they hope to break ground on this year.
It's a project that's been quietly in the pipeline for more than a decade as the family acquired property and other family businesses moved onto Main Street.
Bub's Burgers & Ice Cream opened in 2003 on the northwest corner of Main and the Monon. The casual eatery, owned by Chuck Lazzara's brother-in-law, Matt Frey, has become a local favorite.
"The wait can be two hours long there," Anthony Lazzara said. "That is just a hot spot."
The next year, Chuck's brother, Tom Lazzara, a real estate agent with offices in downtown Carmel, started buying available pieces of property on Main Street. And a couple of years after that, Joe Lazzara, the youngest brother, opened Joe's Butcher Shop and Fish Market near First Avenue Southwest.

Brainard
"I was looking for the right opportunity for my family," Joe Lazzara said. "Being here on Main Street—it couldn't have been any better."
The family's latest endeavor includes a three-story building anchored by an upscale restaurant, a three-story office and retail building, seven town homes and a park along the Monon Trail. The project will also likely include a 200-space parking garage, but those details are not finalized.
The development is being led by Monon and Main LLC, a company owned by Chuck Lazzara, his wife Lynn Lazzara, and their children—Anthony Lazzara, Kelle Hennessee, Michelle Brown and Casey Lazzara. Chuck Lazzara's brothers are providing advice and see the potential in the proposal.
"It's a dream story for us. We're just so happy," Joe Lazzara said. "We've been very lucky that the community has accepted our family for over 35 years now."
Patiently waiting
Tom Lazzara sold the parcel at the southwest corner of Main Street and the Monon to Chuck Lazzara around 2008.
It was the first piece of land Chuck Lazzara acquired for what initially was going to be only a high-end restaurant with a park.
"It never would have gotten started without my brother buying that first property," Chuck Lazzara said.
He started developing the restaurant plan with his son, who at that time was still in high school, then another property on the block went up for sale.
"I said, 'Oh, that's kind of nice. I can't let that go by,'" Chuck Lazzara said.
He slowly let other landowners on the block from the Monon to Third Avenue Southwest know he would be interested in buying their parcels should they ever sell.
It took years for all the pieces to fall into place, but Chuck Lazzara secured the last parcel in July 2015.
"That's when we said, 'OK, it's time to get serious,'" he said.
But the zoning process slowed the project. It took about nine months for the city to rezone the residential block to commercial redevelopment standards.
The Carmel City Council approved the rezone in March, and, even though the project still needs approval from the Carmel Redevelopment Commission, Chuck Lazzara hopes to get under way before the end of the year.
"It's a piece we've wanted to see developed for quite some time," Brainard said. "You like to see local families like that continue to invest in their city."
The block immediately to the west was also rezoned earlier this year to allow for commercial redevelopment but is not part of Lazzara's proposal because the family doesn't own the property.
Instead, Chuck Lazzara said, they designed the project so if the next block were to be developed in the future, it could tie in easily.
"We love the idea of a second block," he said.
Restaurant first
Chuck and Anthony Lazzara knew the property would be too large for only a restaurant, but they still consider it the cornerstone of the development.
Anthony Lazzara developed the business plan for the fine-dining establishment while in Ball State University's entrepreneurship program.
"We saw that not many people were staying in Carmel for fine dining," he said.
The 12,000-square-foot steakhouse and seafood restaurant, to be named Anthony's Chophouse, will feature 20-foot ceilings and windows facing the Monon. Both indoor and outdoor seating will include a bar, and capacity is expected to be close to 200.
The second floor will feature the original mahogany bar from The Glass Chimney, the well-known elegant Carmel eatery that closed in 2008 after 32 years in business. The Lazzaras rescued the bar after the restaurant went out of business.  
"We want a mix of things, and I think having a white-tablecloth restaurant in the Arts and Design District—there's a definite need for it," Brainard said.
The building will feature a rooftop bar called 3 Up, which will serve casual food starting at lunchtime.
"It's not just going to be wings and tacos. … It's going to be more gourmet bar food," Anthony Lazzara said.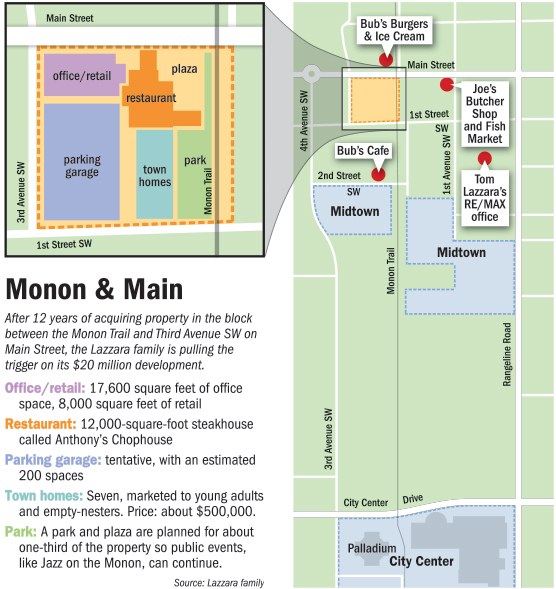 The rooftop space will be open year-round, with an enclosure and heaters in the winter. It should have space for 85-100 people.
The other must-have element in the project for the Lazzaras was the park. Part of the property along the Monon features green space that is regularly used for public events, including Jazz on the Monon, and the family expects that to continue.
"We wanted to keep that green and open space downtown," Chuck Lazzara said, so about one-third of the property will be a park and plaza.
The city also expects to construct a road parallel to the Monon that could be designed to blend in with the pathway and close for events, similar to Georgia Street in downtown Indianapolis.
The project's town homes are also a welcome addition, according to Brainard. Most downtown residential development has been rental, because the financing is easier to secure.
"I think that's so important that we have a mix of owner-occupied homes and apartments," Brainard said.
Chuck Lazzara said the town homes will likely be geared toward young professionals or empty-nesters, and prices will be about $500,000. The 3,000-square-foot homes will feature two-car garages, patios that face the Monon, and a rooftop garden.
"We feel like the apartment market is getting a little saturated," Lazzara said. "I think there's more of a need for for-sale in downtown Carmel right now."
The Lazzaras have already received inquiries about the 17,600 square feet of office space that will be available, including one from a company that might rent all the space.
The first floor of that building will have 8,000 square feet for retail, which could include an expanded Joe's Butcher Shop.
Joe's is adding a catering component and grab-and-go meal section with a 900-square-foot expansion of its existing footprint. Joe Lazzara said if those offerings are successful, he would consider moving once his brother's building opens.
Even with the additional space, which should be complete by late July or early August, Joe's still won't have room for seating—something a new location could accommodate.
"I'm not going to be upset however it works out," Joe Lazzara said.•
Please enable JavaScript to view this content.