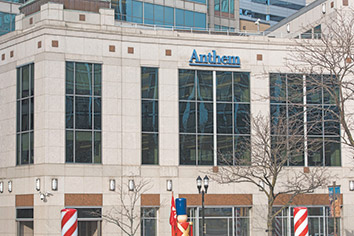 Indianapolis-based health insurer Anthem Inc. said it is not in discussions with Cigna Corp. to end their planned $48 billion merger, as speculation about the health-insurance deal's fate mounts.
The New York Post reported Monday that Anthem may be ready to walk away from the deal, citing unidentified sources.
Anthem Chief Financial Officer John Gallina told a group of analysts last week that the health insurer was working on "remediation plans" that include buying assets from Aetna Inc., which could indicate Anthem wants out of the Cigna transaction, the newspaper said.
Anthem denied it was planning to call off the deal. It also said it was not renegotiating terms of the deal's $1.85 billion breakup fee.
"Anthem and Cigna are not in discussions regarding a termination of the merger agreement or the payment of a breakup fee," Anthem spokeswoman Jill Becher said in an e-mail. "Anthem and Cigna continue to be in ongoing dialogue with the Department of Justice and state regulators regarding the compelling combination of our two companies."
Speculation over whether the deal would be realized has grown in recent months amid various reports that regulators are concerned about the deal.
The insurers began meeting with regulatory officials on Friday.
Anthem and Cigna are expecting a decision from the department as soon as July, although that timing could be extended. If the Justice Department decides the tie-up is anticompetitive and can't be fixed, it would file a lawsuit in federal court seeking to block the merger. The companies are required to fight back under terms of their agreement.
The merger talks have been troubled from the start. Cigna, based in Bloomfield, Connecticut, was a reluctant seller and tussled with Anthem over who would lead the business and what role David Cordani, Cigna's CEO, would play. A collapse of the deal over antitrust scrutiny could trigger further fighting between the companies over the massive breakup fee.
If the deal is blocked on antitrust grounds, Anthem must pay Cigna the fee, but Anthem could duck that payment if it establishes that a "willful breach" by Cigna led to the failure to get antitrust approval, according to the merger agreement.
Please enable JavaScript to view this content.