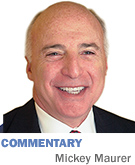 "Laws are like sausages, it is better not to see them being made."
—Otto von Bismarck
Indiana Sen. Joe Donnelly is our featured speaker at Mickey's Camp for men this summer. He surely understands how laws are made, but about sausages he probably knows very little. At camp you can learn that skill from experts at Conner Prairie and Goose the Market who will help you grind, spice, mix and stuff old-school handmade sausages and send you home with plenty to feast on.
The keynote speaker at women's camp is Pat Miller, who co-founded and developed Vera Bradley into an internationally recognized brand. Her topic: "How I Did It."
Because the return rate at Mickey's Camp is nearly 70 percent, we continually refresh activities. Glenn Gass, professor of music at the Indiana University Jacobs School of Music, will entertain and educate with an installment from his history of rock and roll lectures.
We also will be treated to a special presentation from Norman Pessin, a renowned Wall Street trader who served on the board of governors of the National Association of Securities Dealers when Bernie Madoff was its chairman. Pessin will discuss who knew and who should have known about the Madoff shenanigans.
Also new to camp is memory expert Ron White. White has been on the "Dr. Oz Show," "Martha Stewart," "Good Morning America," and … I forgot what else. He has held the world record for being the fastest to memorize a shuffled deck of cards: one minute and 27 seconds. He will teach campers how to remember names and faces, how to build relationships, how to give speeches without notes and how to become an expert on a topic in less time.
Hall of Fame NFL referee Mark Baltz—who has more than 47 years of sports officiating experience under his whistle, many as an NFL head linesman—will share anecdotes and knowledge of pro football.
Another first timer, Chef Darnell Miller of downtown Indianapolis' Maxine's Chicken & Waffles, will teach soul food cooking.
If social media has you completely discombobulated, drop in on a presentation by Matt Vest, a senior technology analyst for Apparatus, on all those opportunities waiting for you on your computer, including Twitter, Facebook, and LinkedIn.
You may wish to test your thrill index on the newly installed zipline at Bradford Woods. It is a 400-foot run across the valley, reaching a maximum height of 65 feet.
Of course, many old favorites are returning, including the Black Widow, holder of more than 30 national and international billiards titles, and Hank Johnson, U.S. Olympic coach. Poker Hall of Famers Jan Fisher and Linda Johnson will sharpen your skills on the felt and conduct the camp poker tournament, and Bob Kennedy, four-time NCAA champion and five-time national 5,000 meter champion and Olympic runner, will teach running and stretching.
Camp wouldn't be the same without Max McCalman, one of the cheese world's living legends, and Indiana Astronaut David Wolf with his home movies of the Russian space station Mir.
Meals will be provided by the best restaurants in Indianapolis and Bloomington, including Café Patachou, Scholars Inn, Harry & Izzy's, Bub's Burgers, Season's 52, Palomino and Flemings.
You can choose from among 50 activities, including those mentioned above, plus others such as acupuncture, archery, batting cage, canoeing, pole dancing, crossfit, fly fishing, golf, stand up paddle boarding, culinary knife skills, magic, motorcycles, wine tasting and shotgun.
Everyone is invited. Camp brochures are at mickeyscamp.com. For a hard copy you can email me at the address listed below. Please join us at scenic Bradford Woods south of Interstate 465 on State Road 67 near Mooresville. Women's camp takes place Aug. 11-13 and men's camp will celebrate its 14th anniversary session Aug. 13-15. Act fast. Camp fills up on a first-come, first-serve basis.
Help us donate more than $200,000 to charities this summer.•
__________
Maurer is a shareholder in IBJ Corp., which owns Indianapolis Business Journal.  His column appears every other week. To comment on this column, send e-mail to mmaurer@ibj.com.
 
Please enable JavaScript to view this content.