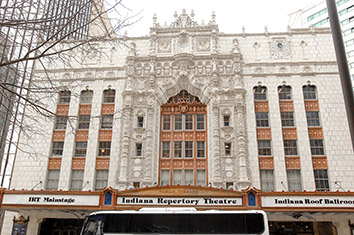 The Indiana Repertory Theatre will remain at its historic downtown location for at least the next 10 years and assume management of the building, the city of Indianapolis announced Thursday afternoon.
IRT's new 10-year lease for the 1927 city-owned landmark at 140 W. Washington St. includes an option to renew for another 10 years, the city said. IRT had operated there without a long-term deal since 2014.
The extension stipulates that IRT will assume building management duties from the city—a move expected to save taxpayers $2.5 million over the life of the contract, the city said.
"The big transition for us isn't people and time, it's budgetary," Janet Allen, IRT's executive artistic director, told IBJ. "We're taking on a piece of the maintenance. And we're taking on all or our utility payments. That's a big shift, but we've been preparing for it for a couple of years."
The city, however, will contribute $4 million toward building improvements, such as work on the bulding's elevators, roof, facade and stairwells.
"The $4 million the city is investing is so necessary," said Janet Allen, executive artistic director. "We agreed with both the city and with the Roof Ballroom on the priorities. All of it is for public areas. It's not specific to the IRT or specific to the Roof Ballroom."
 
"It's been very long process but very communal," Allen said.
The distinctive IRT building opened in 1927 as the Paramount Publix Theatre and was converted from a movie theater to a playhouse in the late 1970s. IRT has called the building home since 1980.
In addition to IRT and its two stages for productions, the building houses the 12,700-square-foot Indiana Roof Ballroom.
Under the Ballard administration, the city had attempted to find a partner to manage and redevelop the building, to no avail.
The six-story structure was added to the U.S. National Register of Historic Places in 1979. It was designed by the Indianapolis architecture firm of Rubush and Hunter.
Please enable JavaScript to view this content.