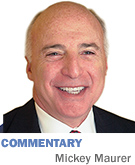 Note from Mickey: I am taking a hiatus from this column until some time next year in order to complete a book. Our editors will publish a favorite column once a month. This one is from 2004.
"Don't eat the pie."
We were finishing our meal at the Blue Chip Business Luncheon, an annual event honoring small businesses in Indiana that have prevailed and excelled in spite of adversity. My guest was Robert Bercovitz, a junior at North Central High School who was job-shadowing me for the day.
This bright, eager lad was enjoying conversations with successful businessmen from Noblesville and the entrepreneurship team at Ball State University. There was energy at the table and Bercovitz was absorbing it all. He leaned forward to understand what I had just said.
"Don't eat the pie." "What?"
I explained. "If you eat the pie at a luncheon meeting, you'll be drowsy and less effective the rest of the afternoon." Bercovitz is a lean, 6-foot-1-inch varsity soccer player who had just proven his appetite was as good as anyone's at the table. There was nothing left in front of him but that pie and he was eyeing it with gusto, particularly the dollop of whipped cream on top. This was not the kernel of wisdom he was hoping for.
Bercovitz had called a week or two earlier to ask if I would allow him to job-shadow. It was a requirement for a class titled "Leadership." This class is only open to student council officers, junior and senior class officers, and eight or 10 key committee chairmen. It is a requirement, along with other expectations, for students seeking elected offices at North Central.
The concept of the leadership class grew out of discussions between North Central Principal CE Quandt and teacher Jay Hill. They wanted to develop the abilities of their student leaders to make them more effective at North Central and to prepare them for leadership roles in the community.
Hill, in the midst of a career that has spanned 30 years at North Central, teaches the leadership class. This Hoosier attended Southport High School in Indianapolis and earned bachelor's, master's and doctorate degrees from Indiana University. He has also written a novel, "The Gentleman's Society of Angling," which can be purchased at Amazon.com. (I'm thinking it would be a good idea to job-shadow him one day).
In the morning, Bercovitz and I were interviewed by a representative of the Herron School of Art. Bercovitz, who had never heard of Herron, suggested the school should do a better job communicating its message to high school students.
I was on deadline for an IBJ column and asked Bercovitz to read a final draft. He said in his English class he learned the word "that" is overused. Together, we removed a couple of "that's."
On our way to attend a meeting in the City-County Building to discuss the introduction of an ordinance requiring a smoke-free environment in all restaurants and bars, I offered another important tidbit: "Bring a newspaper." Bercovitz wondered why. "Invariably, when you schedule a meeting with politicians, they will be late. It's handy to have something to read."
One of the day's highlights was a meeting with Pat Miller, secretary of commerce for Gov.-elect Mitch Daniels. Miller has created an extraordinary business out of a neighborhood basement and now sells her Vera Bradley purses all over the world. She has agreed to suspend her career for two years to help re-energize Indiana's job growth and economic development. I've agreed to help her in that endeavor.
It was an exciting day for me. I learned a lot, not just from the meetings we had, but from my job-shadow experience.
The pie was pecan and, in spite of the good advice I gave Bercovitz, he ate the pie. I ate mine, too.•
Update: Robert Bercovitz became a Wells Scholar at Indiana University. He completed his education at the Robert McKinney School of Law and now is an e-market researcher in New York City. He still enjoys his pie.
__________
Mickey Maurer is a shareholder in IBJ Corp., which owns Indianapolis Business Journal. He can be reached at mmaurer@ibj.com.
 
Please enable JavaScript to view this content.