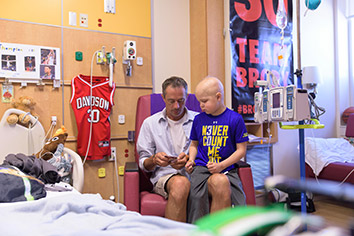 The first time Matthew Cook ever stepped foot in Riley Hospital for Children was just a few months ago, when the hospital was recruiting him as its next president.
He had no Indiana connections, and had visited the state only a handful of times.
But Cook, 47, noticed the little things: the artwork on each floor featuring different ecosystem themes, the signature red wagons in lobbies and hallways, the volunteers pushing carts filled with art supplies and snacks, the play zone where children could shoot pool or explore a simulated ambulance, and the private rooms where parents could spend all day with their sick children.
Even more important, he said, were the things he couldn't actually see but could feel.
"I felt that the passion people at Riley feel was a step above what you're used to in children's hospitals," Cook said. "It was very clear both inside and outside the organization that Riley just has a special place in people's hearts."
His job now is to spread that passion and to continue building Riley from a 92-year-old Indianapolis institution into a statewide system.
Riley, part of Indiana University Health, is already one of the nation's largest children's hospitals, with more than 16,000 inpatients a year.
But as Cook sees it, the hospital's job is to provide pediatric care across the state for serious medical issues, from burns and trauma to cancer to newborn intensive care.
Too many Hoosiers, however, especially in the corners of the state, now opt to go to Ohio or Illinois for high-level pediatric care. Cook wants to build the Riley brand so it's as well-known in Merrillville or Richmond as it is in Indianapolis.
"In northwest Indiana, patients may actually go up to Chicago," Cook said. "Same for southeast Indiana, where a patient may choose to go to Cincinnati. So this is about making sure that patients understand they can receive high-quality care here in Indiana."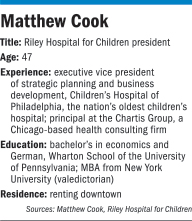 Keeping patients in Indiana—especially the complex, high-level cases—could be a big challenge. Insurance programs are steering patients to lower-cost outpatient settings, and some community hospitals are competing to do more high-level care, without the expensive overhead carried by academic medical centers, such as the IU Health system.
Cook's job is to build out a system that will help get physician referrals across the state to help fill Riley's 385 beds.
That task will require both corner office and in-the-trenches clinical expertise. People who have worked with him say he has that unusual mix of talents.
At Chartis Group, where he was a partner and hospital consultant, Cook was not just a policy wonk. He was known for his deep knowledge of strategy, operations and clinical care—and how decisions in one area could affect the others.
"It's unusual to find someone whose thought leadership extends to all of those dimensions," said Ken Graboys, CEO of Chicago-based Chartis. "Typically, you would have an individual who specialized in one or two. … Matt was distinctively talented."
Executing the strategy
Spreading the Riley brand and services is a job that was begun by Cook's predecessor, Dr. Jeff Sperring, who left last year to become CEO of Seattle Children's Hospital.

Cook
Under Sperring, Riley had spearheaded an expansion of physician services to IU Health's hospitals in Avon and Carmel, then into a statewide network. Riley had signed up more than 200 pediatricians, many of whom traveled around the state to helpdoctors in small clinics and community hospitals. They evaluated difficult cases, such as whether a child's odd-sounding heartbeat was a routine murmur or something severe that needed special care in Indianapolis.
The goal was to refer the serious cases to Riley, but keep the minor cases in the community hospitals and ambulatory centers. That would keep bills low for patients and save Riley's beds for more serious cases.
"You don't want all patients coming to downtown Indianapolis if they don't need to," Cook said. "The model ought to be taking care of patients in the community closest to where they live, if possible."
It's a mission that makes sense for Riley, some observers say. The hospital, with hundreds of highly paid doctors, nurses, therapists, researchers and administrators, is unlikely to thrive with a caseload of low-level fevers, stitches and minor injuries.
"By and large, their bread and butter is specialty, high-level pediatric care, which is an expensive business," said Ed Abel, director of the health care practice at Indianapolis-based Blue & Co., an accounting and consulting firm. "There probably isn't enough business in Indianapolis to support their model. That's why it's important for them to build out a statewide model."
Just two months into his new job, Cook appears to have done his homework on Riley. In a recent visit with an IBJ reporter and photographer, he led a 90-minute tour, offering information on artwork on the walls, the square footage of patient rooms, the use of teddy bears in tutoring rooms, and various physical expansions over the decades.
He spoke in calm, measured tones, with answers often delivered in full paragraphs, with supporting statistics, underscoring a career spent in hospital consulting, operations and planning.
During his four years at the Children's Hospital in Philadelphia—the oldest children's hospital in America, founded 161 years ago—Cook developed a five-year strategy, attracted more international patients and boosted revenue. He rose to the position of executive vice president of strategic planning and business development.

Leonard
He said he wasn't looking to leave Philadelphia, a thriving market with three children's hospitals and only a few hundred miles from his home state of Massachusetts. But he agreed to be interviewed for the Riley position when he was contacted by a recruiting firm.
"The children's hospital segment of health care is not a large segment, so we all know each other," Cook said. "Riley is a very well-known organization, very well respected."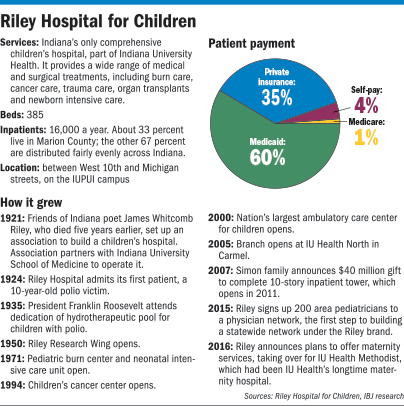 Expanded services
Cook was hired in February and began work in April. He is jumping in at a busy time. The hospital is constructing a $3.8 million psychiatric unit and a $1.6 million physical rehabilitation unit.
In addition, Riley will soon offer comprehensive maternity services, after IU Health shifts its obstetrics unit over from nearby Methodist Hospital, where more than 3,000 babies a year are born. The move is part of IU Health's way to address the state's high infant mortality rate and keep all newborn services under one roof.
Currently, Riley offers newborn intensive care for sick infants, but is not a maternity hospital. On the fourth floor, more than 60 private rooms are dedicated to tending to newborns who were born prematurely or in distress at other hospitals.
"We'll do a couple of planned [births] a year, where you have a high-risk mom with a child who has congenital heart disease," said Dr. Paul Haut, Riley's chief medical officer, who served as interim president before Cook arrived. "We would deliver the child by C-section and they would literally go from mom to the operating room with a cardiac surgeon to do the operation there."
That kind of advanced, specialty care is how Riley built its reputation, and it remains one of its top selling points. In June, Riley ranked nationally in 10 out of 10 pediatric specialties by U.S. News & World Report's "Best Children's Hospitals."

Haut
Riley was one of only 26 children's hospitals (out of 78 evaluated) to have ranked in all 10 pediatric specialties, including cancer, cardiology, orthopedics and pulmonology.
Such high rankings underscore the regard with which Riley is held in many communities.
"Every little town in the state has fundraisers for Riley—a run for Riley, a bike ride for Riley, or something put on by a charity or a foundation," said Doug Leonard, president of the Indiana Hospital Association. "Riley has helped a lot of kids around the state who were seriously hurt in accidents or trauma or a disease."
Cook said his own interest in health care came at age 12, when his mother was diagnosed with a severe form of breast cancer and given a "very limited prognosis."
"That event crystallized that I knew I wanted to be in health care, supporting treatment and research," Cook said. "But I knew I wanted to be on the business side, as opposed to the clinical side."
He earned a bachelor's degree in economics and German from the Wharton School at the University of Pennsylvania, and an MBA from New York University. He doesn't have a medical background, but can describe various medical procedures, such as how doctors and nurses clear a newborn's airways.
"It's just years of being in the industry," he said.
Now it's time to see if those years of experience can help him spread the Riley brand across Indiana.•
Please enable JavaScript to view this content.