Riley Hospital for Children at Indiana University Health has signed up 200 area pediatricians to be part of its new physician network.

The move is the first step in an effort to build a statewide network of doctors that would use the Riley brand. The doctors in the network, called Riley Physicians, also will work together to improve key patient health measures and the efficiency of pediatric care in Indiana.
Sperring
"Our mission was really to improve the health of all Indiana kids," said Dr. Jeff Sperring, Riley's CEO. "And you can't do that just by sitting here in downtown Indianapolis."

About two-thirds of the Riley Physicians doctors already are employed by IU Health in and around Indianapolis, Bloomington, Lafayette and Muncie. But as many as 70 are part of independent practices.

The network could help Riley change with the financial times. After a big run-up in inpatient admissions at its downtown hospital, Riley is seeing insurance programs push patient visits to physician offices and outpatient settings, where costs are lower.

At the same time, building closer ties with pediatricians statewide could help Riley secure the physician referrals of patients that keep its 430 beds filled.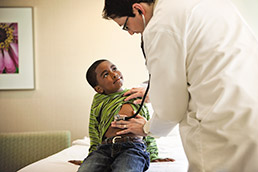 Riley's downtown facilities have more than 383,000 patient visits per year. (Photo courtesy of Riley Hospital for Children)
Pediatrics isn't a great moneymaker for Indiana hospital systems like IU Health, noted hospital accountant Ed Abel, since nearly 60 percent of the bills are covered by the low-paying state Medicaid program, and many patients receive charity care.

But having a strong children's hospital certainly can help when IU Health negotiates with health insurers like Anthem Blue Cross and Blue Shield—which have tried in the past year to create "narrow network" insurance that excludes some hospital systems. Riley does not plan to use the network to contract separately with health insurers.

"The Riley brand, I mean, it's outstanding. And it's the one thing that IU Health has that nobody else does," said Abel, who is director of the health care practice at Indianapolis-based Blue & Co. "So for their system to use that brand to increase market share, I think it's a great move on their part."

The value of pediatric specialty care also explains why St. Vincent Health has built up the operations at its Peyton Manning Children's Hospital on West 86th Street in Indianapolis. The hospital now has more than 300 pediatric specialists—close to the same number as Riley—even though it serves less than a third as many patients as Riley.
Coleman
Both Riley and Peyton Manning see plenty of need to grow to improve the health of Hoosier kids.

"Many places throughout the state of Indiana are coming to us and looking to partner with us," said Anne Coleman, administrator of the Peyton Manning Children's Hospital. She noted that Peyton Manning already has partnerships with such hospitals as St. Joseph Regional Medical Center in South Bend and Hendricks Regional Health in Danville.

Coleman has no plans to create a formal network, as Riley is doing, though she said she would go that route if pediatricians say doing so would best meet their needs.

"We really try to look at it as, 'What, as a pediatrician in the community, do they need from us?'" Coleman said. "If this is something they want, we would be willing to explore that."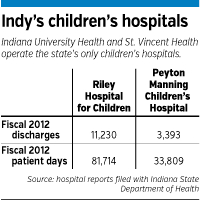 The Riley Physicians network is not an exclusive arrangement. Doctors who join it agree to work together on improving quality metrics, but they aren't required to refer patients only to Riley.

Sperring said Riley wants to grow the network over time and expand it to its existing hospital partners, such as Deaconess Health System in Evansville and The South Bend Clinic.

Some parts of IU Health's employed physician practices are formally adopting the Riley name. For example, Southern Indiana Pediatrics in Bloomington now is simply Riley Physicians.

Independent practices will continue using their own brand names, but they can say they are part of the Riley Physicians network as a tagline.

"They're both trying to take the branding of their assets and extend them beyond Marion County," Abel said of Riley and Peyton Manning. "It's about protecting their existing market share as well as extending their services."

Cutting jobs

Even though both Riley and Peyton Manning are trying to grow, they both made staff cuts last year.

At Peyton Manning, Coleman said, fewer than 10 employees were let go, out of a total of 865 layoffs in the St. Vincent system, which includes 22 hospitals.

For example, St. Vincent let go of the orthodontist who was part of its cranio-facial team, which treated children with cleft palates and other conditions. Instead, St. Vincent is working with orthodontists in the Indianapolis area to care for patients.

In addition, one physician who was part of the child protective team at Peyton Manning "chose to leave," Coleman said. She said she plans to hire a replacement for that physician, while also using a new model for the team that brings in physicians only as needed to help nurses and social service personnel.

At Riley, a decline in patient volumes led to a reduction in Riley's staff that, as a percentage, was in the single digits—out of its total staff of 2,200. All told, IU Health cut 746 people from its three downtown hospitals—Riley, Methodist Hospital and University Hospital.

Hospitals across the country are struggling as persistent unemployment and new kinds of health insurance have caused patients to hold back on medical care. In addition, Congress has cut payments to the federal Medicare program and Obamacare will slow the growth of those payments to a rate significantly lower than traditional medical inflation.

Sperring, Riley's CEO, said children's hospitals have and will continue to see the same kinds of financial pressures, which means they have to become more efficient at delivering care.

Avoiding the hospital

For that reason, Sperring wants to further the trend of more care happening in pediatricians' offices and outpatient clinics, rather than at Riley's downtown facilities.

Riley saw its inpatient visits soar from about 7,500 in 2007 to 11,000 now, Sperring said. So even the recent modest declines still have its hospital significantly busier than it has been historically.

Riley's hospital and clinic are overwhelmed by patients with conditions that could be handled in smaller facilities, such as constipation, headaches and developmental concerns. Shifting more of those cases to lower-cost settings could save a lot of money.

"We don't want more kids in the hospital," Sperring said.

Sperring has even larger goals. He wants Riley Physicians to jointly decide on key areas of health to measure across the hundreds of thousands of kids they care for. Then he wants the physicians to develop guidelines for getting the best and most efficient care to those patients.

Sperring doesn't want to dictate what things get measured, but he does have a short list of items he thinks should be considered.

For example, he wants health care providers in Indiana to lower the average age at which they diagnose kids with autism—because early diagnosis has been shown to greatly reduce severity.

Likewise, he wants to reduce the age at which health care providers intervene with kids who are overweight and on their way to childhood obesity.

"Like all of health care, children's health care costs are unsustainable in the current model," Sperring said. "Really, this is about how we can deliver care more efficiently."•