A century ago, the most celebrated evangelist in America was a Hoosier not by birth but by choice. As a young man, he had abandoned a lucrative career as a professional baseball player to become a preacher, a calling at which he became so effective that he eventually preached to 125 million people without the aid of broadcasting. His name was Billy Sunday.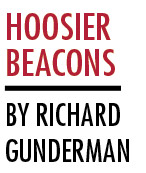 William Ashley Sunday, whose family's surname was originally Sonntag, the German word for Sunday, was born into poverty in Iowa in 1862. His father died in the war before he could meet his infant son, and his mother eventually sent Sunday and his brother to an orphanage. By age 14, Sunday was fending for himself.
As a teenager, Sunday discovered his athletic prowess, and he was signed in 1883 by the champion Chicago White Stockings. Playing in an era when fielders did not sport gloves, Sunday was known primarily for his speed, becoming the first player to round the bases in under 14 seconds. His amazing diving catches and daring base running invariably made him popular with fans.
Sunday heard a sermon being preached on a Chicago street corner one day and felt called to Christianity. About the same time, he met and fell in love with Helene "Nell" Thompson, whose father was a Chicago dairy magnate. Nell's father opposed their relationship, but her mother thought highly of Sunday, and eventually the two were married.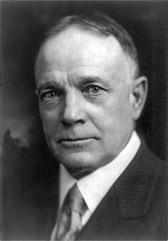 Sunday supported women's suffrage, opposed racism and sought to improve relations between different faiths. (Photo courtesy of Wikipedia)
In 1891, Sunday turned down a lucrative baseball contract to accept a position at the local YMCA, where he worked visiting people in distress. Eventually, he was apprenticed to Wilbur Chapman, one of the best-known evangelists of the day. Sunday spent three years working for Chapman, gleaning valuable lessons about preaching.
In 1896, Sunday set off on his own evangelical mission. Eventually, Nell took over as his manager, leaving their four children with a nanny. She helped transform Sunday into a national phenomenon, and before long, his visits were front-page news in every city.
As Sunday prospered, the family moved to a 2,500-square-foot bungalow in Winona Lake. He became not only famous but rich, earning over $1 million from evangelism by 1920. He was also extraordinarily generous, giving nearly $60,000 to the Chicago mission where he was converted and more than $100,000 to Civil War charities.
Sunday's preaching style was dramatic. He sometimes emphasized points by flinging chairs and sliding across the stage like a runner going for home plate. He meant his sermons to be accessible to everyone, and his highly quotable one-liners included, "Going to church no more makes you a Christian than going to a garage makes you an automobile."
Eventually, Sunday's fame waned, largely due to the rise of radio. His sons became involved in activities their father preached against, leading their parents to pay hush money to keep the scandals quiet. In 1935, Sunday, who never stopped preaching, suffered a mild heart attack. Despite a doctor's advice that he stay out of the pulpit for a time, he persisted, dying six weeks later.
Sunday supported women's suffrage, opposed racism and sought to improve relations between different faiths. What he opposed, he famously said, was sin, declaring, "I will kick it as long as I have a foot." Sunday never lost this zeal, and it is said that even in his very last sermon, preached at First Methodist Church in Mishawaka, 44 people were converted to the faith.•
__________
Hoosier Beacons pays tribute to Indiana's bicentennial by telling the stories of famous Hoosiers. It appears every other week. Gunderman is chancellor's professor at Indiana University.
Please enable JavaScript to view this content.