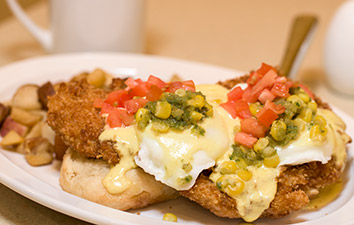 When it comes to choosing a downtown breakfast spot for a meeting or some laptop time, geography is almost as important as what happens in the kitchen. A few blocks can make a big difference—provided there's a demonstration of core competency on the part of the cooks.
As such, I won't attempt to make a case that Wild Eggs (310 N. Delaware St., 744-8283) is significantly better than Yolk, First Watch or Le Peep (Cafe Patachou, of course, is on a different level).
But I will say the new location of this Louisville-birthed chain at the foot of Mass Ave adds a solid morning dining option to the northeast quadrant of downtown, where there's far more emphasis on the later meals of the day.
Steak and Eggs (the most expensive entree on the menu at $12.99) featured grilled sirloin, two any-style eggs, skillet potatoes and an Everything Muffin. Consistency is important at breakfast restaurants, especially when it comes to preparing food the way it's ordered, and Wild Eggs delivered perfectly across the board. The decent-size steak was lightly seasoned and cooked properly to medium as requested. The jumbo fried eggs arrived over-easy, with soft yolks and cooked whites, as desired. The skillet potatoes—basically cubed skin-on potatoes—weren't terribly exciting, but they paired nicely with the yolk oozing from the eggs. The Everything Muffin was a nice change of pace—kind of a cross between a sweet biscuit and a savory muffin. Rich and moist, it was flavorful enough not to demand butter.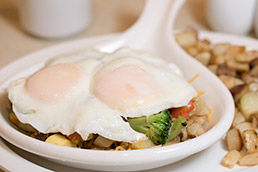 Skillet dishes aren't surprising at Wild Eggs (IBJ photo/Eric Learned)
Farmer Skillet ($10.49) was arguably too earnest in its efforts to provide a relatively healthful alternative to the breakfast meats and syrupy breakfast standards. Packed to a fault with vegetables, it's an innocuous choice for those looking for less breakfast guilt. As with just about every breakfast place, fresh-squeezed Orange Juice ($3.49) is an extravagance never worth the cost.
Wild Eggs' Kentucky homeland's proximity to Indy no doubt inspired the Hoosier Benny ($10.49), a thick, breaded pork tenderloin topped with a pair of poached eggs, corn relish and salsa gilded with fresh Dijon hollandaise. My initial assumption was that this filling breakfast entree was an add-on nod to the locals but was pleased to find it's a regular on the menu at other locations, serving as a kind of comfort-food cultural ambassador from Indiana.
The Coffee of the Day ($3.99) was chocolate-caramel—complete with an (un)healthy dose of whipped cream and chocolate syrup. It tasted more like cocoa than coffee, but who's complaining?•
Please enable JavaScript to view this content.