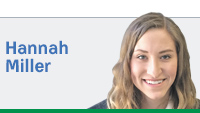 I have avoided talking about Donald Trump for most of this election. When he announced his candidacy, I did not take him seriously, and neither did a lot of people. When asked if he had any shot at winning the nomination, I laughed off the question.
Now more than a year later, I am astonished at the state of this election. So many political experts have been proven wrong, and there is no longer anything entertaining about Trump running for president. He is the presumptive nominee of the Republican Party, and he must be taken seriously. However, it is difficult to come to terms with Donald Trump, who is a massive danger to our country.
Trump seems to make multiple offensive statements every day. He has stated that Mexican immigrants are rapists, all Muslims are terrorists, and has treated women as objects to be possessed. His criticism of other politicians is juvenile, often nothing more than calling them names, even dragging their family members into attacks. Any critique pointed his way seems to drive him into a frenzy. As many have said already, this is not the temperament of a president.
Perhaps even more concerning is his complete disregard for real policy. He has not demonstrated any working knowledge of foreign policy, or the willingness to learn. This trait did not go over when demonstrated by Sarah Palin in 2008. Trump's campaign website has only seven official policy positions. Interestingly, none of them involve ISIS, despite his frequent talk of defeating the terrorists. Other issues are covered by minute-long videos of Trump himself, mostly just stating his opinion.
Disturbingly, his opinions seem to change constantly. It is terrifying to think that we could have a president who does not know anything about foreign or domestic policy.
Contrary to most previous elections, the truth does not hold Trump back. He has been called out on his lies countless times, but that does not stop him. He has huge plans to "Make America Great Again," but exactly how to do that is irrelevant to him.
Despite all of this, many people might still vote for Trump, even if they do not agree with his more radical statements and positions. Some say that he will not actually be able to accomplish those things. This may be true, but it is still reckless to allow someone who wants to ban all Muslims from entering the country to be president. It is reckless to put someone in the White House who thinks Mexico will pay for a wall. It is reckless for this country, and for the world.
Trump won Indiana's Republican primary with more than 53 percent of the vote, and he could very well win Indiana in the general, which is a scary thought. The Hispanic population is our fastest growing minority group, and a vote for Trump is telling them they are unwelcome in this state. A vote for Trump gives fuel to the racially-motivated violence we have seen in Indiana.
Democrats, Republicans, and everyone to the right, left, and in-between must come together and stop this man from becoming president. He is spreading hate and fear, and that is not representative of Indiana, or this nation. For the first time, one of the top candidates for president is not only deeply unqualified, but a threat to the world. We all must get out to vote in November and make sure that our next president is never, ever Trump.•
__________
Miller studies policy analysis at Indiana University and works as political director for the College Democrats of Indiana. Send comments on this column to ibjedit@ibj.com.
Please enable JavaScript to view this content.