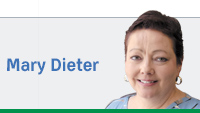 If you ever doubted the motives that drive Republicans in Congress to do what they do, consider their behavior in the last full week of June, when their depraved callousness was displayed in stark relief.
Over the course of just a few days, the venal lot ignored the impassioned pleadings of a mourning nation for some common-sense gun laws and loaded up a measure to fund the fight against the mosquito-borne Zika virus with poison-pill appropriations that made the package untenable for any reasonable person.
This, from the party that purports to be "pro-life," a phrase rendered utterly meaningless by the antics of the very people who speak it.
Just days after the nation's worst mass shootings took place in a gay nightclub in Orlando and despite demands for action punctuated by a House Democrat sit-in (led by the heroic John Lewis of Georgia and supported by Andre Carson of Indianapolis), the Republican majority flatly refused to consider no-brainer proposals to prohibit people on the nation's terrorism watch list from purchasing guns and to plug the elephantine loopholes in background check laws.
Apparently neither constitutional rights nor the concept of "pro-life" apply to innocent victims who happen to be present when a madman opens fire.
As for the Zika appropriation, the House passed a compromise measure, accepting the Senate's proposal to provide $1.1 billion. It was far short of the Obama administration's request for $1.9 billion but far better than the House's original proposal of $622 million. It also was four months late, because apparently there is no urgency when children's lives are at stake. But with mosquito season upon us, it seemed better than nothing to fight the horrible virus, which causes serious birth defects and immune disorders.
But Republicans cynically added provisions to the appropriations bill to relax regulations on pesticides; increase the legal maximum hours that drivers of big-rig trucks can spend on the road; and, most astounding and ironic, cut government funding of birth control services offered by Planned Parenthood. Then the House members ran home to their districts, where they asked their constituents to send them back to Washington so they could spend another two years catering to big-dollar contributors.
With uncertainty about the long-term effects of Zika and a very real threat that Olympics fans will spread the virus wildly across the globe, the government should be encouraging woman to use birth control, not making it more difficult for them to do so. Even Pope Francis is on board with that.
Apparently being "pro-life" doesn't include doing everything possible to ensure babies are born free from devastating defects.
Frankly, none of this is a surprise. These same people have pretty much announced to the world that they care vastly more about retaining their power with the financial support of the National Rifle Association than about looking out for their constituents and other Americans whose constitutional right to life is being trumped by a specious definition of the Second Amendment.
Otherwise, how could they look the other way when six-year-olds and church people and movie-goers and college kids and countless others are being slaughtered?
And if they can ignore that carnage, it can't be hard for them to push aside thoughts of babies born with half a head and get out on the campaign trail, where they can tell voters how much they care about them.•
__________
Dieter, a writer and an editor, is the former Statehouse bureau chief for The Courier-Journal and press secretary for Gov. Frank O'Bannon. Send comments on this column to ibjedit@ibj.com.
Please enable JavaScript to view this content.