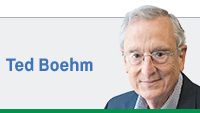 I have never met Gary Johnson or William Weld, the prospective Libertarian nominees for president and vice president. Both have records of achievement and both were elected governors as Republicans in states that generally support Democrats. Both appear to be fiscal conservatives and social liberals, a combination that appeals to many. Based on what I have seen in a few television interviews, both appear to be intelligent, thoughtful and articulate. But I hope they get no support in the general election.
In two of the past six presidential elections, we have had the outcome determined by third party candidates who diverted support from one of the two major party candidates. Ross Perot is generally credited with electing Bill Clinton by drawing votes that would otherwise have gone to George H.W. Bush in 1992, and Ralph Nader's tiny support in Florida drew enough votes from Al Gore to give us George W. Bush and the Iraq War in 2000.
Four months is an eternity in an election year, and the landscape may look different in November, but viewed from here it looks as if several fairly large electoral states may be very evenly divided between Trump and Clinton, and a significant third party vote could tip the balance. Who knows whether the third parties will draw more from Clinton than from Trump, but the most recent polls show Clinton's high single-digit lead over Trump in a two person race falls to a virtual tie if Libertarian and Green candidates are in the race.
Trump's applauding Brexit has provided another reason, as if one more was needed, why he should not be within shouting distance of the White House, and third party candidates should not be his enablers. Brexit may be the choice of U.K. voters, but it certainly is not in the interest of the United States, which will lose the strongest voice in the European Union for positions most aligned with America's.
We already are seeing what sounds like buyer's remorse among a substantial segment of the U.K. electorate. Scotland is talking about separating from the U.K. to remain in the EU. That may be just for openers. When all the implications of Brexit unfold over the next months and years, get ready for a steady stream of potential collateral damage that hasn't yet fully surfaced.
As an example of issues below most of the world's radar, I offer Gibraltar, which my wife Peggy and I visited only two weeks before the Brexit referendum. Gibraltarians expressed real concern over the upcoming Brexit threat. We now know they voted overwhelmingly (96 percent) to remain in the EU.
The Rock has a resident population of approximately 30,000, mostly British citizens. Spain shares Gibraltar's only border. For three centuries Spain and Britain have each claimed Gibraltar and entered into and backed out of various agreements. In 2002, Gibraltarians voted almost unanimously(98 percent) to become a part of Britain and to reject a proposed dual sovereignty tentatively agreed upon between Britain and Spain. Brexit now risks upsetting this stable arrangement after Spain threatened to reopen its claim to Gibraltar if Britain leaves the EU.
This strategic gateway to the Mediterranean faces economic uncertainty as well as political turmoil. Despite Gibraltar's status as a British territory, its economy remains highly interdependent with Spain. Every workday, 8,000 Spaniards get to their jobs in Gibraltar across a border now potentially closed. These include doctors and other health care professionals, lawyers, and various trades as well as lower paid service jobs.•
__________
Ireland is a college Republican at Indiana University. Send comments on this column to ibjedit@ibj.com.

Please enable JavaScript to view this content.