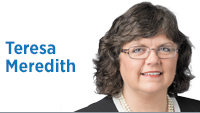 Our representatives are playing games with childhood hunger.

Free and reduced school lunches are under threat from a bill authored by U.S. Rep. Todd Rokita (R-Indiana). H.R. 5003 would significantly change how free and reduced lunches are delivered to students at schools across the country. Often, school meals are the only balanced, nutritious food kids can access.

According to the U.S. Government Accountability Office, 30.4 million children participated in the National School Lunch Program and 13.6 million in the School Breakfast Program in 2014. Currently, schools and districts qualify to serve free lunches to all students when 40 percent of its student body meets federal poverty guidelines. H.R. 5003 would raise the qualifying threshold to60 percent.

This means families currently residing in low-income communities may no longer have access to free school lunches, even if their family income is only slightly above the federal poverty line. It could cost families as much as $75 per month to purchase breakfast and lunch at school for their child. This will burden families and place children at risk of falling behind in classes.

When your mother told you the most important meal of the day was breakfast, she was right. Published studies confirm eating breakfast at school helps children perform better, especially in math. Improvement is not only seen in academics, but in behavior and attendance, while missing meals and experiencing hunger impair a child's development and achievement.

H.R. 5003 would also initiate a pilot program in three states to establish a school meal block grant project. A block grant would be an annual capped funding stream for school meals instead of the federal entitlement for reimbursement.

This approach hampers a school's ability to respond to student need should unemployment increase as a result of a manufacturer, or large employer, leaving the community, for example. The Center on Budget and Policy Priorities found that the number of low-income children who consumed free or reduced-price meals on a typical day rose by more than "2 million between the 2008-09 and 2012-13 school years.

The capped funding also leaves schools and districts doing more with less. The current federal reimbursements are adjusted for food-price inflation, while a capped block grant is the only funding issued for school meals. The block grant isn't responsive to costs—potentially leaving some qualifying students without access to nutritious meals once the capped funding is expended.

Childhood hunger is a national issue. The U.S. Department of Agriculture estimates 15.3 million children under the age of 18 live in food-insecure houses. This means they consistently struggle to access nutritious food in their household. These numbers expose the need for children to access healthy food.

H.R. 5003 would establish a system wherein the kids with the most need and potential to benefit from free and reduced school meals could be left hungry. From when they step onto the school bus to the lunchroom and the classroom, our priority is to ensure kids have the best opportunities to succeed regardless of ZIP code.

This bill further challenges educators in their attempts to educate kids and foster a love of learning. H.R. 5003 has passed the House Education and the Workforce Committee and will be considered by the full House.

It's time to stop playing games with childhood hunger.•

__________

Meredith is president of the Indiana State Teachers Association and has taught for more than 20 years in Indiana schools. Send comments on this column to ibjedit@ibj.com.