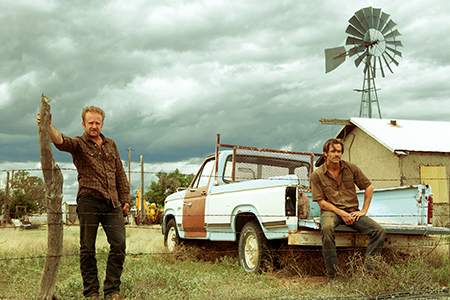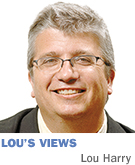 With most movie-going experiences, you know pretty much what to expect. Spoiler-filled reviews, celebrity interviews and trailers conspire to make sure your experience is surprise-free.
For those who value not knowing what's going to happen next, though, the place to be is a film festival. And Indy Film Fest, running July 14-24 at the Indianapolis Museum of Art, is offering an array of movies from around the world and around the corner that tap into the joy—and anxiety—of surprise and uncertainty.
I dove headlong into this year's offerings, screening a few dozen of the choices before opening night. Here are 10—OK, 11—I'm pleased to recommend for a range of reasons.
'Hell or High Water'
Get past the generic title and you'll find a rich, rewarding yarn about brother bank robbers (Chris Pine and Ben Foster) pursued by a Texas Ranger (Jeff Bridges). Nick Caves' musical contribution, a solid script by Taylor Sheridan (of last year's "Sicario") and an atmosphere of quiet desperation make this one both haunting and solidly entertaining. You might detect elements of "Dog Day Afternoon," "No Country for Old Men" and "Mean Streets" in the mix, but that doesn't keep this West Texas tale from feeling fresh and original. It's getting a theatrical release shortly, but you can see it here first.
'Command and Control'


"Food, Inc." filmmaker Robert Kenner turns his eye to the swept-under-the-rug dangers of our nuclear stockpile in this harrowing documentary. Based on Eric Schlosser's book, its primary focus is a 1980 accident at a site outside of Little Rock, Arkansas, that—for someone as ignorant on the subject as I am—provided as nail-biting a film as any fictional thriller I've seen in years. It's a rare movie that is as compelling as it is important.
'The Girl's House'
A joyful pre-wedding shopping trip turns into a nightmare for two young Iranian women when it's discovered that the bride is dead under cryptic circumstances. Remember what I said in the intro about spoilers? Well, do yourself a favor and don't read the Indy Film Fest's website description of this bold, character-rich drama—unless you want the mystery solved for you before the movie starts. (Why, oh, why do filmmakers—and festivals—insist on robbing us of this primary experience?)
'Nakom'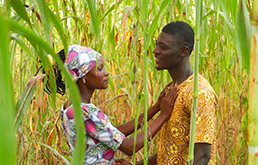 In "Nakom," a med student (Jacob Ayanaba) returns to his home village in Ghana. (Photo courtesy of Wide Management)
Medical student Iddrisu (Jacob Ayanaba) seems to be on a path toward success. But the sudden death of his father brings him back to his village in Ghana to settle affairs—which prove more complicated then he assumed and those days turn to weeks. This could be hokey stuff in lesser hands, but the filmmakers lean toward the quietly truthful, never romanticizing the village or trivializing the challenges but making quietly clear the compelling reasons why Iddrisu might be tempted to stay.
'Black Mountain Poets'
It's structurally sloppy and feels like chunks are missing, but if you are looking for laughs—and a glance at a pair of possible future stars—try this implausible comedy. It's about a pair of on-the-run petty thieves who hide out at a rural poetry retreat and fake their way into acceptance. You can imagine what Hollywood would do with the premise—which is partly why the unexpected, loopy details crafted by leads Alice Lowe and Dolly Wells prove such a kick.
'Little Men'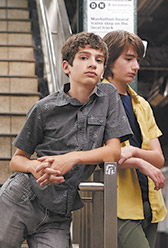 "Little Men" is a coming-of-age film about boys who have their friendship tested by adults in their lives. (Photo courtesy of Magnolia Pictures)
Sorry, Louisa May Alcott fans. This one has nothing to do with her 1871 novel. Instead, it's a coming-of-age film that harkens back to such pre-John Hughes teen films as "Rich Kids" and "A Little Romance." Here, a pair of boys meet coincidentally, strike up a friendship, and have it tested by the out-of-their-control adults in their lives. Greg Kinnear is the most familiar face in the film, but there's strong work from Michael Barbieri and Theo Tapitz as the very different young guys and Paulina Garcia as a parent in a tough spot.
'The Invisible Patients'
'Do Not Resist'
'Insatiable: The Homaro Cantu Story'
'Under the Bridge: The Criminalization of Homelessness'
Sometimes documentaries don't break any ground on the filmmaking front, but nonetheless provide opportunities you might not take advantage of outside of film festivals to learn and empathize. "Invisible Patients" takes viewers on the road with an Evansville-area home care nurse and into the lives of these patients that society has largely forgotten. "Do Not Resist" makes a strong case for the need to take a serious look at the militarization of the police. "Insatiable" charts the business and personal rise and fall of a groundbreaking Chicago chef. And while the filmmakers sometimes get in the way in "Under the Bridge," the documentary does point to the complex issue of homelessness right here in Indianapolis—with serious shots taken at the way the local news media cover the problem.•
Please enable JavaScript to view this content.