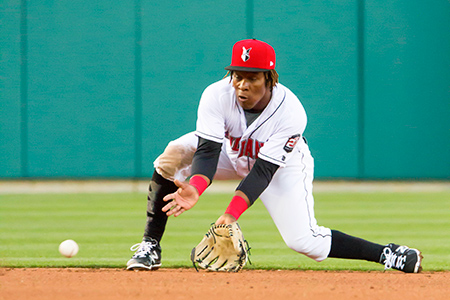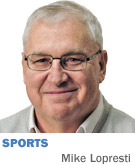 Over at the Indianapolis chapter of the United Nations—you know it as Victory Field—the Indians have a catcher from Taiwan, relievers from Venezuela, a second baseman from the Dominican Republic, an outfielder from Puerto Rico.
And we haven't even gotten to the good part yet.
Here's Gift Ngoepe, shortstop from South Africa. Once lived in a 7-1/2-by-9-foot concession room off the clubhouse back in a Johannesburg suburb, where the local team gave his mother free rent if she cooked and cleaned and worked the cash register on game days.
Know how many black players from South Africa have played in the major leagues? None. So every second of every day, he nourishes the dream of being the first—this young man who, as a little boy, slept 40 yards from a baseball field.
"It's been," Ngoepe said the other day in the Indians dugout, "a journey and a half."
Here's Dovydas Neverauskas. Right-handed pitcher from that baseball hotbed, Lithuania. If the records are correct, the nation has sent one native son to the major leagues, and that was 1933. Dovydas' father, Virmidas, helped develop organized baseball in Lithuania, where conditions were a tad primitive at the beginning.
"Probably, the first year, he had 10 balls, two bats, a couple of gloves," Dovydas said. He had to make the gloves himself, since Dick's Sporting Goods has no Vilnius store.
"Everybody here has a story, but theirs is different," Manager Dean Treanor was saying of these two. "Lithuania? Really?"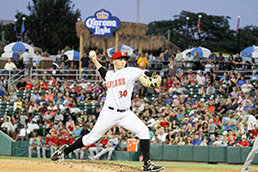 Dovydas Neverauskas is from Lithuania.
 (Photos courtesy of Indianapolis Indians)
The Indians roster might as well be an international trade show, with representatives from five continents. Treanor has had to be creative, seeking to make all the far-flung pieces fit. For the second season in a row, he has paired players from different backgrounds, instructed them to spend some time together, then report back to the team what they have learned about each other.
"To get this with your team is not that easy," he said, clasping his fingers together. "Different cultures, different languages. I didn't feel we were meshing. That's what I do to try to bring cultures together.
"Why did I come up with that last year? I pulled it right out of my butt to be honest with you. I had never been in a situation like that before."
In Neverauskas, he has a 23-year-old who is just learning what he can do with a live arm. Back in Lithuania, Neverauskas dabbled in basketball—which is popular—but settled on baseball, partly because of his father's passion for the game. He was one of the few, so everyone played everywhere.
"You didn't have, like, 12 pitchers and 13 position players," he said. "You had to switch positions. You got to know the game playing different positions, understanding what it takes. Especially as a pitcher. If somebody misses a ball, you know the feeling because you've been there."
The Pirates found him at a baseball academy in Europe, and now here he is, headed for the All-Star Futures' Game for top prospects July 9 in San Diego.
"I like the arm," Treanor said of Neverauskas. "It's all about command. He has to be able to come in, be aggressive and attack. Really attack. I think he wants to attack. I'm not sure he knows how to do that yet."
He's not exactly a star here. "I've never had fans waiting outside to sign 20 balls or something like that," Neverauskas said. But they will back home if he ever takes the next step.
Then there's the shortstop, by way of the Sotho tribe. Mpho Gift Ngoepe. Mpho? Means Gift. His mother, Maureen, amid trying times during pregnancy, was advised by a fellow churchgoer to name her baby Gift, as in a gift from God. She did it in two languages, apparently so everyone got the point.
"I don't think we'll ever really know how tough his road was," Treanor said. But here are a few stops.
Ngoepe pondered quitting the sport after his first months in America in 2009, battered by homesickness and the feeling he didn't belong, that nobody understood him, or his game, or his heart.
But he had Maureen, the mother back home who was always there on the phone when he needed her, to keep his hope alive. He used his first professional contract to build her a house. But he lost her in 2013, and the mourning goes on today.
"When my mom died, I kind of lost my drive for the sport. I almost quit again. … The memories of her are being in the hospital, and being in the casket. I carry that with me each and every single day. It's almost like you died with your mom, instead of living for your mom.
"Slowly but surely, I am trying to get back to why I'm playing the sport … . I hear her voice every single day."
And still, he wants so badly to go where no man from his country has gone before.
"I think Gift may have too much of a sense of that," Treanor said. "That means a lot to him. He's carrying more than we really think. It can't be easy."
Nobody questions Ngoepe's remarkable fielding skills, but at last look, the batting average was .220, and no amount of tweaking this or trying that has been the answer. But then, the vagaries of hitting vex everyone.
"Sometimes you can get into your own head," he said. "You're trying to get hits. You're trying to increase your average, you're trying to do more. At the end of the day, you lose focus why you're actually playing this sport. You're taking the fun out of it."
"You're trying to please everybody from back home, and make your country proud. Some days it feels like you have so much on your shoulders you have to carry by yourself. Sometimes it feels like I've failed them. Sometimes it feels like they might have the wrong person to meet their expectations. At the same time it, can also drive you—knowing that you have a full continent of people backing you up."
So he carries the burden of performing, as heavy as any Colt or Pacer or Hoosier, even if for a different reason, 8,000 miles from home. But to watch him play shortstop is worth a trip to Victory Field.
"What's surprising is, his hands don't correlate offensively as they do defensively," Treanor said. "He's got some of the best hands I've seen defensively. His reactions are phenomenal. I've had scouts and other people come through here and they rank this guy very high defensively as a shortstop in this game. Not in our organization, not in the International League, but in the game. The question mark is whether he's going to be able to hit at the next level. Defensively, he can play there right now."
For now, Ngoepe plays and hopes, and sometimes struggles, the clock ticking at the age of 26. They all do. Dominicans, Venezuelans, Californians. The Lithuanian and South African, too, their roads having intersected in Indianapolis, as they wait for the phone to ring from big-league fantasyland. Which it will never do for some.
This summer coalition of Indians reminds us of a truth: Doesn't matter what language you speak, baseball can be hard.•
__________
Lopresti is a lifelong resident of Richmond and a graduate of Ball State University. He was a columnist for USA Today and Gannett newspapers for 31 years. He can be reached at mlopresti@ibj.com.
Please enable JavaScript to view this content.