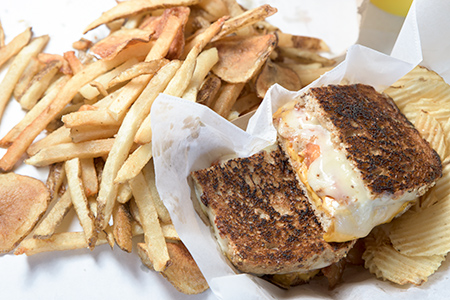 Broad Ripple staple Fat Dan's Deli (410 E. Michigan St., 600-3008) has found a second home just off Massachusetts Avenue, where it has carved out a nice niche on the south side of the Millikan on Mass development across the street from the Athenaeum.
That's good news for anyone craving hearty, upgraded bar food in a boisterous, friendly environment that doesn't feel oppressive. Thanks for that go to both the high ceilings in this roadhouse-style drinkery and the garage doors that open up the place in good weather.
In the past, praise has been heaped on Fat Dan's heaping piles of fries—and hungry bar-hoppers would do well to stop in here for a late-night mound of the immodestly named Best Fries in the Universe ($3.50/$4.75). I'm not sure how the fries are on Neptune or the International Space Station, but the ones dumped right on paper alongside your sandwiches are surely among the best in town.
We were more than satisfied by a sloppy Smoked Reuben ($11), and Fat Dan's Pork ($11) encouraged slowing down and savoring its 14-hour hickory-smoked barbecue.
The Chicago Combo ($8.50), though, proved that two wonderful worlds—the Italian beef sandwich and the Italian sausage sandwich—have no real reason for colliding. If tempted, I recommend going for one or the other, rather than both.
But you'll also have to search hard to find a better version of the grilled cheese sandwich than Peyton's Supa-Dupa Grilled Cheese ($9), featuring a combination of brie, provolone, American and cheddar with tomato on multigrain bread. Whether you want to guild the lily by adding smoked bacon ($2.50) is, of course, up to you.
On future visits—and there should be many—I won't be revisiting the Dirty Tots ($8.50). Yes, the menu said this basket of tots with smoked pork, scallions and cheese sauce would include Fat Dan's hot sauce. What it didn't say is that the goods would be bathed in it, with a pool forming on the bottom, rendering many of the tots soggy as well as inedible.
And, no, the proper reaction from a waiter when taking away the barely eaten dish and having a patron politely say there was way too much sauce isn't to laugh and say, "Yeah, they're really hot."
When you visit, stick with the fries.•
—Lou Harry
Please enable JavaScript to view this content.