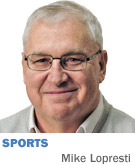 BLOOMINGTON—Fireworks on Friday! Tailgating on Saturday! Bring your dog to the ballpark on Sunday!
And the guy throwing out the first pitch did the voice for the beast in the movie "Beauty and the Beast"!
Is this the Durham Bulls? Nope, Indiana University baseball, where the goals are high, the statistics are glowing, and the crowds are large. This sort of thing isn't supposed to happen in the snow belt, is it?
"It's kind of fun to see your vision come to reality," Coach Tracy Smith was saying. "Over the last year, I've had more people come up and say to me, 'I didn't even know we had a baseball program. And now I'm hooked for life.'"
Yes, that's Indiana, with a 32-12 record going into a weekend trip to Penn State. That's Indiana, steamrolling the Big Ten at 16-2. That's Indiana, doing a rendition of the 1927 Yankees, outscoring opponents 270-138, and out-homering them 32-9. That's Indiana, ranked in the top 10 in some polls, and No. 4 in the NCAA power ratings.
And to think, all that buzz in Bloomington without one jump shot. Let's visit a game to see what is going on.
It's a windy Friday night at spiffy new Bart Kaufman Field, and the weather would chill the cream off the crimson. But more than 3,000 people show up to see the Hoosiers go against Purdue in the opener of a three-game series. Just three years ago, at the old place, wonder who would have been in the stands?
"Parents, girlfriends," Smith said.
"On a nice day, maybe 300," senior pitcher Joey DeNato mentioned.
But that was before Indiana discovered college baseball. Before the Hoosiers opened a palace last spring, then promptly stormed to the school's first College World Series trip in history and the first for a Big Ten team in 29 years.
Nobody swings at actor Robby Benson's ceremonial first toss, but the same can't be said of Purdue's pitches. It's 3-0 Indiana, in less time than it takes to eat a hot dog.
These moments are what Smith had in mind when he took over in 2006. But imagining Indiana a baseball hotbed seemed like imagining Alaska a beach resort.
"I didn't go into this thing with my eyes closed," he said before the game. "I knew what to expect, but I'd be lying to you sitting here today if I didn't say that first year there were some things that I was going, 'Oh my goodness.'"
He steadily built his program. But lightning and a quantum leap struck last spring, when Indiana hosted and won its own regional, shocked Florida State—one of those snooty, baseball-rich southern schools—with 21 runs in two games in the super regional, then went 1-2 at Omaha in the College World Series, losing twice by one run.
"I've got a big hole in my gut still from what happened last year," Schwarber said. "I thought we were the best team there."
Smith remembers standing on the field in Bloomington before the regional, hoping the Hoosiers could just win one game, since they never had.
"You talk about setting my standard low," he said. "Then everything happened so fast."
Next thing he knew, Indiana was ranked No. 3 in the 2014 preseason. Not that he expected the rating to last. While the warm weather programs are outside playing in the winter, the Indianas of the world are scraping their windshields and shoveling their driveways. The early season is one long road trip to southern and western locales. Fifteen of Indiana's first 17 games were away from home. The Hoosiers started 9-8.
"There's no college sport that's more geographically skewed than baseball," said Smith, who noted there's a reason someone came up with the phrase home-field advantage. "The deck is stacked against northern teams."
So the early bumps were understandable. Still, as Smith said, the renown from that No. 3 ranking "is something no one can ever take away from you. It means nothing. It's on paper. But that's still a pretty good accomplishment, if you think of where this program was not that long ago."
And here the Hoosiers are, winners of 20 of their last 22, and the bully of the Big Ten, while taking everyone's best shot.
At last check, Indiana's 2.39 ERA was 13th-best in the country. DeNato was 10-1. Sam Travis had 46 RBI in 44 games, Schwarber had eight homers. The bullpen had been exemplary. The Hoosiers were 25-0 when leading after six innings. And customers by the thousands keep coming to see it, though a nice ballpark and fireworks will go only so far.
"I think the main reason we have a lot of people enthusiastic is because we're winning," Smith said. "That does not fall short on me."
Back to the game. Indiana leads 6-0 and Purdue is down to its last out in the ninth inning. What's the crowd chanting? "We want breadsticks!" Another promotion is free breadsticks from a local pizza restaurant whenever the Hoosier pitchers strike out eight.
They are at seven, as Thomas Belcher pitches to Jeff Evak. Called third strike. Thousands in red roar, not only going home happy, but also with breadsticks.
Outside the Hoosiers' clubhouse is a room that makes the program's intentions clear. "Only 659 miles to Omaha" are the words on the wall. Also, a message that evokes the memory of how close they were to the national championship last June: "A journey taken. A triumph still to conquer."
Second baseman Casey Rodrigue: "Seeing this coming in every day, it's starting to be an expectation."
Smith: "You take steps. Whereas the College World Series or even a super regional seemed like kind of a pipe dream, it's not a pipe dream anymore. We know we can do that. Now it's a realistic thing."
DeNato: "I've been here through the thick and thin. When I came here my freshman year, I didn't expect this at all."
Schwarber: "We want to keep going. We don't want this to be a two-year program, and then boom, back down the hill. We want this to be a powerhouse where people recognize the Hoosiers all around the nation. We take pride in being that northern school that's good."
It's a new baseball age at Indiana. Sunday's promotion with Purdue was Turn Back the Clock Day. Only these Hoosiers don't plan to do that.•
__________
Lopresti is a lifelong resident of Richmond and a graduate of Ball State University. He was a columnist for USA Today and Gannett newspapers for 31 years; he covered 34 Final Fours, 30 Super Bowls, 32 World Series and 16 Olympics. His column appears weekly. He can be reached at mlopresti@ibj.com.
Please enable JavaScript to view this content.