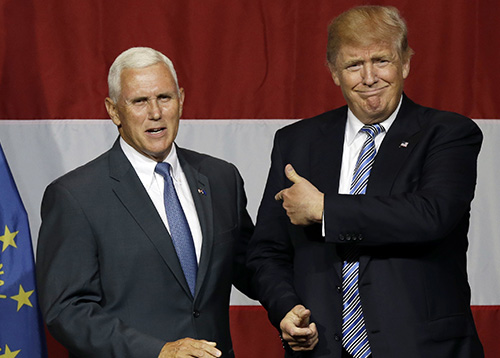 Mike Pence introduced presumptive GOP presidential nominee Donald Trump at a rally Tuesday in Westfield—but Trump barely mentioned Pence, despite speculation that he might pick the Indiana governor to be his running mate later this week.
Finally, after 50 minutes of talking about trade and Hillary Clinton and immigration, Trump wrapped up with this:
"I don't know if he'll be your governor or your vice-president. Who the hell knows?"
The rally at Grand Park in Hamilton County was the latest in a series of joint appearances Trump has held with prospective running mates. CNN has reported that Trump has narrowed his search to two front-runners–Pence and former House Speaker Newt Gingrich—and that he will likely announce the choice on Friday.
In a spirited introduction of Trump on Tuesday evening, Pence heaped praise on the businessman-turned-politician as someone who "gets it." 
"Donald Trump knows that the boundless potential of the American people awaits, and that we can make America great again," Pence said during his five minutes on stage in front of a crowd of thousands of Trump supporters. Some people waited hours to get inside the Grand Park Event Center, which doesn't officially open until next week.
Trump, meanwhile, spent much of the time discussing immigration and trade, mentioning the Carrier plant that is taking jobs from Indiana to Mexico.
"I believe in open borders. I believe in free trade," he said. "The problem we have is that nearly every other country that deals with us are far sharper and far better."
Trump also attacked Democratic nominee Hillary Clinton repeatedly, calling her "incompetent" and saying that she "directly and indirectly created ISIS."
Should Pence be chosen as Trump's running mate, the Indiana governor's race will undergo a major shift. State law prohibits Pence from running for both positions—and Friday is the deadline to withdraw his candidacy for governor.
Several Indiana Republicans are already working behind the scenes to position themselves to replace Pence on the state ballot, should he join the national ticket.
Lt. Gov. Eric Holcomb, GOP House Speaker Brian Bosma, and U.S. Reps. Susan Brooks and Todd Rokita are all viewed as possible replacements. If Pence does drop out of the governor's race, the Indiana Republican Party will have 30 days to replace him on the ballot.  
Democratic groups marked the Trump and Pence joint appearance by criticizing both Republicans, specifically calling out Trump for his comments about U.S. District Court Judge Gonzalo Curiel. Trump suggested the Indiana-born judge couldn't fairly rule on a Trump University court case because he is "Mexican."
Democrats also criticized Pence for his support last year of the controversial Religious Freedom Restoration Act, which critics said would allow discrimination against gay and lesbian people.
"Trump's bigotry is not reflective of Hoosier hospitality and Hoosiers don't want Trump to do to our country what Pence has done to their state," said Christina Reynolds, deputy communications director for Hillary for America.
Protestors with signs reading "Pence Must Go" and "Trump demeans women" gathered earlier Tuesday outside of the Columbia Club in downtown Indianapolis, where Pence met with donors at a fundraiser before the Grand Park event.
The Indiana Democratic Party, which organized the protest, called Pence's support of Trump a "desperate attempt to save his own career."
"Hoosiers deserve a better governor and president who won't spew divisive rhetoric that would divide our nation," said former Democratic state Rep. John Aguilera at the protest. "We deserve better than Mike Pence."
Please enable JavaScript to view this content.