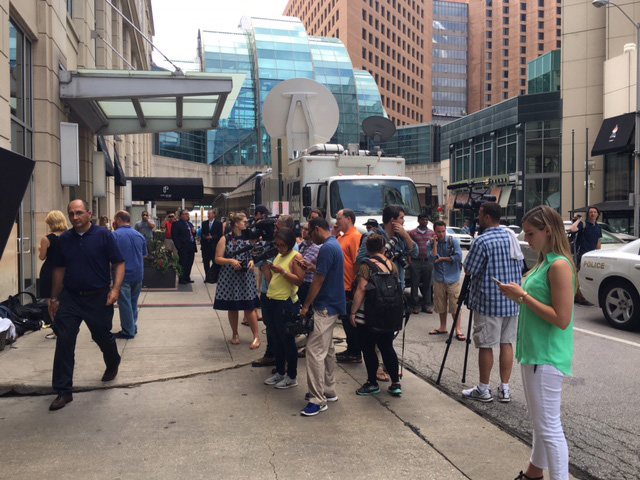 Indianapolis became the center of Donald Trump's search for a vice presidential nominee on Wednesday—and not just because Mike Pence is in the running.
Trump, who attended a rally Tuesday in Westfield with the Republican governor, was scheduled to fly home to New York immediately after the event but was forced to stay overnight due to a mechanical issue with his plane.
Trump made the most of his extra time in Indiana, holding meetings with top potential running mates. He visited the governor's residence on Meridian Street on Wednesday morning to meet with Pence, bringing along sons Eric and Don Jr., daughter Ivanka, and her husband Jared Kushner.
VIDEO: Trump, Manafort, Eric, Ivanka, Don Jr & Jared Kushner exit the Pence residence in Indianapolis. pic.twitter.com/FDt1obgt1R

— Vaughn Hillyard (@VaughnHillyard) July 13, 2016
The Trumps all returned to the Conrad Indianapolis hotel downtown and were met by former House Speaker Newt Gingrich, another name on Trump's short list who flew to Indianapolis on Wednesday. He was seen leaving the hotel around 1:45 p.m., along with at least one of Trump's sons.
Alabama Sen. Jeff Sessions arrived shortly thereafter, though CNN reported that he met with Trump as an advisor rather than a potential running mate. Trump also reportedly spoke on the phone with New Jersey Gov. Chris Christie, who is also believed to be a finalist for the No. 2 spot on the national ticket.   
Throughout the day, hordes of local and national media staked out the Conrad on Illinois and Washington streets. Curious passers-by stopped to inquire about the frenzy.
Media crowd outside Conrad where Trump conducts veep talks with Gingrich and reportedly soon Sessions. pic.twitter.com/SjExqIMkqi

— IBJ News (@IBJnews) July 13, 2016
For one day, Indiana served as the unlikely center of the political world. Now, the state waits to find out Pence's vice presidential fate. Trump has said he is likely to announce his decision on Friday.
The Associated Press contributed to this story. 
Please enable JavaScript to view this content.