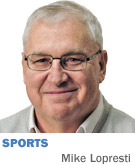 The headlines lately only seem to get sadder. Lots of anger and discouragement out there, lots of bad news, folks not getting along. It's easy to be depressed.

And then you go to an Indy Thunder practice and see them. Men of different ages, different sizes, different races—and different levels of blindness. They come this day to Park Tudor School to play with the hand that life has dealt them. And life has dealt them darkness.

It's called beep baseball. Baseball for the sight-impaired, using a ball that beeps and bases that buzz. We can get to the exact rules in a minute. They are here this particular Saturday for an intrasquad game—preparing for the Beep Baseball World Series in Ames, Iowa, later this month—so let's go around the practice field and meet some of the guys.

And then just try to think there is no hope and courage left in the world. Just try.

Meet Chip Arbogast. The 55-year-old man with the rare retina deterioration disorder.

"I had sight when I was young. I played baseball when I was a kid. I started going blind and I couldn't play baseball anymore. I was playing catch with my son, my 9-year-old son, and he threw the ball to me. It went above my glove because I couldn't see the ball and it hit me right in my mouth. I couldn't play catch with my son anymore, so it was hard for me.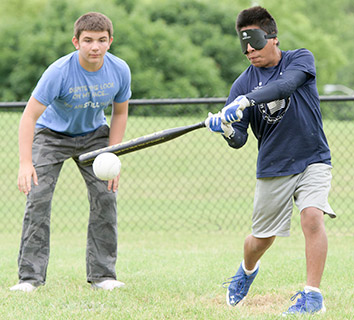 At an Indy Thunder intrasquad game, Miguel Tello hits while Braden Rodriguez catches. (IBJ photo/Eric Learned)
"And then when I found out about this, I was 52. I came back out and I was able to hit again. We're just as competitive as anybody else out in the world."

Meet 16-year-old Erik Rodriguez, born with Stickler syndrome, which can attack many parts of the body, but happened to go after his eyesight. One eye was gone early. Between the syndrome, and the glaucoma, and a detached retina, the other eye was nearly gone before he was 10.

"I went pretty much from being a fully sighted person to nothing. Baseball was my life. I used to play Little League, and they knew I could only see out of the one eye so they just assumed I couldn't play. I went from being put deep in right field to shortstop and leadoff batter. I had to prove myself more than the average player. Which I love. I love being the best at what I do."

By the way, he was named MVP of two tournaments this season.

Meet Adam Rodenbeck. He plays a pretty mean outfield. He also arrives for the game with his walking cane, and has been blind since birth.

"It's never really bugged me. I've been able to do whatever I want to do, and not accept no. The biggest way to get me to do something is tell me I can't."

Meet Kyle Lewis, a left-handed slugger with cone rod dystrophy. Odds of getting that are 1 in 40,000. What's the chance to be on this field mean to him?

"I'll even have dreams about playing on Saturday [championship day at the World Series]. I picture myself at the plate. It gets my adrenaline running so much that it actually wakes me up sometimes."

Meet Jared Woodard, a fully sighted young man in his 20s who pitches to the Thunder. That means he pitches to his father. Clinton Woodard is one of seven children; four of them went blind with a genetic eye disease.

Says the father, who has played beep baseball for 30 years: "When you're growing up, you want to play baseball. And then you find this game."

Says the son: "I think it affects their lives profoundly, but the biggest impact it has is on everybody's life. It's gotten me through some hard times in my life."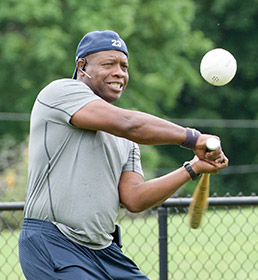 Darnell Booker (IBJ photo/Eric Learned)
Finally, meet Darnell Booker, who created this team in 2000 and coaches it. When he was 13, a freak BB accident took his right eye. He has problems with the left, too. In 1985, he started playing this sport, once won a World Series. Now he wants his own team to do it.

"I eat, sleep and drink beepball," he says. "Nobody gets paid for it. It's all passion."

OK, quick rules. Since the level of vision impairment differs from player to player, all wear blindfolds to ensure total lack of sight. They swing at the beeping ball—delivered from fully sighted pitchers such as Jared Woodard—and if they hit it, they follow the buzzer to run toward first or third base, which are 4-foot-high cones 100 feet from home.

While that's going on, the defenders are told by spotters what region of the field the ball is in, and if they can track it down before the batter gets to the base, it's an out. If not, it's a run. The Thunder has big hitters and averages 15 to 18 runs a game. Once, they scored 37, which is why they are 11-1 and contenders in Ames.

Put on a blindfold. Imagine how hard it is to hit a ball. Or chase one in the field. Or, most of all, go running full steam toward an unseen base in a dark world. Imagine. But for a blind man, that's the fun part. He might need help everywhere else, but not in those few seconds. It is up to him then. Up to all of them, and they do it without fear.

Or as Rodenbeck puts it, "Out here, we're just running on our own. I hear the base, I run for it. It's total freedom."

Sport gives sighted athletes fame and glory. Seldom does it give them total freedom.

The families and volunteers are here. This sport is meant to lift their hearts, too. Maybe their loved ones can't see much. Doesn't mean they can't play.

Dave Taylor is an assistant coach and beepball umpire, who has fallen in love with the game and those who play it, because they do it with all their hearts.

"It's super competitive. Life and death. They get upset. I get yelled at. They say I make a bad call. I say if they can see it, they're cheating, so they can't complain.

"This is their pro sport. They take it seriously."

They certainly do at the World Series, where it is common for one team to challenge another and suggest maybe the blindfold of a player isn't tight enough. Taylor tells the story of the time he did just that, asking the umpire to check an opposing player who was having a big day. Taylor thought he might actually be getting a look at things from beneath that blindfold. The umpire checked, came back across the field—and asked Taylor if he wanted to see both glass eyes the player was wearing.

Takes a group effort to pull all this off. It is volunteer Melanie Kramp who says, "I am so impressed with these guys. If they don't make it to the base, they start cussing. They're serious about this stuff. They're not afraid of it. They've got more guts than I do."

And it is Rodriguez who mentions, "Sometimes I feel like people who come out and watch us, it does more for them than it does for us. Because it makes them realize that just because we have a disability, we can still be really good athletes and we can participate in a team sport."

Booker calls the players together before the game. A professor from Indiana University is here to speak to them on the bright morning, and at one point mentions he needs his sunglasses. Voice from the back: "We don't have that problem."

Maybe the world around them seethes, but they have chosen not to be bitter. And they certainly could be.

You notice the joy. How the players gather round Booker for a rousing team chant that ends with a mighty "Thunder rolls!"

You notice the fire. Leadoff man Eddie Brown hits a grounder and races full tilt over a base, as if he is trying to run through a wall, falling to the grass in an attempt to score. But Rodriguez, crawling on the field to find the ball, grabs it just in time.

"Something inside me just tells me where it's going," he explains.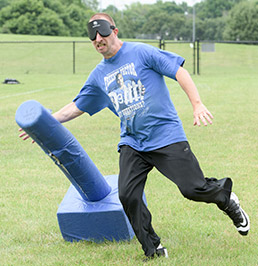 Toby Gregory (IBJ photo/Eric Learned)
You notice the trust and teamwork. Other sports prattle of such things, but in none of them are players dependent on others to help them to the plate, help them to the field, help them back to the dugout.

Rodenbeck: "The entire sport, it's a lot about family. You feel it on the team. It's everyone's family."

Jared Woodard: "When you go to the World Series, you can feel the love when you walk into the room."

Rodriguez: "We can all relate. We all realize maybe you can see better than me or see worse than me, but everybody here has each other's back through thick and thin."

You hear the Thunder, the young and the old, look back on lives that have had had so many challenges and so many raw deals. They choose to look at the bright side, even in a dark world.

Rodriguez does, as a teenager. "Just losing my eyes is more of a blessing. I could have a lot more problems. It could have been way worse. I made it through. I'm here now."

Arbogast does, as a middle-age man. "One of those things. You deal with life, and move on."

That troubled, disheartened, divided nation out there? More of its angry people need to be here for one practice, to learn how life is lived by a team that can't see.•

__________

Lopresti is a lifelong resident of Richmond and a graduate of Ball State University. He was a columnist for USA Today and Gannett newspapers for 31 years. He can be reached at mlopresti@ibj.com.