Indiana Pacers forward Paul George, already one of the most marketable players in the NBA, is likely to propel his earnings power even higher if he helps lead the U.S. men's basketball team to a gold medal next month at the Olympic Games in Rio.

The 26-year-old banked $7 million in endorsement earnings last year in addition to his $17.1 million salary, according to Forbes. He is entering his seventh season with the Pacers and the third year of a five-year, $91.5 million contract.

With a combined income of $24.1 million, George ranks No. 62 on Forbes' 2016 list of the world's highest-paid athletes. He is No. 40 in money earned from endorsements and No. 13 in that category among NBA players.

The list of companies that have signed George to marketing deals includes heavyweights Nike, Gatorade, New Era Caps and Papa John's.

Some of those sponsors also have Olympic deals and are featuring George in Olympic-themed campaigns, said Jessica Holtz, a marketing agent for Los Angeles-based CAA, which manages George's playing contract and endorsement deals.

For example, George is featured in a new Gatorade commercial alongside other Olympic athletes and appears on limited-edition bottles of the sports drink wearing his USA jersey. Nike also will use him to promote its sponsorship of USA Basketball and the U.S. Olympic Committee.

In addition, George recently signed a deal with Jeep, another USA Basketball sponsor. He is featured in two of the company's national TV ads that debuted last month.

"I think it's going to be a big plus for him in his commercial endeavors," Garret Mudd, executive vice president of opportunity for Chicago-based sports marketing firm rEvolution, said of George's Olympic participation. "He'll become more relevant to a broader audience."

Sports marketers say George's successful recovery from a serious injury has given his marketing prowess an extra boost. During a USA Basketball scrimmage in August 2014, he landed awkwardly after going up for a block, snapping his lower right leg. The injury was diagnosed as a compound fracture of the tibia and fibula and left part of the bone exposed.

George was just becoming a household name, having led the Pacers to back-to-back Eastern Conference Finals appearances. While he missed nearly the entire NBA season following the injury, sponsors didn't go anywhere. In fact, he added deals during his rehabilitation.

AT&T signed George while he was sidelined and ran a national TV ad comparing his strength during rehab to the company's cellular signal strength. Nike, meanwhile, ran ads focused on his journey back to the court. George even agreed to a deal with Bleacher Report that allowed the media outlet to produce a multi-part video series chronicling his recovery.

This past season, George averaged a career-high 23.1 points along with seven rebounds and 4.1 assists per game, earning himself a spot on the All-NBA third team and the All-Defensive second team.

After his stellar season, California-based video game publisher 2K picked George as the cover athlete for the NBA 2K17 game, which will be released in September.

Holtz said the character George showed in coming back from the injury, coupled with his strong on-court performance last season, makes him appealing to companies seeking a brand representative.

"Paul's story is so unique," she said. "The fact that he's not only playing again, but playing at arguably a higher level and showing his resilience—it's a great story."

Mudd, who works out of rEvolution's Indianapolis office, agreed that, while the injury clearly was a negative, the commitment George showed in returning to the court improved his marketability.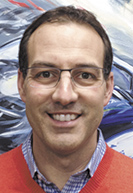 Mudd
"Not only is he a great player, but the story of his work ethic resonates," he said. "Having moved past [the injury] has added a dimension to his story line."

George also has attracted endorsement deals that gel with his off-court interests. In 2014, the avid fisherman teamed up with Bass Pro Shops, and the same year he parlayed his interest in fashion into a deal with New Era Caps.

"[Paul] has his own sense of style that is on point with current trends," New Era Caps Senior Marketing Manager Ryan DiNunzio said.

George worked with the company to design a line of hats that was unveiled during NBA All-Star weekend in February 2015. DiNunzio said the three-time all-star recently met with the company's design team to begin work on a new line of headwear, which is expected to debut later this year.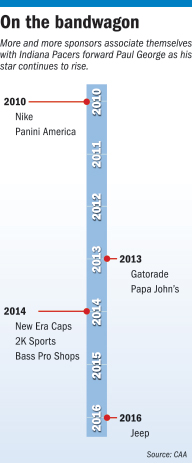 New Era Caps can't use George's Olympic ties in its marketing because it's not a U.S. Olympic Committee sponsor. However, DiNunzio noted the Olympics will boost George's visibility, which in turn will benefit the company.

George's bevy of endorsement deals is helping put to rest the notion that athletes need to be in big markets like New York or Los Angeles to attract big corporate sponsorship dollars. Measured by number of TV homes, Indianapolis ranks 22nd out of 28 cities with NBA teams (Los Angeles and New York have two each).

However, on-court performance is the critical factor in securing endorsement contracts, said Leslie Groves, vice president of marketing and brand development for Tandem, a sports and entertainment agency based in Arlington, Virginia.

"When you're one of the top guys in the NBA, and [Paul George] is one of them, [market size] doesn't really matter," she said. "He drives [endorsements] by being good at his job."

DiNunzio and Mudd said another of George's attractions for potential sponsors is that he comes across as a good guy—he's been active in the community and has stayed out of trouble.

"Paul George is a guy in my opinion that has a ton of positives and few negatives," Mudd said, adding that, if George's career continues on its current path, his endorsement income could "grow exponentially."

Jeff Kearney, global head of sports marketing for Gatorade, added: "The combination of his incredible talent, his heart for the game, and the way he conducts himself off the court makes George a marketable athlete."

Sponsorship contracts typically include featuring athletes in advertising and requiring that they make promotional appearances. Companies also commonly require the athletes to promote the brand through their personal social media accounts. That can range from requiring athletes to retweet or "like" company posts to having them post their own comments about company products.

George is the top U.S. Olympian on the MVPindex list, which measures and analyzes social media engagement based on visibility and interaction. He has 1.5 million followers on Twitter, 3.3 million on Facebook, and 3.4 million on Instagram, giving him a vast audience for his sponsors to tap.•