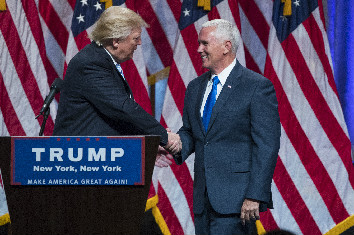 Donald Trump introduced Indiana Gov. Mike Pence as his running mate on Saturday, calling him "my partner in this campaign" and his first choice to join him on the Republican presidential ticket.
In their first joint appearance, Trump tried to draw a sharp contrast between Pence, a soft-spoken conservative, and Hillary Clinton, the Democratic presidential candidate. In fact, he spent about as much time lambasting Clinton as praising Pence, declaring she had led President Barack Obama "down a horrible path" abroad.
He said Pence would stand up to America's enemies and that he and the governor represent "the law-and-order candidates" at home. He called Pence a "man of character, honor and honesty."
"What a difference between crooked Hillary Clinton and Mike Pence," Trump said. He added: "He's a solid, solid person."
The joint appearance at a midtown Manhattan hotel was choreographed to try to catapult the party toward a successful and unified Republican National Convention, which kicks off in Cleveland on Monday. Republican officials were overwhelmingly positive in their reaction to Trump's selection of Pence.
Pence, standing alone in front of American flags, hewed closely to the populist themes that Trump has voiced on the campaign trail, describing himself as "really just a small-town boy." He praised Trump effusively as "a good man," a fighter, a legendary businessman and a patriotic American.
"The American people are tired," Pence said. "We're tired of being told that this is as good as it gets. We're tired of having politicians in both parties in Washington, D.C., telling us we'll get to those problems tomorrow."
Pence quickly proved comfortable using Trump's slogan, declaring "we need to make America great again and that day begins when Donald Trump becomes the 45th President of the United States."
Pence touted Trump's pledges to repeal Obamacare, revive the coal industry and toughen the nation's immigration policy. Pence did so while suggesting Hillary Clinton's policy proposals would weaken the nation's economy and its security.
Trump conceded that one of the reasons he'd selected Pence was to promote unity within the Republican Party.
"So many people have said 'party unity,' because I'm an outsider," Trump said. "I don't want to be an outsider."
Pence, whose calm demeanor forms a marked counterpoint to the fiery Trump, was chosen in part to ease concerns in some GOP corners about the billionaire's impulsive style and lack of political experience. A steady conservative with extensive governing experience, Pence may also serve to reassure Republicans who are skeptical about Trump's conservative bona fides.
Brandishing his running mate's job-creating credentials, Trump ticked through a list of statistics he said showed how Pence had pulled Indiana out of economic recessions: an unemployment rate that fell to less than 5 percent on his watch, an uptick in the labor force and a decrease in Indiana residents on unemployment insurance.
"This is the primary reason I wanted Mike — other than that he looks very good, other than he's got an incredible family, and incredible wife," Trump said. He predicted that Pence would have won re-election as governor, were he not running for vice president.
Trump, in a meandering, 28-minute speech, managed to work in a plug for his new hotel in Washington before Pence even took the stage.
The Trump-Pence event offered Americans the first glimpse at what the 2016 Republican presidential ticket will look like, barring the unexpected. Just as Trump was settling on Pence, Republicans gathering in Cleveland essentially quelled the movement to oust Trump at the convention, all but assuring he'll be the GOP nominee.
"They got crushed," Trump said. "And they got crushed immediately, because people want what we're saying to happen."
The Indiana governor is well-regarded by evangelical Christians, particularly after signing a law that critics said would allow businesses to deny service to gay people for religious reasons. But his hardline ideology is also at odds with Trump, who has largely avoided wading into social issues.
Clinton's team was already painting Pence's conservative social viewpoints as out of step with the mainstream. Her campaign also seized on Trump's chaotic process for selecting and announcing his pick, painting Trump in a web video released Saturday as "Always divisive. Not so decisive."
Trump's formal announcement capped a frenzied few days in the presidential campaign, as early reports that Trump has settled on Pence threw speculation into overdrive. After days of his aides saying he hadn't made a final decision, the billionaire called Pence Thursday afternoon to offer him the job, but hours later postponed their first appearance after a truck attack killed 84 people in Nice, France.
Trump had spent weeks vetting vice presidential contenders, including former House Speaker Newt Gingrich and New Jersey Gov. Chris Christie, and only zeroed in on Pence in recent days. Pence, meanwhile, had faced a Friday deadline to withdraw from his re-election race for governor so he could run for vice president; his aides filed the paperwork about an hour before the cutoff.
In choosing Pence, Trump appeared to be looking past their numerous policy differences.
The Indiana governor has been a longtime advocate of trade deals such as NAFTA and the Trans-Pacific Partnership, both aggressively opposed by Trump. He's been critical of Trump's proposed temporary ban on foreign Muslims entering the U.S., calling the idea "offensive and unconstitutional." Pence also endorsed Sen. Ted Cruz instead of Trump ahead of Indiana's presidential primary.
Please enable JavaScript to view this content.