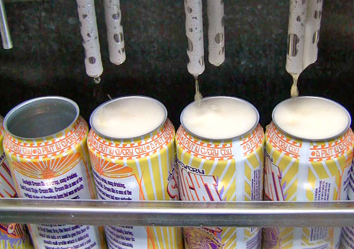 Indianapolis-based Sun King Brewing Co.'s beer soon will be available at groceries and convenience stores throughout Indiana.
Sun King has been available statewide since March, when it began distributing to package stores, restaurants and bars. But this will be the first time consumers can buy the beer in grocery and convenience stores.
"It's pretty huge," Sun King co-founder and head brewer Dave Colt said Monday of the expansion into a new retail sector, set for July 25.
The move is possible due to $2 million in investments that Sun King recently made at its downtown Indianapolis brewery at 135 N. College Ave., Colt said.
The company invested in new brewing equipment, technology and processes that reduce exposure to light and oxygen—elements which deteriorate beer.
The brewery also has added a canning line, new laboratory equipment and three new larger fermentation tanks that will nearly double its annual production capacity from 30,000 barrels to 55,000 barrels or more.
Those improvements mean Sun King now can produce canned beer that retains its quality in a non-refrigerated environment.
"We consciously chose not to go to 'warm shelf'—grocery stores—until we felt that we had a product that was able to stay on the shelf and be just as good as though it was kept cold the entire time," Colt said.
Starting July 25, 12-ounce cans of Sunlight Cream Ale and Wee Mac Scottish Ale will be available in both six- and 12-packs at major Indiana retailers including Cost Plus, CVS, Fresh Market, Kroger, Martin's, Marsh Supermarket, Meijer, Rite Aid, Sam's Club, Target, Town & Country, Wal-Mart, Whole Foods and others.
The company recommends that its beer be refrigerated and consumed within 90 days of packaging.
Colt said Sun King is starting its warm-shelf distribution with Sunlight Cream Ale and Wee Mac Scottish Ale because they are lower in hops, making them more stable in a warm environment.
"Hops are really sensitive to temperature," Colt said.
But Sun King hopes to add more varieties to its warm-shelf distribution network starting next year.
"We've been [researching and developing] several popular seasonal beers to bring them to warm shelves," Colt said.
In a tax abatement request in April for the $2 million plant expansion, Sun King said that it would commit to hiring 15 people by 2020. At that time, it employed about 70 full-time workers in the Indianapolis area. The abatement was approved by the Indianapolis Metropolitan Development Commission.
Monarch Beverage Co. distributes Sun King in southern Indiana. Indiana Beverage and Five Star Distribution are handling distribution in the northern portion of the state.
Co-founded by Colt and Clay Robinson, Sun King produced its first keg of beer in July 2009. Since then, the company has produced more than 300 varieties of beer and has won dozens of national and international awards for its products.
 
Please enable JavaScript to view this content.