Bluebridge Digital Inc., a tech firm that helps organizations create and manage smartphone apps, announced Wednesday that it raised $3 million and launched a new employee-engagement business unit.
The venture capital infusion marks the third fundraising round for the Fishers-based company since fall 2014, bringing the total to $6.75 million. The new subsidiary is called Emplify LLC.
Since Bluebridge was founded in 2011, CEO Santiago Jaramillo said, it has targeted churches, colleges, and tourism agencies to help them better connect with their audiences through mobile apps. In the same vein, Emplify seeks to help employers better connect with their employees.
"We have an app for every category of our life, yet we don't have an app to stay connected with and to engage with the one place where we spend most of our waking hours, which is work," Jaramillo said.
"So that's what we're providing: The single employee app home, right in the smartphone."
The $3 million round includes existing investors—such as Fishers-based Allos Ventures and St. Louis-based Cultivation Capital—and new investors, including Bob Davoli of Boston-based Sigma Prime Ventures. (Davoli also invested in Indianapolis-based DemandJump last month.)
Jaramillo said his company started Bluebridge Employee Engagement in January as product line, and it announced the new push after hiring former ExactTarget executive C. Todd Richardson in February.
But after accounting for more than half of new sales in the first quarter, Bluebridge executives decided to make the product line its own company with its own brand.
Today, Emplify boasts about 27 customers, including Carmel-based Mainstreet and Michigan-based Molly Maid. It has several thousand users, Jaramillo said, and targets firms with 50 or more employees.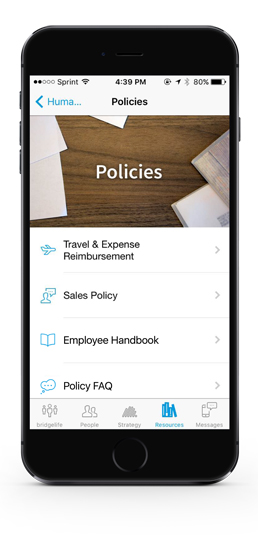 The Emplify mobile app would include information on company policies, inc addition to push notifications and employee directories. (Image courtesy Bluebridge)
Emplify works like this: Clients get a uniquely branded smartphone app that serves as home base for all employee communications.
The white-label app allows employers to send push notifications that can be specified for certain groups and receive employee feedback from a digital suggestion box or poll campaigns.
It also features a photo-based staff directory with contact and profile info; a "resources" tab with benefits information and supply-request links; and a corporate strategy tab.
Jaramillo said some of the old-school ways of employer-employee communications can be inefficient.
"Push notifications cut through the clutter. How we're doing this today is email memos, digital signage, direct-mail pieces, print signs in break rooms," he said. "That's how we communicate at work, but [outside work] we communicate through push notifications through an app."
Bluebridge has about 50 employees overall, including 20 at Emplify. It plans to have about 60 employees by year's end, and the proceeds from the recent equity round will be designated for Emplify growth.
Jaramillo is CEO of both entities, and, like him, some employees will have roles within both operations, he said. 
Please enable JavaScript to view this content.