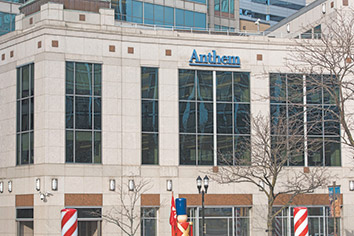 The Justice Department delivered a blistering critique of Anthem Inc. on Thursday, saying the Indianapolis health insurer often provides poor customer service, is slow to innovate and is difficult to work with for doctors and hospitals.
In a complaint filed Thursday that seeks to block Anthem's proposed $54 billion acquisition of rival Cigna Corp., the Justice Department warned such a combination would likely drive up prices and reduce benefits for millions of Americans.
"Anthem's purchase of Cigna would eliminate it as a competitive threat and substantially lessen competition in numerous markets around the country," according to the complaint filed in U.S. District Court in Washington, D.C.
The 30-page filing paints Indianapolis-based Anthem in an unflattering light, saying it has "earned a reputation in many markets" for being slow and unresponsive to customers and health providers.
It quoted a high-ranking Anthem official in Indiana: "There are some customers, some prospects who loathe us."
Soon after the merger was announced last year, two prospective customers complained to Cigna, "We hate Anthem, and you guys are about to become them," the complaint said.
By contrast, the complaint said Cigna "offers sophisticated wellness programs that improve the health of its members, provides highly-regarded customer service, and works closely with doctors and hospitals to improve the quality and lower the cost of care."
It continued: "These efforts have been well received by consumers and healthcare providers, pressuring Anthem to respond."
Anthem's response was to fight hard for business, and eventually, to try to go shopping for another big insurer, the complaint said, culminating in the agreement on July 23, 2015, to buy Cigna.
The complaint is the latest setback for the massive deal, unveiled last year, which would be the largest merger in the history of the health insurance industry.
Doctors, hospitals and consumer groups have fought the deal, warning it would raise prices and reduce choices. A group of Democratic senators in June called for the Justice Department to block the transaction. And now, 12 states have joined the Justice Department in urging a court to block the deal.
The complaint says Anthem's purchase of Cigna would reduce competition nearly across the board, in national accounts (policies bought by major national employers), local markets, individual exchanges and the purchase of health-care services by commercial health insurers.
Specifically, the deal would reduce choices for large-group employers in at least 35 metropolitan areas where more than 65 million people live, including many major cities in the U.S., the Justice Department warned.
Anthem, in a statement, said it was fully committed to challenging the U.S. action in court but would remain receptive to efforts to reach a settlement with the Justice Department.
The U.S. action is "an unfortunate and misguided step backwards for access to affordable healthcare for America," Anthem said. "The DOJ's action is based on a flawed analysis and misunderstanding of the dynamic, competitive and highly regulated healthcare landscape and is inconsistent with the way that the DOJ has reviewed past healthcare transactions."
Cigna said it was "evaluating its options consistent with its obligations under the agreement" and said it doesn't expect the transaction to close in 2016. "The earliest it could close is 2017, if at all."
 
The acquisition has been contentious from the start. In mid-June 2015, Cigna's board of directors rejected an offer from Anthem in a letter pointing to "a number of major issues." The insurers also fought publicly about which CEO would lead the combined company, the complaint said.
"In the months since the agreement was signed, Anthem and Cigna have continued to quarrel over how they should integrate their two companies," the complaint added.
In the 14 states where they compete, Anthem and Cigna have frequently been finalists when national employers sought competitive bids for commercial health insurance.
"Those accounts have been able to use the competition between Anthem and Cigna to obtain lower prices and better terms," the complaint said. "This merger would end that competition."
The Justice Department cited a 2013 bid in which Anthem feared that Cigna would aggressively market the benefits of its clinical programs, and Anthem ended up lowering its fees to the customer.
In another bid that year, Cigna won what its executives called a "dogfight with Anthem" by offering better overall value to the customer, the complaint said.
In 2014, Anthem targeted a longtime Cigna customer as a "good opportunity to continue to pick off Cigna accounts." According to the Justice Department, Anthem made a competitive offer and won the account.
That type of competition, which benefits consumers, would be markedly reduced under an acquisition, the complaint said.
In September 2015, an Anthem sales account executive noted that Cigna was offering a large municipal account in New Hampshire up to $70,000 in "wellness dollars," compared to Anthem's $6,000 to participate in wellness programs. His boss responded, "What? That's absurd. What are their current [administrative] rates?" the complaint said.
Around the same time, Anthem learned that Cigna was competing hard tor a bid in California by promoting its care management and wellness programs, the complaint said.
An Anthem executive, according to the complaint, told the broker handling the bid, "Does [the client] realize we are going to own Cigna in about a year anyways?"
 
Please enable JavaScript to view this content.