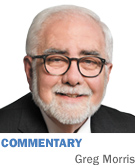 I'm taking a break from these two weeks of political conventions and attempting instead to refocus on important local topics. A perfect example is the fun evening coming up to celebrate the 75th anniversary of the Indianapolis Legal Aid Society.
Full disclosure before I proceed, I'm pleased to be an ILAS board member. So is Jim Voyles. Does that name ring a bell? Even if you're not a part of the central Indiana legal community, chances are good you've heard of him. He's the attorney you want to know but hope you'll never need to hire.
Voyles is known for representing a who's who of rich and famous folks who need legal counsel and defense assistance. He's a nationally known criminal defense attorney and to say he is one of the most powerful attorneys in Indiana is an understatement.
Voyles, a longtime ILAS board member, has agreed to let a few folks have some fun at his expense to help a worthy cause. It's an event that's been years in the making: Ignite the Night—the Jim Voyles Roast. The event is Sept. 23 at the Crane Bay Event Center, where a few of Jim's friends, some celebrities and dignitaries, and some surprise guests will get their shot at him. (You can find more information on becoming a sponsor and buying a table or individual tickets at www.indylas.org under the 75th anniversary tab.)
The program chair and emcee is Frost Brown Todd attorney and long-time ILAS board member Tom Davis, who promises an evening to remember. "Jim's a great lawyer, a wonderful guy and a long-time Legal Aid Supporter. But seriously, this is a chip shot—the material writes itself," Davis said.
It's an impressive lineup of roasters, including Indianapolis Colts punter Pat McAfee, racing legends Tony Stewart and Chip Ganassi, gubernatorial candidate John Gregg, U.S. Rep. Susan Brooks, U.S. District Judge William T. Lawrence, attorney Jennifer Lukemeyer, yours truly and some surprises.
You've seen Pat McAfee in action on the football field, but have you seen his stand-up comedy act? I assure you Pat's performance alone will be worth the price of admission.
There's no doubt this will be a great event and fun evening worthy of your time. Roasting Jim Voyles is ILAS' way of celebrating its 75th anniversary and honoring a great man and very successful attorney at the same time.
Of course the most important part of the event is that the net proceeds help the Indianapolis Legal Aid Society fulfill its mission. That mission is dedicated to ensuring that low-income persons living in central Indiana have immediate and direct access to legal assistance for civil disputes.
Think of ILAS as a law firm for folks who can't afford to hire an attorney. Can you imagine trying to navigate our complicated legal system without the help of a competent attorney? Many people are not in a position to be able to afford the essential legal services they need. The majority of the legal issues that ILAS addresses involve the interests of women, children and the elderly. The organization also handles a significant number of cases involving bankruptcy, housing, property, debt and many other miscellaneous issues. ILAS does not handle fee generating cases or criminal matters.
I'm going to be blunt here. ILAS needs your financial help. Traditional funding sources are down significantly over the past several years. The funding deficit is making it almost impossible to continue serving a caseload of clients that keeps growing.
ILAS General Counsel John Floreancig and his staff do an amazing job with the limited resources available. Finding alternate sources of financial support has been a main focus, and while progress has been made, help is needed to continue providing quality legal services to central Indiana's most vulnerable citizens.
You can help by coming out to the Crane Bay Event Center at 551 W. Merrill St. on Sept. 23 and helping ILAS celebrate its 75th anniversary. Roasting (honoring) Jim Voyles will be the main event in an evening I predict you will thoroughly enjoy. If circumstances prevent you from attending, your donation is still much appreciated. Find out more and take action now at indylas.org.•
__________
Morris is publisher of IBJ. His column appears every other week. To comment on this column, send email to gmorris@ibj.com.
Please enable JavaScript to view this content.