The tepid economy and fall of Tiger Woods have had a devastating impact on golf locally and nationally.

But an innovative and fast-growing golf league for children ages 7 to 13 is giving the industry and courses across central Indiana and the United States hope that the sport is finally ready to emerge from the rough.

Local participation in the PGA Junior League Golf program skyrocketed from 650 players in 2013—its first year in Indiana—to 1,500 in 2015.

Nationally, the PGA Junior League Golf has grown from 9,000 participants in 2013 to 36,000 in 2016.

"I've been involved in golf one way or another since I was 10 years old. … I truly have never been more excited about a grow-the-game initiative than I am by PGA Junior League Golf," said Pete Bevacqua, CEO of PGA of America. "The energy behind it … is really enormous. We think participation [nationally] is going to grow to 100,000 and beyond."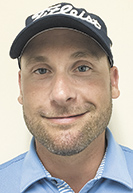 Clemens
The program's rapid rise spurred the PGA this year to acquire the league from its private Atlanta-based founder.

While that move should grow the program in the long run, the late change this year caused a few registration glitches that hurt participation, local PGA officials said. Still, 1,330 players in the state are playing in the league this year, with more expected in 2017 and beyond.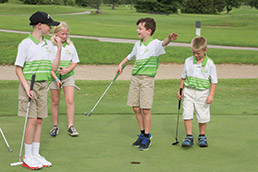 From left, 12-year-old Michael Clark, 10-year-old Ashlyn Roeser, 8-year-old Joseph Judson and 7-year-old Cameron Summers practice at Franklin's Gongaware Golf Academy. (IBJ photo/Eric Learned)
"The change probably cost us 15 teams," said Stacey Rice, director of player development for the PGA Indiana Section. "Still the popularity of this league has been phenomenal with young people and we expect the numbers to go right back up again next year."

Mike David, the executive director of the PGA Indiana Section, has been surprised by the program's rapid growth.

"We've tried so many youth initiatives over the years, but I've never seen anything quite like this," David said. "It's surpassed all our expectations.

"With this league, we're growing the game of golf and combatting all the little leagues and youth soccer leagues that get kids into team sports," he added. "Golf didn't have that before. We're in uncharted territory."
Rice
The burgeoning youth initiative is good news for a sport that's still in decline and has seen many courses close since the Great Recession hit in full force in 2008.

Participation in the game has seen a sharp decline, from a high of 30.6 million golfers in 2003 to 24.1 million in 2015, according to the National Golf Foundation.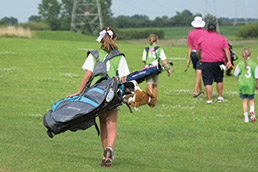 Junior League teams have eight to 12 players who compete in two-person tandems with a third person allowed as a substitute. They play a scramble format. (IBJ photo/Eric Learned)
The long-term outlook is also troubling, with the number of golfers ages 18 to 34 showing a 30 percent decline over the last 20 years.

"The backdrop of what's happening in the industry makes the growth of Junior League Golf that much more remarkable," David said.

The PGA has previously tried to grow the sport through First Tee and other youth programs, but industry experts said none has come close to matching the Junior League's success.

Dozens of public and private golf courses and clubs across Indiana have jumped on the Junior League's bandwagon, some sponsoring and operating multiple teams.

"We have clubs and courses from all sides of town including Hillview, Dye's Walk, Winding River, Woodstock, Sarah Shank, Pleasant Run, The Bridgewater Club, Wolf Run, Crooked Stick, The Sagamore, Brookshire, Plum Creek, Prairie View and the Hawthorns that have teams," David said. "That's just some of them."

The PGA Junior League Program regular season starts in May and ends in late July. The postseason starts Aug. 1, with a state, regional and national competition. The cost for players, David said, ranges from $75 to $300.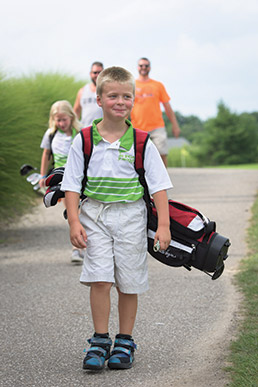 Cameron Summers, 7, is one of more than 1,000 kids in central Indiana participating in Junior Golf. (IBJ photo/Eric Learned)
The program is coming at the right time.

"Not only is the popularity of the sport waning, this initiative comes at a time when school physical education and public recreation programs have been gutted," said Larry DeGaris, director of sports marketing at the University of Indianapolis. "This is a concern across sports. That's why the NFL has invested so much in its Play 60 initiative and flag football campaign. Sports that want to survive and grow have to invest in their own development programs."

The Junior League is growing for several reasons, according to golf experts.

"The team format attracts kids because it's about being with your friends and it's less intimidating than individual-oriented single-play tournaments," said Rice, who coaches a Junior League team out of the Gongaware Golf Academy in Franklin.

Junior League matches are nine-holes. Teams have eight to 12 players. Those players play in two-person tandems with a third person allowed as a substitute. Substitutions are allowed every three holes. All players—subs included—walk all the holes.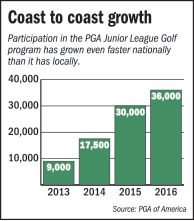 While players all tee off, they then play in a scramble format—from the location of the best-played ball.

"That way, if you hit a bad shot, it's not so frustrating," Rice said. "And for younger players with a shorter attention span, you only have to play three holes. It's the perfect format for players looking for some competition or those just learning to play."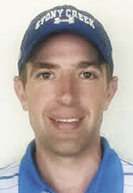 Van Valer
There's another unique—perhaps even a little unexpected—aspect that has helped the Junior League take off:Numbered uniforms.

"It's seems like a small thing, but those jerseys are a big deal to the players," said John Van Valer, head PGA professional at Stony Creek Golf Club, which sponsors a Junior League team.

"It makes the league as much about being part of a team and having fun with your friends as it does how perfect you can hit every shot. In this format, players have their friends and teammates to support them and pick them up. It's incredible how much we see the older players mentoring the younger ones."

The jerseys also play an important marketing role.

"We have all these kids wearing their jerseys to school and that creates a lot of buzz," Rice said. "It's a unique situation of kids spreading the word of this program on their own. A lot of the marketing happens organically apart from the parents."

That kid-to-kid marketing has led to a lot of youngsters joining the league who have never played golf before. That's all right with Chris Clemens, who coaches a Junior League team from Winding River Golf Course.

"If you were getting a kid who had never played ready for a single-play tournament, it would take an entire season and maybe longer," Clemens said. "With the Junior League, I can get a kid ready to play with a couple of lessons and they have a great time. The return of this program is almost immediate. That's good for the kids, and it's good for the courses."•