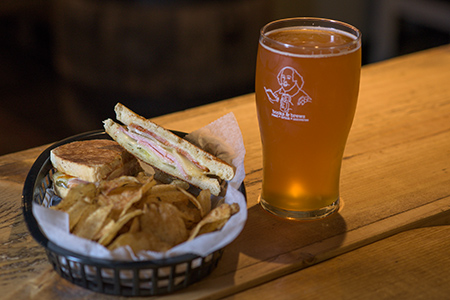 Have you ever considered closing a book after a sloppy first chapter, only to find a rewarding experience once you get past the opening stumbles?
If you have, then you may be able to relate to my experience with Books & Brews (66 Boone Village, Zionsville, 344-0365). The hybrid tap room/café/gameroom/bookstore is the second in a series (the other is tucked away near 96th Street and I-69) that earnestly combines elements into a one-of-a-kind business.
At the high-ceilinged Zionsville spot, you can browse used books in the loft, sample small-batch beer at the bar, or take a board or card game from the shelves and play on the spacious wooden tables in the dining room. There's even a children's play area. You can also experience both the upside and downside of an open mic night, as I did during an initial visit when a very pleasant Americana duo was followed by a singer/guitarist who seemed to believe he was playing to a disinterested crowd at the Vogue and needed to fight for attention by upping the shrill factor.
You can dine downstairs, or wander upstairs and peruse used books for sale in the Books & Brews loft (IBJ photo/Eric Learned)
When it comes to music, all venues are not created for all styles.
It didn't help that we waited nearly an hour for our food and, well, I won't go into details about the rest of that first chapter debacle—except to say that management was apologetic and that our subsequent visit more than made up for it.
Chapter two offered charm, with pleasant service, a relaxed atmosphere, and simple food satisfying enough to make you want to stick around for another game of Yahtzee or a slow browse through a volume from the book nook.
I'm not willing to concede that Books & Brews has the best grilled cheese in Indiana—as it states on its website. But the Return of the King ($8) offers a worthy mix of cheddar, provolone and smoked gouda. The Hemingway ($12), B&B's version of the Cuban sandwich, forgoes the traditional bread in favor of a standard grilled sandwich with thick-ish slices of ham, soppressata (a dry salami), mustard and pickles. Broad Ripple Chip Co. chips side each, but fries are also available for a minor upcharge.
Chorizo Tacos ($9.50) and House-Made Nachos ($9 with a $3 upcharge for bacon or chorizo) lack literary references—and run the risk of dripping or dropping onto your game or book—but make up for it with meat and cheese from Smoking Goose, which is also the source of the sandwich innards.
Preface options include Sancho Panza Bites ($7)—simple slices of bread topped with chorizo, cheddar and jalapenos—or a Frankenstein ($7/$12) plate of meats and cheeses. Alas, vegetarians don't have much to choose from.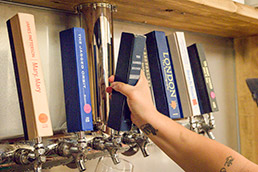 The taps sport book spines. (IBJ photo/Eric Learned)
On the brew front, there's a rotating list of B&B's own concoctions, all with book-centric names—Nancy Brew, anyone? How about Charlie and the Chocolate Stout or Flowers for Ale-gernon?—that encourage sampling as a flight of four.
Not all the bugs were worked out by the second visit. At both visits, I was told my receipt would arrive via email. In neither case did a receipt show up.
Nonetheless, I'll be back. And here's hoping Books & Brews next chapter involves expanding to other parts of town. The friendliness and casual atmosphere speaks volumes about its potential future.•
Please enable JavaScript to view this content.