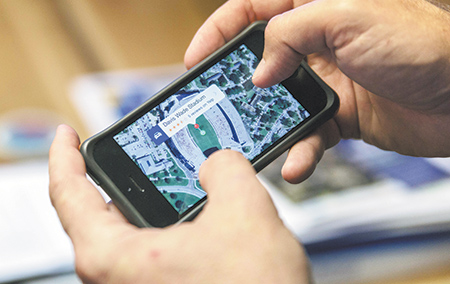 Entrepreneur Jim Martin jokes that the biggest competition for his new venture is OfficeMax—or really anywhere that sells binders and paper.
That's because he wants all event organizers and venue managers to throw out their folders stuffed with emergency instructions and upload all of that information to their phones. His app—Playbook—makes that information accessible anytime and anywhere.
"I don't think it's responsible to have it on a piece of paper these days," Martin said.
Martin launched his company Venue Intelligence in April 2014 out of the Zionsville co-working space zWorks. The following year, he introduced Playbook, which is designed to let event organizers electronically assemble a plethora of information, including emergency operations plans or event action plans like contact lists, schedules and maps.
It's geared to be useful in a wide range of circumstances from worst-case scenarios like active shooters to more common situations like bad weather.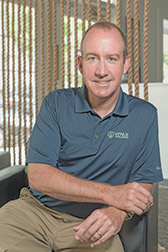 Jim Martin launched Venue Intelligence in April 2014 out of the Zionsville co-working space zWorks. The following fall, he introduced his app Playbook. (IBJ photo/Eric Learned)
With deadly attacks regularly in the headlines—Playbook went live the day before the Paris terrorist attack last fall—Martin wants to help all event planners be better prepared. Most have already collected the information they need, but it's on paper, not readily accessible to everyone who needs it.
"Running around with a binder doesn't get it done," Martin said. "This is a living document."
The app got its first test run at the 2015 Big 10 Football Championship at Lucas Oil Stadium and since then has been used at such large events as the Indianapolis 500, the 2016 Women's Final Four and the 500 Festival Mini-Marathon.
But it's also been used at smaller events including CruZionsville, an annual Porsche car show in Zionsville that raises money for the Alzheimer's Association, and Outrun the Sun, a race that raises money for skin cancer research.
Prices for users vary. A free starter kit is available for one venue with limited events. Larger users could pay $500 per month for one venue with more events or up to $1,500 per month for premium accounts with multiple events and venues.
So far, Martin has mostly allowed organizations to test the app for free.
"I will do as many pilots as I need to from the standpoint that it leads to other introductions," Martin said. "They gotta get a taste of it first."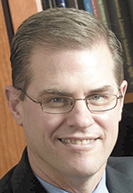 Gladden
The early tests of the app have mostly been coordinated through the Department of Homeland Security division of the Indianapolis Metropolitan Police Department. But as the app continues to pilot well, it could gain more attention.
Jay Gladden, dean of IUPUI's School of Physical Education and Tourism Management, said Playbook is right where most startups would be at this point—"still moving through the process of testing." He thinks demand for the app is likely.
"It may be a case where people aren't there immediately clamoring for it," Gladden said, "but once people start to hear about it, they see the merits and adopt."
The Indianapolis Motor Speedway has already returned for a second round. The track will use the app during the Brickyard 400 later this month after first trying it at the Indy 500 in May.
Mike Bates, senior director of safety and security for IMS, said the initial trial run went well in May, he and at least 50 other IMS employees and public safety officers used the app.
"I'm sold on it, quite honestly," Bates said. "If you're in an emergency situation, the last thing you need to be doing is going through documents.
"Basically you press two buttons and you have what you need."
Information from existing electronic files can be uploaded directly to the system and reformatted to become easier to search. With a couple of swipes and clicks, users can access an emergency plan, find a list of all volunteers with links to phone numbers, or call up a map showing where restrooms at a venue are located.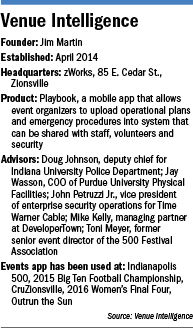 The app could also be used to send out a photo of a lost child to event staff and then notify everyone when the child is located.
"This would provide an opportunity to make changes in real time and on the fly, so I think it could be useful to a wide variety of events," Gladden said.
Once an event or a venue is in the system, organizers can give staff members, security officers, volunteers or anyone else they choose access to the information.
After an event is finished, the information disappears for the volunteer or other user but remains in the system so that annual events or venues with an ongoing relationship with Venue Intelligence would not lose data.
Gladden said he's surprised similar products aren't more widespread.
"There's definitely a need and it's kind of like, why hasn't someone thought of this?" said Gladden, who has discussed potential partnerships with Martin through the school's Sports Innovation Institute. "From what I can tell, there's not a whole lot of this out there."
Bates said similar products he's seen or used only provided access to a PDF version of an emergency plan on a phone, and users had to search through it manually.
"It's just the ease of finding the information," Bates said about Playbook. "It's the best one I've seen so far."
The app also been well received at much smaller events. Steve Tarr, chairman of CruZionsville, used to be "the binder boy" carrying around paperwork with contact information for all of his volunteers, a schedule for the day and emergency situation procedures.
"I was sort of the holder of the information, and that's not real good," Tarr said. "I sometimes think people go to these events and they don't realize all the pieces that have to be in place to make this event safe and meaningful to people."
This year, Tarr tested Playbook and had almost all of his 30-35 volunteers using it along with the Zionsville Police Department.
"I just think it's a great idea, and it's a very simple sort of product," Tarr said. "It puts what's going on in everybody's hands."
Even as the app is barely off the ground, Martin is already working on expanding into offering crowd-simulation technology.
The program would show venue managers what would happen in various scenarios, like if they had 20,000 people at an event and a fire started in one corner of the building. Using the technology, officials could know how long it would take to evacuate and which exits would be used.
Within the program, you could account for the type of crowd—young, old, drunk, sober, etc.—and designate which exits would be open or closed.
"That kind of takes this platform to a whole new level," Martin said.•
Please enable JavaScript to view this content.