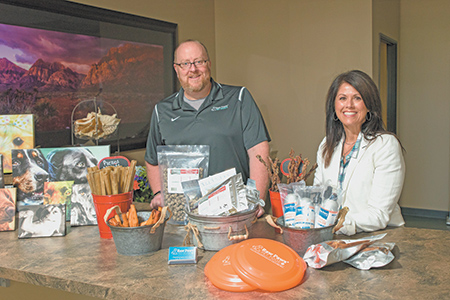 As owners of a hulking Bernese mountain dog—a breed afflicted with a high rate of cancer—Jeff and Shelli McDonald turned to raw pet foods in an effort to provide a healthy diet.
The dog, Dylan, ultimately succumbed to the disease. But what the couple gained from the experience led them in January 2015 to buy the small, local pet food company from which they had bought products.
Raw Paws Pet Inc., now located in the Park Fletcher industrial park on the west side, hardly resembles its predecessor, however. In less than two years, the McDonalds have added products and taken the business model from a regional delivery company to a full-fledged e-commerce firm delivering in 48 states.
"My and Jeff's vision was to make it practical and affordable, and accessible," said Shelli, 49. "We've changed suppliers, and everything is under our brand now."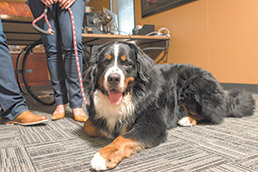 (IBJ photo/Eric Learned)
Shelli and Jeff, also 49, invested about $500,000 in the business and are expecting revenue this year of $750,000 to $800,000—a nearly 250 percent increase from last year.
The quick growth the McDonalds are experiencing mirrors a national trend. Pet owners—eating healthier themselves—want the same for their canines and felines.
In 2015, sales of raw freeze-dried dog and cat food jumped 64 percent, from $25 million to $40 million, and sales of raw frozen food rose 32 percent, from $52 million to $69 million, according to GfK, a Germany-based market research firm.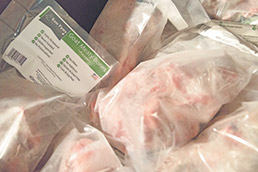 (IBJ photo/Eric Learned)
Sales of raw pet food still represent just a sliver of the $22 billion pet-food industry, mostly because large pet-food providers are hesitant to jump into the market mainly because of safety concerns.
Supporters of fresh pet food tout the natural diet it provides, similar to the way animals in the wild hunt prey and eat it raw. But many veterinarians warn that raw meat may expose dogs and cats—and their owners—to bacteria.
Large pet food providers "would be considering it, but there are a few challenges stalling the entry," said Kathy Enright, CEO of the Washington, D.C.-based Pet Food Institute. Its members manufacture 98 percent of the products in the market.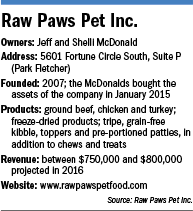 The American Veterinary Medical Association has warned against feeding raw meats to cats and dogs unless it has first been cooked, pasteurized or treated in some other way to destroy pathogenic organisms.
But Dr. Bonnie Pilbeam, a veterinarian at Pets & Vets in Pendleton, who also is a Raw Paws customer, says the concerns are unwarranted.
"It has to be handled carefully; that's one of the reasons the AVMA took the position that it did," she said. "It's become a point of contention, but I don't know of anything other than the dry pet foods that have been recalled."
Human-grade meat
The McDonalds, Jeff from West Lafayette and Shelli from Martinsville, met as sophomores at Indiana University. He graduated with a degree in business marketing and she with a degree in speech communications. They've been married 25 years.
Before Raw Paws, Jeff spent the bulk of his career as a co-owner of Chippery, an Austin, Texas-based manufacturer of frozen cookie dough that grew into a $50 million company. He never left Indianapolis, though, and commuted to Austin for 10 years, until Otis Spunkmeyer Inc. acquired the company in 2005.
He then bought a Weichert residential real estate franchise. He unloaded that to Carpenter Realtors when the couple bought Raw Paws.
In 2008, the two cat lovers decided to adopt a dog. Shelli had spent hours volunteering at the Humane Society of Indianapolis on the northwest side before they adopted Dylan, the Bernese mountain dog. She met another Bernese owner who, in turn, introduced her to the original owner of Raw Paws.
"I got to know the lady, and she was going to fold it or needed to sell it, so we bought the company from her," Shelli recalled. The McDonalds declined to divulge the original owner's name, citing a confidentiality agreement.
Changes needed to be made in the company. They brought on new suppliers and products, which the McDonalds said were not inspected and approved by the United States Dairy Association.
They now have nine vendors and offer a range of products, including frozen ground beef, chicken and turkey; freeze-dried foods; tripe; grain-free kibble; toppers; and pre-portioned patties, in addition to chews and treats.
The frozen products are 80 percent meat, 10 percent protein (from organs) and 10 percent bone (for calcium), which is considered the optimum ratio for a pet diet—but not quite for humans.
"It would be considered human grade," Shelli said. "But as humans, we would not want to eat that."
A five-pound tube of ground beef from Raw Paws retails for $26.99, for instance. Products are available through Amazon and on Raw Paws' website. In July, the company began shipping to California, marking complete delivery in the continental 48 states.
Don't expect to see Raw Paws' products on store shelves anytime soon, however. The McDonald's are sticking to the e-commerce model, which they say provides better interaction with customers when putting together a custom meal plan.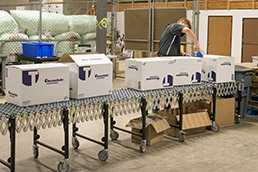 Raw Paws packs and ships its natural pet foods from a warehouse on the west side. The company, which began shipping to California last month, now has customers in all 48 of the continental states.
 (IBJ photo/Eric Learned)
Almost experts
The company packs and ships products from its 10,000-square-foot office and warehouse on the west side and stores frozen foods at an off-site freezer. Shipping frozen pet foods can be expensive, though, because it requires a Styrofoam container packed with dry ice. Raw Paws offers free shipping on frozen orders of $199 or more.
The expense and hassle of shipping frozen pet foods keeps many in the sector from branching out nationally.
Local competitor My Pet Carnivore Food Inc. on Shelby Street in Fountain Square ships nationally, though much of its business is conducted throughout the Midwest via vans with freezers that provide direct delivery to customers, said manager Ben Mumford.
Owners Paul and Suzanne Dijak-Robinson bought My Pet Carnivore about eight years ago and have grown it into a $2 million company.
"We're doing pretty well and continuing to grow," Mumford said. "I would consider us a pretty big player, in terms of regional success."
Yet My Pet Carnivore's growth seems to be much more steady than the explosive growth Raw Paws is enjoying.
The McDonalds hope to capitalize on the healthy-living trend to grow Raw Paws. The company's current demographic is largely 50-year-old women making at least $100,000 annually.
"It's kind of a Whole Foods customer set," Jeff said.
Raw Paws has grown from just two employees to 10 and expects to add another 10 within the next year while targeting $5 million in revenue within the next three to four years.
Despite the loss of Dylan, the McDonalds own another Bernese mountain dog, Lincoln, and have adopted a Labrador retriever named Bondi. Both can be found lumbering around the Raw Paws office, where their owners are carving out space in the growing raw pet foods sector.
"It's been a learning curve the first few months," Jeff said, "but now we're almost experts at it."•
Please enable JavaScript to view this content.