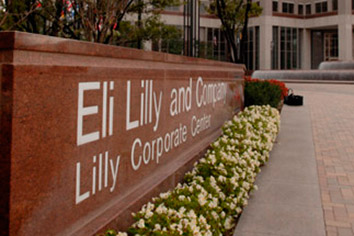 Eli Lilly and Co. on Tuesday reported second-quarter sales and profit that beat analyst expectations and said it is is on track to report average annual revenue growth of at least 5 percent through the remainder of the decade.
CEO John Lechleiter said in a statement that the company was able to lay out the reassuring long-term outlook because "we've made great progress building an R&D engine that has the potential to launch 20 new products" from 2014 through 2023.
The Indianapolis-based drug company said revenue in the quarter increased 9 percent, to $5.4 billion, and profit was $747.7 million, up 24 percent.
Revenue beat the analyst forecast by 5 percent. Per-share earnings, after adjustments for one-time expenses, were 86 cents—a penny higher than analyst expectations—but were down from 90 cents per share reported in the same quarter a year earlier.
"Lilly is in the midst of one of the most productive periods of new product launches in our company's history, with new medicines making a substantial contribution to our revenue growth for the first half of the year," Lechleiter said.
Helping power the results was the new diabetes treatment Trulicity, which recorded sales of $345 million in the first half of the year, compared with $63 million in the same period a year earlier. Another new drug that performed well was the cancer medication Cyramza, which reported sales in the first six months of $278 million, up from $155 million in the same period a year earlier.
Lilly's top sales performer was the diabetes treatment Humalog, whose sales were down in the first quarter but climbed 7 percent in the second, reaching $702 million.
Citing its bright business prospects, Lilly said it would be reinstating annual dividend increases—because of a wave of patent expirations on blockbuster drugs, the company had frozen its dividend from 2010 until announcing an increase in December—and confirmed its prior guidance that adjusted earnings for the full year would fall between $3.50 and $3.60 a share.
 
Please enable JavaScript to view this content.