When an attractive new eatery is on the horizon, a "coming soon" sign and Facebook updates can seem like they're just mocking you. That frustration can be compounded when the doors open for business but the kitchen isn't yet producing.

Such was the case with Open Society Public House (4850 N. College Ave., 999-8706), which has set up shop next to Upland Brewery in SoBro. Initially touted as a coffee and wine bar, it tested the waters—and its bar staff—serving drinks and minimal food before stepping up to full service.

In this case, patience has been rewarded.

Since opening for dinner, Open Society has revealed itself to be a creative, slick neighborhood restaurant demonstrating casual-but-professional style with an upbeat staff. The brick-walled space, lit by funky Edison bulbs, is broken up into three rooms, ensuring that a slow night doesn't feel like a really slow night (not that there's much danger of that right now). Hardly just a good bar with food, it could become a go-to eatery for Meridian-Kessler residents and beyond since the South-American-inspired-but-not-cliched food we tried was superb.

Alas, you'll have to demonstrate further patience if you are looking for lunch. That's still on the horizon, but I'm confident it will be worth the wait.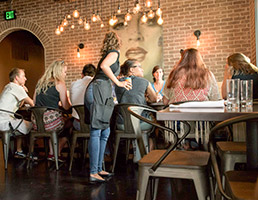 SoBro newcomer Open Society Public House pairs friendly environs with first-class food. (IBJ photo/Eric Learned)
The dinner menu is variable, so some of what we tried might not be available on your visit. Our stop happened to coincide with Chowdown Indy, when three courses were available for $30-$35. We went with everything on the Chowdown lineup (noting prices from the regular menu where applicable) and added a few supplemental dishes.

Sopa de Cuba ($6) featured black beans, chilis, tomato and garlic in a soup-bordering-on-chili mix that stood just fine on its own, with a $2 upgrade to add chorizo. Ensalada Verduro ($8) added just enough golden beets and potato gallete to give unique flavor to the baby greens and grape tomatoes, enhanced by a subtle cilantro lime vinaigrette.

We did some sharing to turn Chowdown's Plantain Crusted Filet and Parmesan Crusted Corvina into a winning surf-and-turf combo that launched a fierce battle over which was more satisfying. (Steak and fish entrees on the regular menu hover around $25.) We also tried the Torta ($8), with a fresh corn cake dressed up with asparagus, arugula and chipotle-avocado romescu (a nut-and-red-pepper sauce). But my favorite dish of the visit—and one I hope becomes a permanent fixture—is the Marioscos ($10), mixing rings of calamari with shrimp atop a chili-green papaya salad with a cilantro-lime vinaigrette.

Desserts included a Salted Caramel Flan ($7) that offered no resistance to our forks but had surprising taste for something that seemed to carry no weight. Mixed Berry Sorbet ($6) seemed to favor fancy over flavor, but the Flourless Chocolate Cake ($8) partnered exquisitely with vegan cocoa buttercream.

The only downside is a visual one: Open Society's open east-face offers a less-than-breathtaking view of the Little Caesar's across the street.•